Balance of payments to be in surplus of USD200 million
Economy
Ulaanbaatar/MONTSAME/. The central bank considers that the economy is expected to have a 5.9 percent growth next year, which will be mainly due to the post-pandemic recovery of non-mining sector. It is also stated in a draft Basic Guidelines for 2022 State Monetary Policy that direct foreign investment and export earnings will support internal circulation, highlighted Governor of the Bank of Mongolia B.Lkhagvasuren at a meeting with the press on October 18.

The Government has obliged the central bank to implement fiscal and monetary policies aimed at supporting the economic recovery and increasing access to growth to overcome the difficulties posed by the pandemic. In this regard, the Bank of Mongolia states that it will pursue a policy to support public-private partnerships and keep implementing a medium-term monetary policy to stabilize the consumer price inflation at 6 percent in an interval. Stabilizing inflation at a low level will not only protect people's real incomes and assets from devaluation, create conditions for the stability of the banking and financial system, but also support long-term investment and sustainable economic growth.
The demand-driven growth in prices is expected to increase gradually as the quarantine regime is being eased, policies to mitigate the impact of pandemic are being continually implemented and the economy is recovering.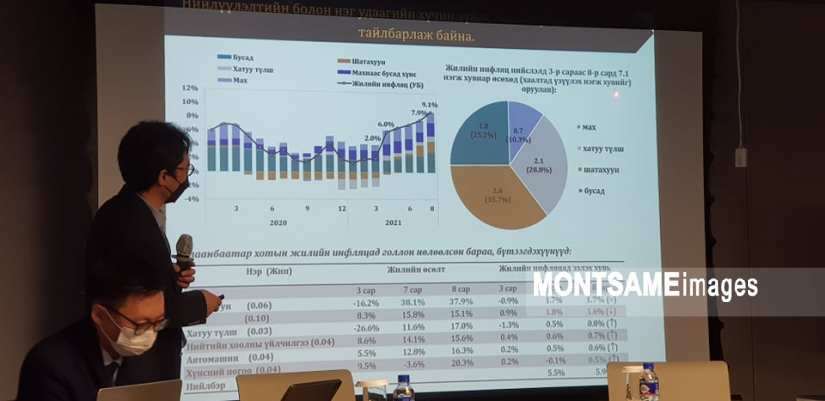 Director General of the Monetary Policy Department of the Bank of Mongolia B.Bayardavaa said that the credit growth will be stabilized at 15-20 percent to ensure medium-term stability. He told that the average rate of inflation rising due to short-term, temporary or one-time supply factors caused by external and internal markets is expected to be 6.9 percent in the fourth quarter of next year.
As a result of the economic recovery at the country and abroad, Mongolia's total balance of payments is expected to have a surplus of more than USD200 million in 2022. Although the domestic economic recovery is increasing imports, the global economic recovery is expected to influence favorably on Mongolia's export prices.
The central bank states that within the '10 trillion economic recovery' plan, it will continue overseeing the implementation of loan issuance and other projects that support the creation of jobs, agricultural sector, repo financing and other project activities, as well as work closely with the government.