Climate Crisis is a Child Rights Crisis: Children and youth speak out
Environment
Ulaanbaatar /MONTSAME/. The recent report on climate change by a consortium of scientists from across the world calls on governments and communities to take immediate action to reduce greenhouse gases and other harmful practices to our environment. Without action, we will continue to see natural disasters – draughts, flooding, severe weather events like dzuds, the loss of habitats and erosion of eco systems. The world we leave our children will look very different than the one left to us.
Recognizing the urgency of the climate crisis, UNICEF Mongolia and the Swiss Agency for Development and Cooperation is making efforts to help children and youth raise their voices on climate change and air pollution through a new project "Youth and children to avocate for climate change and clean air" with People in Need INGO and The Scouts Association of Mongolia. UNICEF and partners are facilitating the participation of young people in dialogues and through a national survey on climate change. The ideas and fears shared by children and young people will be put to both national and international leaders – bringing the voice of concerned Mongolian children to the highest levels of Government.
To celebrate the launch of the project, an online "Children and Youth participation in Climate Change" event was organised on Mongolian Youth Day, August 25th. Over 120 young people actively participated in the online event where they discussed the very real danger climate change imposes on the future generation and how children and youth can unite to bring about change. Key-note speaker Dr. Zamba Batjargal, Special Envoy of Mongolia on Climate Change, National Focal Point of Mongolia for the United Nations Framework Convention on Climate Change (UNFCCC) addressed the state of climate change around the world and its effects on Mongolia.

"Children's rights to a safe and clean environment are guaranteed in the Convention on the Rights of the Child. Climate change crisis is a child rights crisis. Almost every child on earth is exposed to at least one school of climate shocks and 1 billion children are at extremely high risk. More must be done ensure the Child Environmental Rights of Mongolian children. We need to listen to children and youth and support their actions. And, Mongolia cannot do this alone, therefore UNICEF is asking countries to join the intergovernmental Declaration on Children, Youth and Climate Action " said Altantsetseg Sodnomtseren, Climate change and clean air specialist, UNICEF Mongolia.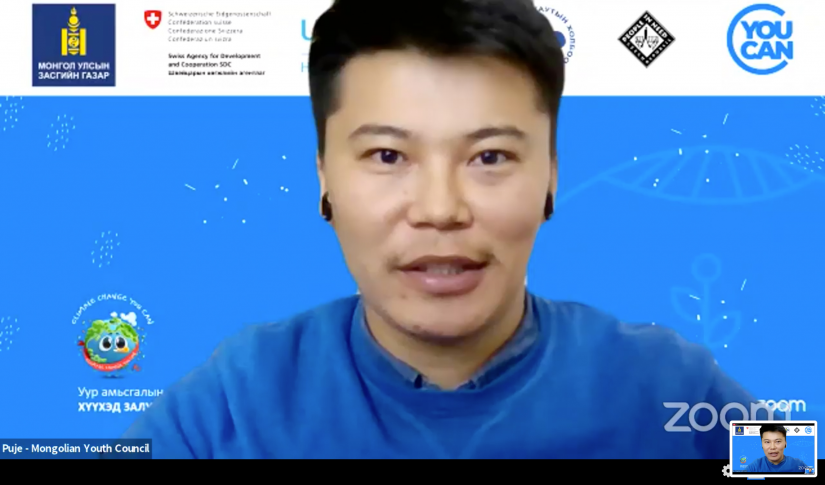 This new project supported by UNICEF and SDC, champions young people as changemakers with the aim to avert a climate catastrophe and eliminate air pollution by engaging with policy and decision-makers through innovative two-way communications technology, monitoring climate and environmental policies, and inspire positive climate activism amongst young people, children and adolescence through the scale-up of the "Youth Climate and Clean Air Network (YOUCCAN)" platform and the introduction of innovative tools to facilitate policy dialogues with local and national stakeholders.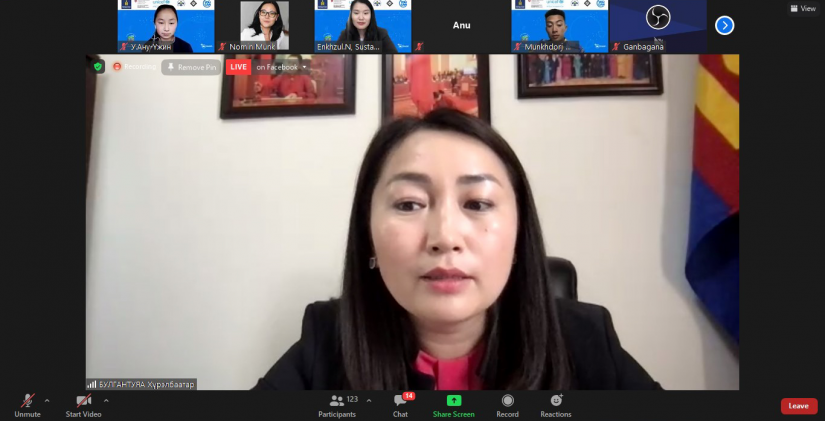 "As a Member of Parliament and Chair of the Sub-Committee on SDGs, I cannot express enough the importance of children and young people voicing their concerns around climate change and air pollution. To tackle these enormous challenges, we need all voices, ideas, and solutions at the table so we can share them with both national and global leaders," said H.E. Bulgantuya, Member of Parliament.

According to UNDP, Mongolia is one of the most vulnerable countries to global warming on earth. In the last 70 years, its temperatures have climbed three times faster than the world's average, rising more than 2 degrees centigrade and surpassing the global threshold.
"Mongolia didn't cause this climate crisis, yet, they're having to deal with the impacts – especially the children. The international community and corporations must act now to protect the environmental rights of all children today and into the future," said Tim Jenkins, Country Director at People In Need INGO.
YOUCCAN is the only platform in Mongolia for youth voices with the singular purpose of addressing climate change and air pollution.
"I'm very proud to be a YOUCAN member and advocate for a cleaner and more sustainable world. We need everyone to join us. Together we can reverse this climate crisis," explained U. Anu-Ujiin, TEDX lecturer and YOUCCAN member in Govi-Altai province.
About UNICEF
UNICEF promotes the rights and wellbeing of every child, in everything we do. Together with our partners, we work in 190 countries and territories to translate that commitment into practical action, focusing special effort on reaching the most vulnerable and excluded children, to the benefit of all children, everywhere. For more information about UNICEF Mongolia and its work for children, visit: www.unicef.mn
Follow UNICEF Mongolia on Twitter and Facebook
People in Need (PIN) launched its programming in Mongolia in 2009, when it provided emergency assistance to herders affected by severe winter conditions (dzud). With the goals of saving lives and protecting dignity, empowering people and supporting sustainable living, PIN established its permanent presence in Mongolia in 2011.
For more information about PIN Mongolia and its work, visit: www.peopleinneed.cz
Follow PIN Mongolia on twitter and @PINinMongolia Facebook page.
Contact:
For more information about the project, contact Ms Bulgantamir, Project Manager, People In Need INGO: bulgantamir.ganbold@peopleinneed.net, 99936733, 70111501