National Development Agency signs MoU with Private Financing Advisory Network
Economy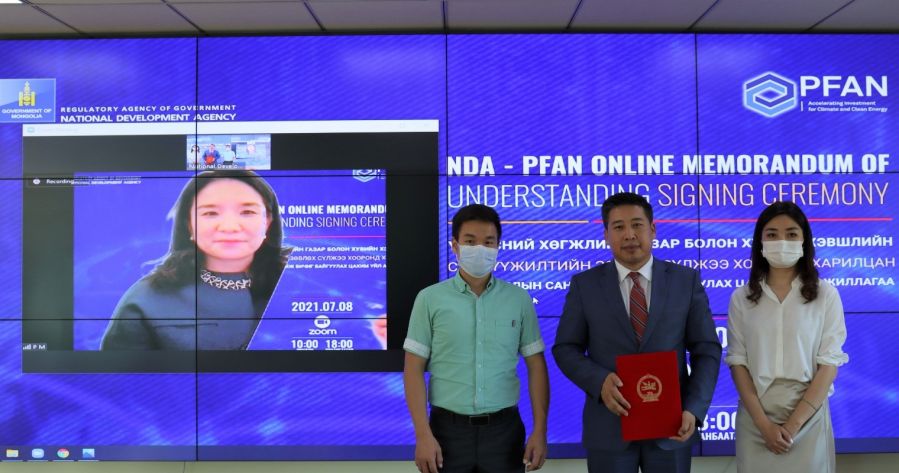 Ulaanbaatar /MONTSAME/. The National Development Agency is exploring the possibility of introducing innovative public-private partnerships and internationally recognized financial mechanisms to ensure the implementation of projects and programs that will have a significant impact on post-pandemic economic recovery and development.

In this context, a Memorandum of Understanding was signed online with the Private Financing Advisory Network on July 8, 2021, to expand public-private partnerships. The memorandum was signed by Kh. Batjargal, Chairman of the National Development Agency, and L. Dulmaazul, Director of Private Financing Advisory Network (PFAN) in Mongolia.
The PFAN is a global network of climate and clean energy financing experts that aims to bridge the gap between entrepreneurs developing climate and clean energy projects and private sector investors by originating technically and commercially viable clean energy and climate adaptation projects, nurturing their development through coaching provided by its network in-country advisors and technical experts and the facilitating investment through its global investor network and it is funded by donors countries such as Australia, Austria, Japan, the United States, Norway and Sweden.
And to emphasize, on July 7, 2021, the organization celebrated its big milestone: the USD 2 billion investment leveraged by PFAN-supported projects.
Within the framework of the Memorandum of Understanding, the two organizations will cooperate on building capacity and improving projects and programs included in "100 projects and measures to be implemented in priority sectors" presented by the Prime Minister of Mongolia L.Oyun-Erdene to the public during "Government 100 Days" working report, large-scale projects in the private and public sectors, small and medium production projects, making them available to potential investors, promoting internationally, and providing support and assistance in attracting funding and investment through the PFAN network.
In developing countries, project executors, initiators and investors tend to have difficulty finding each other. While entrepreneurs simply may lack of the connection to find investment, meet their needs, and prepare their projects in an attractive way, Investors may find it difficult to assess investment opportunities in markets they are not familiar with. Thus, the successful implementation of this partnership will provide the basic conditions for supporting and assisting the private sector in Mongolia to overcome these uncertainties and challenges, prepare projects that meet investor expectations, and attract funding and investment.
Source: National Development Agency Mongolia