'Mongol Naadam' exhibition on display at Fine Arts Zanabazar Museum
Art & Culture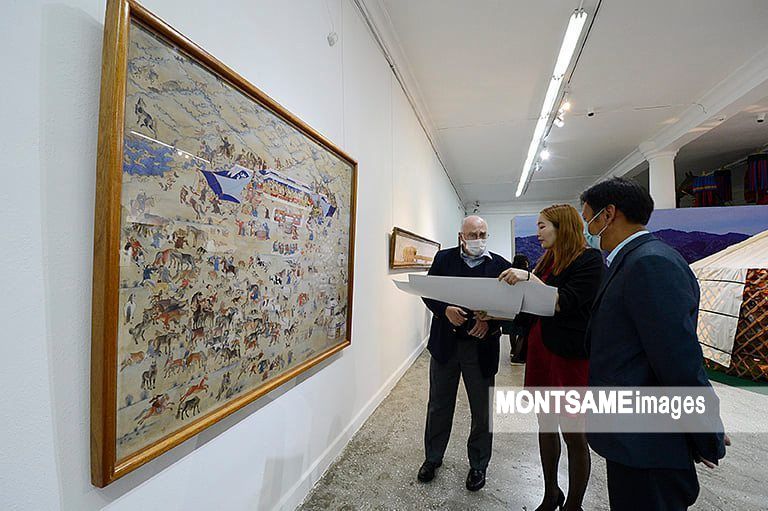 Ulaanbaatar /MONTSAME/. On July 1, the Fine Arts Zanabazar Museum in Ulaanbaatar launched an exhibition under the theme 'Mongol Naadam', commemorating the 2230th anniversary of Foundation of the first Mongolian Statehood and 100th anniversary of People's Revolution of Mongolia

Mongolian National Naadam Festival represents the unique customs and heritages inherited by the nomadic civilizations dating back to the thousands of years earlier, the three games of men – wrestling, horse racing and archery, as well as the religious ceremonies that had been celebrated by the Mongol people.
The Fine Arts Zanabazar Museum is unveiling exhibits showing the way of life, festivities, celebrations and religious ceremonies of the Mongolian people. The items being displayed at the exhibition belong to the Museum's archive of invaluable heritage items.
It is recorded in historical sources that the Mongolians widely celebrated any type of joyful events with horse racing, archery and wrestling since the Khunnu Empire /The Huns/ period. From that era forward, celebrations have become occasions for authorization, recognition and expansion of states. Since 1911 when Mongolia declared its independence, Mongolia started observing the day of the modern sovereign statehood, which laid the foundation for the country's national celebrations and ceremonies to take their present shape and grandness.
The exhibition is displaying art masterpieces of Mongolian artists depicting the historic moments of the statehood, celebrations and religious ceremonies, including the One Day in Mongolia by Marzan Sharav, who lived from 1869 to 1939. More than 50 works are put on display, such as a masterpiece 'Khuree Maidar' by famous painter of Mongolia G.Damdinsuren and 'Ikh Khuree' by Balgan, etc.
The exhibition runs through August 1.