Mongolian Tax Authority announces top taxpayers of 2020
Economy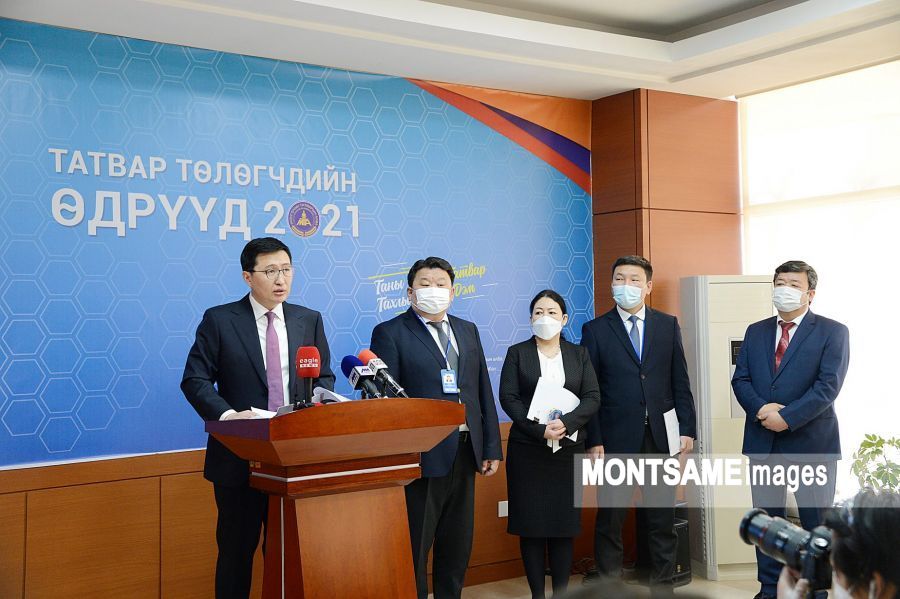 Ulaanbaatar /MONTSAME/. Mongolia's General Department of Taxation celebrates second week of every May as 'Days of Taxpayers'. This year, the Days of Taxpayers, organized for the 22nd year, are being celebrated under the theme 'Taxes you pay will help overcome the pandemic'. Various events and activities are being organized, such as public contests and discussion to promote taxpayers' education and thank the taxpayers, online training tailored to the needs of individuals and entities, as well as social media campaigns.

The tax authority on May 10, Monday, organized an event to announce and honor the top taxpayers in the country in following categories, who are making great contribution to make up the government budget revenues amid challenging times of the pandemic.
Top taxpaying entities who well-ensured adherence to tax laws and regulations were announced in four different segments, including large, medium, small and micro. Among them are;
Large - Skynetworks LLC, Mongol Post, Niseech International LLC, Admonprint LLC and MTCh LLC,
Medium - Construction Architecture Corporation LLC, Interactive BI LLC, Thermo Tech LLC, Esun Od Food International LLC, and Manba Datsan Traditional Medicine Central Hospital LLC
Small – Sod Khan Travel LLC from Bulgan Aimag, Energy Emprie LLC from Uvs aimag, Hermes Center of Ulaanbaatar's Bayangol District, DBIS LLC and Ariusgaltrade LLC in Khan-Uul District of Ulaanbaatar,
Micro – Lemon Farm LLC of Tuv aimag, Argamjintsetseg from Umnugobi aimag, EZKh Trade from Ulaanbaatar, Bayansuudal Shuteen LLC of Selenge aimag and Dadalbuudai LLC of Khentii aimag.
10 individuals were also announced as Top Taxpayers, including,
Odjargal Jambaljamts, Od Jambaljamts and Eldev-Ochir Lkhagvaa, shareholders of MCS Holding LLC,
Chinbat Lkhagva, chairman of Gatsuurt Group,
Bold Luvsanvandan,
Onchinsuren Dendevsambuu, founder and managing partner of Deloitte Onch LLC,
Uyanga Byambadorj,
Surenkhorloo Dugarjav,
Enkhbayar Jadamba, former member of parliament and
Battulga Jamiyansuren
These 10 individuals have paid MNT 15.1 billion in total.

10 largest taxpaying companies are:
Erdenes Mining Corporation
Erdenes Tavantolgoi JSC
Oyu Tolgoi LLC
APU Company
Energy Resources LLC
Bold Tumur Eruu Gol LLC
Spirt Bal Buram LLC
TGVCOU LLC
Khuren Tolgoi Coal Mining LLC
Tavantolgoi JSC
10 taxpaying companies with largest profits are:
Erdenet Mining Corporation
Erdenes Tavantolgoi JSC
Energy Resources LLC
TGVCOU LLC
Khuren Tolgoi Coal Mining LLC
Khan Bank LLC
Thiess Mongolia LLC
Bodi International LLC
Mongolyn Alt MAK LLC
MCS Property LLC
10 taxpaying companies with highest employee retention are:
Tavantolgoi Fuel LLC
Mobicom Corporation LLC
Unitel LLC
Nomin Holding LLC
Tavanbogd Foods LLC
Undur Altain Zam LLC
Information Communications Network LLC
Baganuur JSC
G-Mobile LLC
Jur Ur LLC
The report on the first-year implementation of the revised package laws on taxation, approved in 2019 with a view to promote economic growth, support companies and simplify tax services, shows that 16,706 entities with sales revenue below MNT 300 million have paid 1-percent tax and MNT 32.2 billion have been left with the entities.

The tax authority officials at the yesterday event reported that the tax revenues collected to the government budget in 2020 increased by 2.3 times since 2016. It was reported that in 2020, a total of MNT 5.4 trillion in revenue was generated through tax collection, making up 52 percent of all state revenues which amounted to MNT 10.4 trillion. The state projected MNT 5.6 trillion in 2020 earnings.