Government of Mongolia to raise counterclaim regarding Oyu Tolgoi tax dispute
Politics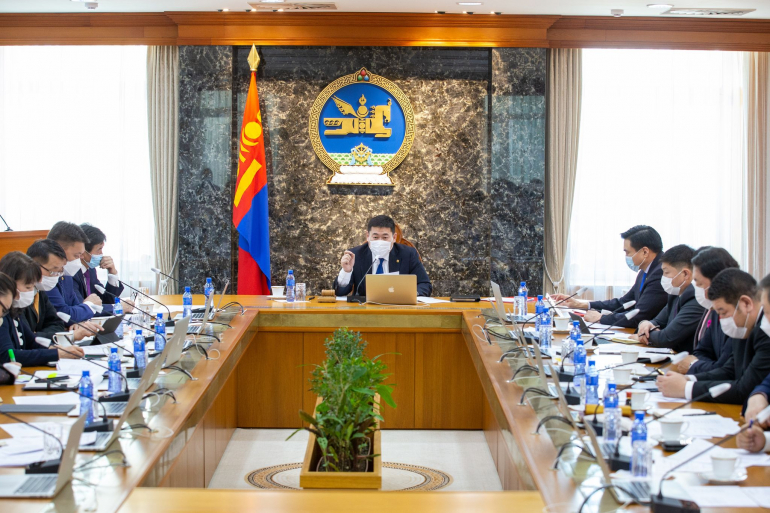 Ulaanbaatar /MONTSAME/. The cabinet yesterday, April 21, convened for a weekly regular session.

At the meeting, the cabinet backed a decision to file a counterclaim by bringing Rio Tinto and Turquoise Hill Resources as parties in the tax dispute concerning the Oyu Tolgoi gold-copper mining project. The decision is made on the basis of advice given by a law firm providing legal consulting services to the government Mongolia.
According to the press release issued by the cabinet secretariat, the government's working group in charge of settling issues on the Oyu Tolgoi project benefits has been maintaining regular communications with the law firm and is developing a well founded response.
While considering it is necessary to raise a counterclaim on three issues in order to ensure Mongolia's interests and safeguarding its position, the government today authorized the Ministry Finance, Ministry Justice and Internal Affairs and corresponding government agencies to file counterclaim and gave orders to take required measures.
The aforementioned issues include claims that Rio Tinto and Turquoise Hill Resources may have breached contracts and that public service officials may have granted undue advantages to foreign investors in connection with the Oyu Tolgoi project through the use of illegal and corrupt practices.
On February 20, Oyu Tolgoi LLC, jointly owned by Erdenes Oyu Tolgoi LLC on behalf of the Government of Mongolia (34 percent) and Turquoise Hill Resources (66 percent), initiated an international arbitration proceeding at the London Court of International Arbitration in line with the United Nations Commission on International Trade Law Arbitration Rules in accordance with the tax assessment issued by the Mongolian Tax Authority relating to an audit on taxes imposed and paid by Oyu Tolgoi between 2013 and 2015 and another decision made by Mongolian Professional Inspection Agency relating to unpaid royalties on Oyu Tolgoi molybdenum.
The Mongolian Government was supposed to submit a response by February 20, 2021, to the case raised by Oyu Tolgoi LLC in compliance with the arbitration dispute resolution schedule. However, the deadline has been postponed by a relevant arbitration composition until April 30, 2021, as Oyu Tolgoi LLC requested on January 7, 2021, to update matters in the arbitration concerning the new tax assessment issued by Mongolian Tax Authority to fulfill conditions set by the clause 14.1 in Oyu Tolgoi's Investment Agreement.