Extended meeting held between Agriculture Ministry and FAO
Economy
|
Agriculture
Ulaanbaatar /MONTSAME/ The Ministry of Food, Agriculture and Light Industry (MoFALI) and the Food and Agriculture Organization of the United Nations (FAO) held an extended meeting on March 1 to discuss cooperation. The meeting was attended by Minister of Food and Agriculture Z.Mendsaikhan, MoFALI State Secretary T.Jambaltseren, Director of MoFALI Policy and Planning Department Ts.Bolorchuluun, Director of MoFALI Food Production Policy Implementation and Coordination Department L.Choi-Ish, Director of MoFALI External Cooperation Department B.Ganzorig, Ambassador Extraordinary and Plenipotentiary of the Republic of India to Mongolia Mohinder Pratap Singh, and FAO Representative in Mongolia Vinod Ahuja.
At the beginning of the meeting, Minister Z.Mendsaikhan expressed pleasure with the attendance of both the FAO Representative and the Indian Ambassador at the annual meeting, emphasizing the close cooperation between MoFALI and FAO, which is a key agriculture policy partner to the Ministry.
FAO has implemented major projects on food security, milk and dairy production, agricultural value chain development, crop species conservation, and digital agriculture development from 2017 to 2021, and is now implementing over 25 agriculture policy projects and programs jointly with the government of Mongolia.
MoFALI expressed support to FAO's proposal to establish the Food and Agriculture Development Partner Group (FADPG) of international organizations and donor countries in agriculture industry of Mongolia and undertook to join in the leadership of the group. "It is necessary for us to ensure that MoFALI is involved in the implementation of environment projects aimed at addressing issues critical to agriculture, such as climate change, land degradation, water, and pasture. This will improve cross-sectoral coordination as well as the efficiency and implementation of numerous future projects," said Minister Z.Mendsaikhan. In this regard, Minister Z.Mendsaikhan and FAO Representative Vinod Ahuja signed a cooperation document for the implementation of FAO's technical assistance project SCALA.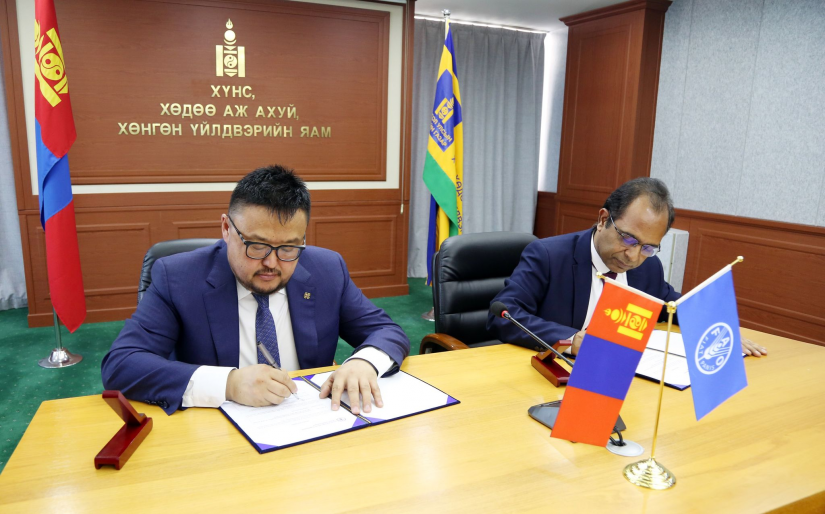 'Milk Every Day' project has various benefits
In the second part of the MoFALI-FAO extended meeting, ongoing and future joint projects, as well as the 'Milk Every Day' project aimed at promoting year round milk consumption were presented and discussed.
'Milk Every Day' project is of great significance in increasing milk and dairy consumption of students, supporting their health, and the development of milk industry. Through the school lunch program, the project will reach elementary students first, 30-50 percent of public schools next, and lastly, every school in the country. The MoFALI State Secretary underscored that the project will help the country leverage its milk resources and maintain herder's income while supporting child health.
FAO Representative Vinod Ahuja, approving of the project, said, "Having children consume more milk through the school lunch program is a right step. This project will not only improve children's nutritional intake, but also contribute to the development of milk industry. It is important to provide support to ensure that the industry operates environmentally friendly besides giving the children quality milk"