Proposal put forth to continue with A Thousand Engineers project for two more years
Society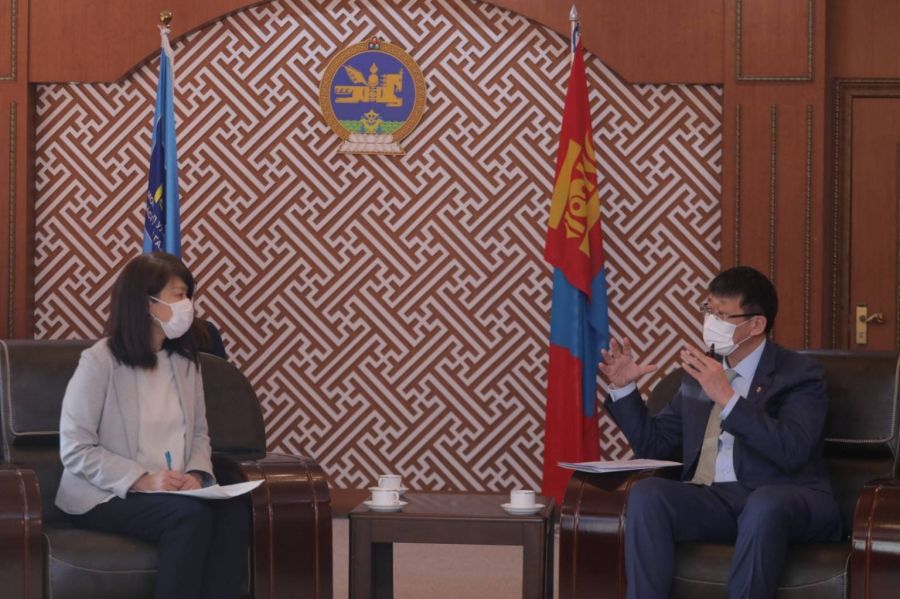 Ulaanbaatar /MONTSAME/ Minister of Education and Science L.Enkh-Amgalan had a meeting with Chief Representative of Japan International Cooperation Agency in Mongolia Tamura Eriko to discuss ongoing education and science projects and programs funded with Japanese aid and loans, their progress and outcomes, as well as ways to further expand cooperation.
The Ministry of Education and Science is currently carrying out five projects and programs with JICA, of which 'A Thousand Engineers' project has been of great success with all of the first 98 graduates already employed. Minister L.Enkh-Amgalan made proposals to support the management of the three Kosen schools in Mongolia, increase their number, establish such schools in rural areas, extend the project by two years, have more scholars study in Japan, jointly implement a project to establish a dedicated kitchen facility and fully equip it as part of the plan to improve the school meal program for first to fifth grade students, and cooperate in science and innovation.
The Minister also said the government of Mongolia and JICA can work together as part of the national program to make up for learning lost due to the pandemic and stressed the importance of continuing with JICA's project to improve the management of Mongolia-Japan Teaching Hospital, putting forward proposals to have three to four Japanese scholars, professors, or physicians work long-term at the teaching hospital and provide Mongolian physicians and doctors on-the-job training in Japanese clinical management.
After outlining joint ongoing projects and programs, JICA Chief Representative Tamura Eriko voiced readiness to cooperate in addressing learning loss and noted that scholars who conducting research with Japanese universities and colleges as part of the 'A Thousand Engineers' project are increasingly establishing contact with their Japanese colleagues.
Minister L.Enkh-Amgalan thanked the agency for providing sprayers and disinfectants to 662 public schools, 905 kindergartens, and 552 dormitories for COVID-19 prevention and making concrete contributions to education in Mongolia.