Cabinet meeting news in brief
Society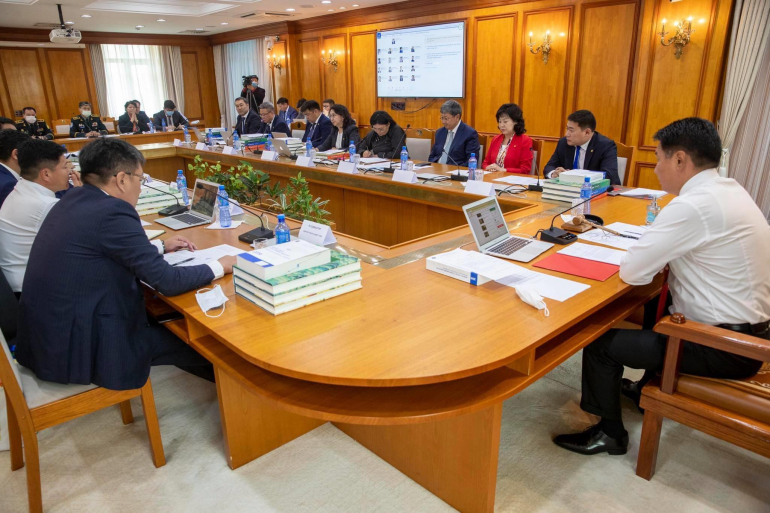 Ulaanbaatar /MONTSAME/ Following decisions were made during the Cabinet meeting dated on October 14:
- It was decided to earmark the required funding of Mongolian side's financing part for the maintenance to be made on Buyant-Ukhaa Sports Palace in 2020-2021 with non-refundable aid of the Chinese government as well as paying debt of "Sports Training Center" state-owned entity in Khangal soum of Bulgan aimag from the Government Reserves Fund.
- The Cabinet approved to privatize a total of 44 household apartments to their resident free of charge, which were under Russian ownership and transferred to Mongolian ownership, namely, apartment No. 17 located in 4th khoroo of Bayangol district, apartments No. 11, 12, 13 in 4th khoroo, apartments No. 1 and 7 in 5th khoroo of Bayanzurkh district as well as apartments No. 3 and 4 in 4th bagh of Darkhan soum of Darkhan-Uul aimag. Thus, 549-household apartments in eight buildings transferred from the Russian Federation has been completed to be privatized to their residents.
- The Cabinet backed a request sent from Minister of Labor and Social Protection to Government Agency for Policy Coordination on State Property on transferring 8-household apartments that is registered in fixed asset of Polytechnic College of Mining and Energy in Darkhan-Uul aimag to current residents- teachers and staffs of the college free of charge.
- It was resolved to grant financing to the entities and organizations that have completed and handed over overhaul maintenance works for 2020 in education, science, culture and sports fields. The maintenance works have been fulfilled in 69 buildings at the national level, specifically, eight dormitories, 28 schools, 16 kindergartens, two libraries, four cultural centers, four scientific institutes, five sports halls and other buildings.