Lee Tae-joon, doctor of the last khaan of Mongolia
The Mongol Messenger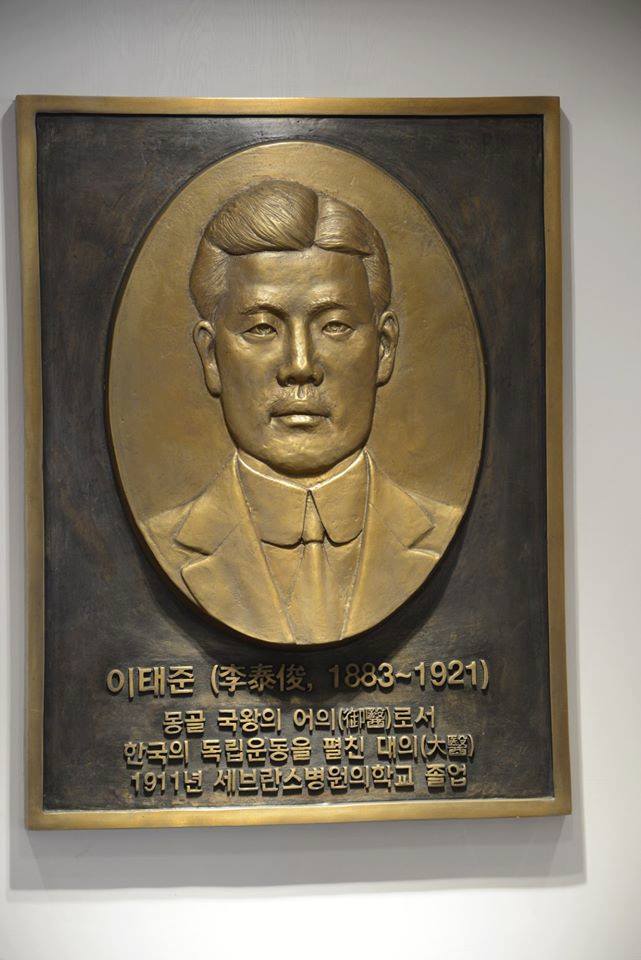 The 8th Bogd Jebtsundamba Khutuktu, the last khaan of Mongolia had a Korean doctor named Lee Tae-joon.
Dr. Lee Tae-joon, who fled from his country that had been under rule of Japan to China, came to Niislel Khuree, current Ulaanbaatar, the capital city of Mongolia in 1914. Dr. Lee Tae-joon arrived in Mongolia with his fellow activist Kim Kyu-shik with a plan to establish secret military school. And he built a hospital in Niislel Khuree as modern medicine was not widespread in the country, up to 70-80% of the population suffered from venereal diseases. And Dr. Lee's medical work became highly recognized.
He entered the Mongolian royal palace and earned the trust of the Mongolian royal family, including becoming doctor of Bogd Khaan. The 8th Bogd Jebtsundamba Khutuktu awarded him with the supreme state prize -Erdeniin Ochir Order (Order of Precious Rod) on July 21, 1919 for his efforts and achievements.
Dr. Lee Tae-joon was born on November 21, 1883 in Haman county of South Gyeongsang province, South Korea. He graduated then 'Severance' Hospital's Medical School (now a part of Yonsei University) in 1911.

Following his graduation from the university, he was practicing medicine in 'Severance' hospital. However, as Japanese invaders took over his home country, it became hard for patriots to stay in the country and he decided to make his way to Nanjing, China in 1912.

In 1914, Dr. Lee Tae-joon left Nanjing, China for Niislel Khuree, Mongolia. Arriving in Mongolia, he established a hospital and became popular with his medical work. He was activist of the independence movement against Japanese colonial rule in Korea led by Ahn Chang-ho.
While he was living in Mongolia, he still made his contribution in the Korean independence movement by providing funds to the temporary Government of Korea in Shanghai and being deeply involved in activities of 'Yoldan' revolutionary group. There is also fact that he made specific influence on submission of letter to the Bogd Khan state on helping Korean children hit by hunger.
Dr. Lee Tae-joon was killed by troops of the Russian white army, which was building secret relationship with Japanese troops, when it took over Niislel Khuree. He was just 38 years old when he died.
In 1990, the Government of the Republic of Korea awarded him with the Order of Merit for National Foundation in recognition of his great contribution to the independence of the country.
Moreover, the Governments of Mongolia and the ROK built Dr. Lee Tae-joon's memorial park in Zaisan hill in Ulaanbaatar city, the capital of Mongolia in 2011 in honor of his memorial. And a museum was built in the memorial park with support of Soldiers' Affairs Agency of the ROK in July, 2009 in aims of reminiscing aspiration and patriotic deeds of Dr. Lee Tae-joon.
Mongolian Order of State - Erdeniin Ochir (Order of Precious Rod)
During the Bogd Khaan period, the Erdeniin Ochir order was invented and its rule for awarding was made. They were produced in St. Petersburg, the capital of Russia, and were awarded to foreigners. The order had a complex structure, with three classes and twelve grades within these classes.
The first class of the order was named Chinggis Khaan's order and was for kings of foreign states. The second class was named Abtai Khaan's order and was given to lords and princes of foreign countries. The third class was named Bogd Gegeen's order.