Comprehensive changes to be made in governance through Vision-2050 document
Society
Ulaanbaatar /MONTSAME/. The 'Vision-2050' is a policy document, which was formulated by a working group comprising of 1500 people, including scholars, experts and state secretaries of 13 ministries, heads of some government agencies, authorities of universities and representatives of non-government organizations. According to the Prime Minister's order No: 52 dated April 30, 2019, the working group analyzed development stages of the past 30 years of Mongolia and formulated the policy document that will define long and mid-term development policy until 2050. We are presenting 9 fundamental goals of the development policy in detail.

Good governance is defined as an efficient, appropriate method to define and implement state policies based on the state of the social system, and economy as well as in conducting assessments and evaluations.
The traditional governing approach that is implemented under the sole authority of the government and its agencies has begun to be replaced by a new approach that prioritizes the participation of citizens, civil society, and private entities. In other words, it is now considered as a joint operation by the government and the aforementioned parties. Thus, this approach has been set as the base methodology for good governance that provides human development in Mongolia.
It goes without saying that one of the core pillars for national development is the matter of governance as it creates challenges and issues at all levels of society. For this reason, in defining the national development policy, certain requirements and factors to consider have been set, such as citizens' participation in choosing their government, political stability, quality and accessibility of state services, government organizations' capacity to be held accountable, policy supporting of private entities on national and local levels, and establish and localize good governance that will limit corruption and conflict of interest.
Thus, in the framework of the goal to establish good governance that provides human development opportunities, six objectives have been set:
1. Make changes to the allocation of authority, its monitoring, and balance to be more optimal, and create sustainable governance
2. More specifically determine the allocation of authority by optimally defining the structure and organization of government organizations
3. Develop efficient e-governance that supports human development
4. Develop professional, skilled, transparent, efficient, and smart state services for citizens
5. Create an appropriate system that includes the participation of all parties involved in the national development policy, planning, and implementation by strengthening the partnership between civil society, private entities, and the government
6. Reduce cases of corruption and abuse of power by strengthening the national justice system
Measures on each objective will be taken in three phases, with Phase 1 taking place between 2020-2030, Phase 2 between 2031-2040, and Phase 3 between 2041-2050.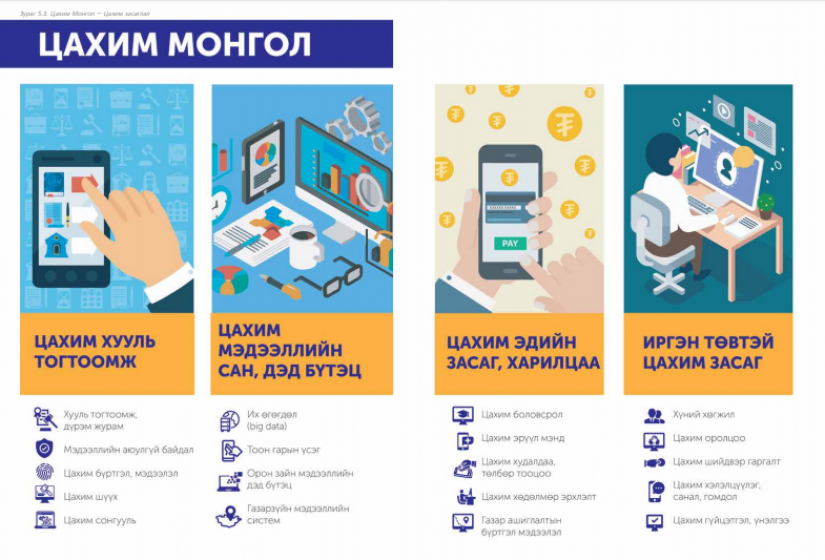 From introducing and localizing digital signature, implementing a policy on supporting online businesses, and employment, and transitioning into a system that requests information from citizens only once with the acceleration of the programme, 'One citizen - One registration', to taking step-by-step measures on creating opportunities for professional development for state servants, and improving their social security, and strengthening the current system on receiving and keeping information on corruption cases confidential, and establishing legal framework to protect individuals that uncovered such crimes, various detailed measures have been laid out in the framework of the 'Good Governance' goal.
The implementation of the goal will be annually assessed based on five indicators of the World Bank Group's Worldwide Governance, namely government effectiveness, regulatory quality, rule of law, voice and accountability, and control of corruption, and the E-Government Development Index (EGDI) of the United Nations.