Choijin Lama Temple Museum is on the World Monuments Watch 2020
Art & Culture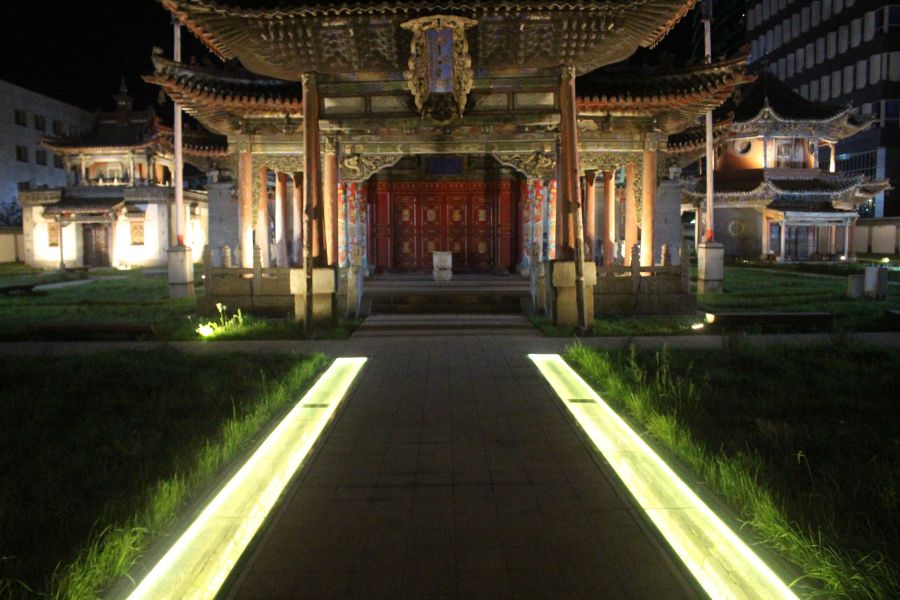 Ulaanbaatar /MONTSAME/. The World Monuments Fund included Choijin Lama Temple Museum in the 2020 World Monuments Watch, one among 25 iconic and monumental sites of great historical significance and contemporary social impact.
Founded in 1965, World Monuments Fund is the leading private organization devoted to saving important cultural heritage sites and empowering local communities. Since 1996, the fund has given more than $110 million to 'Watch' sites, while other funders have donated nearly $300 million.
The World Monuments Watch is a biennial program that uses heritage conservation as a vehicle to improve community well-being and with founding sponsor American Express raises awareness on cultural heritage sites at risk around the world. Since the program's inception, more than 836 sites in more than 135 countries and territories have been included. The international attention given to 'Watch' sites provides a vital tool with which local entities may leverage funding from a variety of sources, including municipal, regional, and national governments; foundations; corporate sponsors; international aid organizations; and private donors.
Every two years, communities, individuals, and other groups nominate heritage sites and the 2020 'Watch' received more than 250 nominations. These sites are facing daunting threats such as encroaching urbanization, political turmoil, natural disaster, and violent conflicts, or present compelling conservation opportunities.
The 'Watch' final selection of sites is determined through a series of reviews and an independent panel of heritage experts. Each site's cultural significance, potential to improve the lives of communities, need for urgent action, and feasibility of approach is considered when selecting sites for the 'Watch'. By protecting these irreplaceable sites for future generations, World Monuments Fund aims to improve the resilience of communities, enhance social inclusion, and build new capacities.
The 2020 Watch includes Bears Ears National Monument (United States), sacred land and sites of North American indigenous people that have been put at risk of desecration; Sacred Valley of the Incas (Peru), a rich cultural landscape near Machu Picchu being threatened by a proposed airport construction; Notre-Dame de Paris (France), a beloved cathedral and global icon nearly lost during a fire that reminds us of the depth of human connection to heritage places and the personal trauma that their destruction can bring; the San Antonio Woolworth Building (United States), a landmark of the African-American Civil Rights Movement in Texas, at risk of being lost in a redevelopment plan; Mam Rashan Shrine (Iraq), a Yazidi shrine destroyed in a genocidal campaign whose reconstruction can establish mutual respect and recognition for a minority community; and Rapa Nui National Park (Chile), the iconic site popularly known as "Easter Island," whose indigenous community seeks control and new solutions to halt the loss of culturally significant rock carvings. In total, the 25 sites span 21 countries and date from prehistory to the twentieth century.
With an aim to preserve the historic monuments, which are the symbol of Mongolian national value and cultural heritage, the Arts Council of Mongolia is implementing the "Cultural Treasure" grants program funded by the MCS Holding LLC. In the scope of the "Cultural Treasure" grants program, US historic preservation expert Mr. Stephen J. Kelley performed a condition assessment of the Choijin Lama Temple structures in June 2019. Mr. Kelley is helping the Arts Council of Mongolia to design a master plan for the conservation of the site. The 2020 World Monuments Watch seeks to lend support and visibility to these efforts.
In June 2019, Arts Council of Mongolia nominated Choijin Lama Temple Museum to the 2020 World Monuments Watch with an aim to raise international awareness and seek technical assistance and funding for the restoration of the site.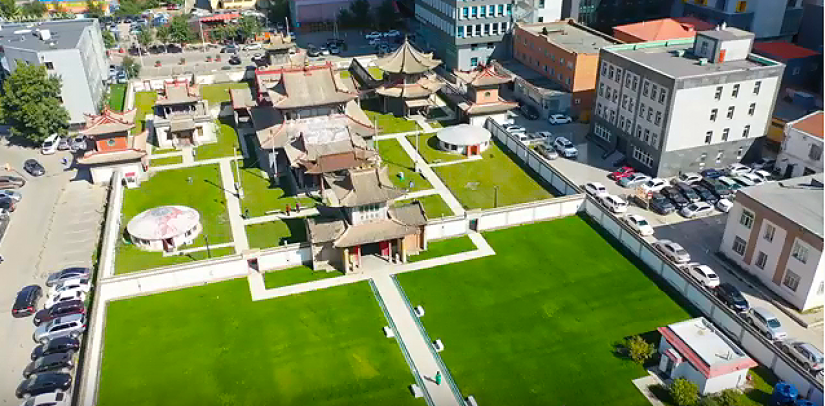 About the Choijin Lama Temple Museum
The Choijin Lama Temple Museum, constructed in 1904-08 is considered the number one museum among all temples in Mongolia for its beautiful architecture, paintings, sculptures, color and for both exterior and interior design. The Temple Museum, though converted from religious use 60 years ago, remains in its authentic form as one of the architectural, historical, religious and cultural monuments and one of the few remaining intact examples of the Chinese Mongolian style of temple architecture.
Compared with other Mongolian monasteries this assembly has unique building structures, such as the eight-sided Undur Gegeen Temple that resembles the Mongolian Ger shape. the Today the Yampai gate, Makharanzs Temple, Dund gate, Main temple, Zuu Temple, Undur Gegeen Temple, Baruun and Zuun gates, as well as the outside walls remain as an authentic architectural ensemble.
There are numerous challenges and vulnerabilities to the Choijin Lama Temple Museum that need to be overcome that include technical social and political aspects. Challenges include the following:
Uncontrolled development of the quickly expanding city of Ulaanbaatar which has surrounded the site with mid to high-rise buildings.
Lack of funds to provide adequate maintenance.
Dearth of human resources available for the care and restoration of heritage buildings and sites.
Land ownership disputes, lack of territorial definition, and failure to enforce government protection of listed buildings need to be overcome.
Lack of awareness by the local community on the significance of the Choijin Lama Temple Museum.
Site upgrades are urgently needed for electrical, security and fire alarm systems to protect the site. In addition internal temperature, humidity and dust control systems need to be installed in some of the temples to protect the precious artwork.
World Monuments Watch program provides enormous opportunities to raise public awareness about Choijin Lama Temple Museum and build capacity for heritage conservation throughout Mongolia.
World Monuments Fund will now partner with Mongolian stakeholders to design and implement targeted activities including advocacy, planning, education, and conservation interventions at Choijin Lama Temple Museum.
American Express will select a group of 2020 Watch sites to receive $1 million total in funding for conservation initiatives. This year, a challenge grant from Stavros Niarchos Foundation matched by The Ford Foundation led to the creation of a Watch Investment Fund totaling $600,000, ensuring that each of the 2020 Watch sites are eligible for additional support based on their potential for social change.
World Monuments Fund Press Contact:
Hillary Prim, Director of Communications, +1-646-424-9582 or hprim@wmf.org
Visit https://www.wmf.org/2020Watch for more.