Over 50 works of Buryat artists put on display
Art & Culture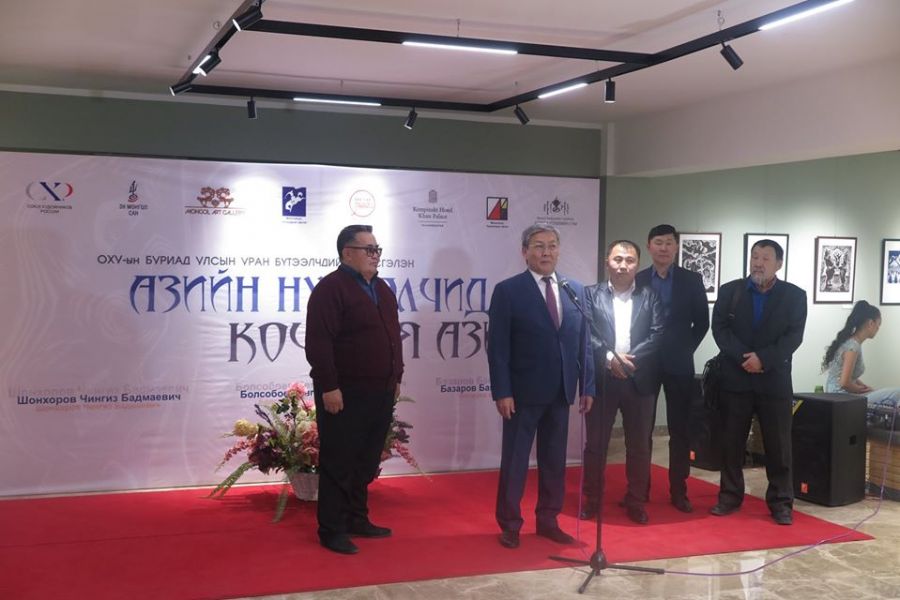 Ulaanbaatar /MONTSAME/ At the invitation of the Mongol art gallery, renowned Buryat artists Evgeny Bolsoboev, Chingiz Shonkhorov, and Bayaskhalan Bazarov are staging their exhibition in Mongolia for the first time. The 'Nomads of Asia' exhibition showcasing over 50 art works of the artists was launched at the Mongol art gallery on November 7.
Paintings depicting the lives of nomads, landscape paintings and bronze sculptures are on display at the exhibition that will be open until November 20.
"I try to represent the nomadic culture, life, and customs through art. I created my sculpture 'Mongolian Wrangler' for the days of my youth. I would like to mount my sole exhibition in Mongolia next time," Honored painter of Russia, Russian State Prize laureate Bayaskhalan Bazarov said at the opening of the exhibition.
Honored painter of Russia, People's painter of Buryatia Chingiz Shonkhorov said among the art pieces are those with meanings left up to the exhibition visitors' points of view besides the historical and mythical paintings.
Head of the Buryat Division of the Russian Artists' Union Evgeny Bolsoboev, "Given my enthusiasm about graphic design, I combine traditional methods with graphic design for my creations. I used to explore scholars' books and works about shamanism when the practice was prohibited during Soviet times. Quite some pieces of mine under that theme have been brought here."