Gachuurt-Nalaikh-Choir road opens
Society
Ulaanbaatar/MONTSAME/. A 20.9 km new road between Gachuurt and Nalaikh-Choir junction has opened for traffic today. Although this 26-meter wide two-way and four-lane road with the drainage, bridge and tunnel has been opened for traffic today, it will be fully complete by July of next year after making more works including pedestrian and cycling roads, flyover as well as others.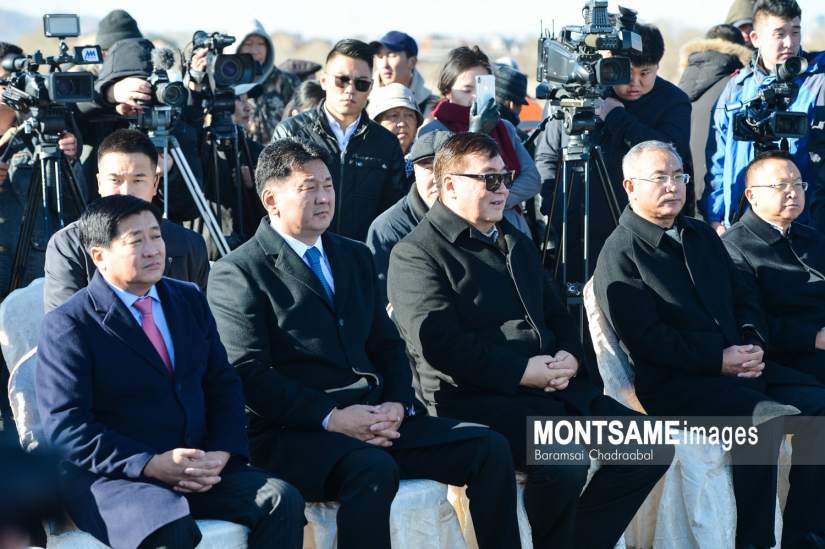 Present at opening ceremony were Prime Minister U.Khurelsukh, Minister of Road and Transport Development B.Enkh-Amgalan, Governor of the Capital City and Mayor of Ulaanbaatar S.Amarsaikhan and Chinese Ambassador Xing Haiming.
Prime Minister U.Khurelsukh said, "For Ulaanbaatar city, it is very constructive year that auto road of Khushig Valley Airport and new bridges of Yarmag, Bayanzurkh and Sonsgolon have been put into operation. I am happy to note that the traffic movement of the 20.9km road between Gachuurt junction and Nalaikh district, whose construction work commenced in January this year, is opening today. As it was not renovated for over 60 years, the old road of this direction was fully broken; thus used to affect traffic safety. … Caused by rainy situation of last summer, the construction work stopped for 29 days. Notwithstanding, it is opening on the scheduled date thanks to joint effort of Mongolian and Chinese teams." Current government focuses on the quality of auto roads, aiming to bring it into international standards, the PM added.

Governor of the Capital City and Mayor of Ulaanbaatar S.Amarsaikhan said, "This road links eastern and southeastern aimags of the country, along with its being a road of Mongolia-Russia-China transit transportation. Therefore, it is a road of development. Moreover, it is a tourism road that links Khan Khentii, birthplace of Great Chinggis Khaan, Gorkhi and Terelj National Parks. In the end, it is a road of sports and health because pedestrian and cycling roads to be built next year will be stretched to Marshal Bridge, and farther – Yarmag."
Funded with China's soft loan, construction cost of the road between Gachuurt and Nalaikh-Choir junction is USD 36 million. The project is being executed by a general contractor China's 'Sinohydro Corporation Limited', sub-contractors 'Tegshplant,' 'Gashuuny Gol' and 'Dardan Zam' companies, with 'Munkhad ashdyn zam' consultancy.
Chinese Ambassador Xing Haiming emphasized that the road construction presents Mongolia-China friendly relations and will take an important place in bilateral relations and cooperation. The ambassador mentioned that the two countries are doing more construction works within the 70th anniversary of the diplomatic relations between the two countries.