Three kindergartens under construction with assistance of the United Arab Emirates
Society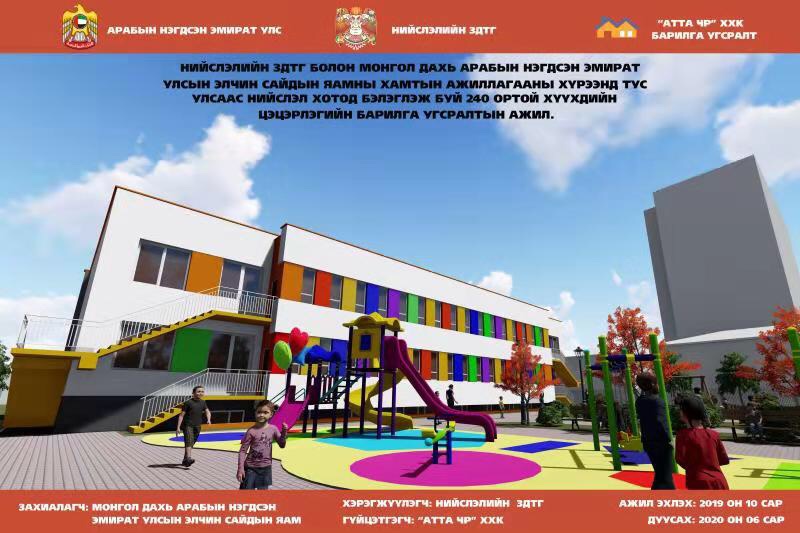 Ulaanbaatar/MONTSAME/. Assisted by the government of the United Arab Emirates, three kindergartens started being constructed in Ulaanbaatar city, Khentii and Dornogobi aimags. It is planned to be complete within the third quarter of 2020.
The UAE government has rendered assistance to Mongolia in various fields including over USD350 thousand in total for improvement of hospital facilities to Health Center of Baganuur district, distributing computers and water purifying devices to some schools of Ulaanbaatar city and furnishing Children's Reading Hall of Ulaanbaatar City Library as well as USD1 million each on implementing the projects on preventing deaths of endangered falcons by electrocution and combating environment pollution.
Mongolia and UAE established the diplomatic relations in 1996 and bilateral friendly relations and cooperation are expanding year by year. Total trade turnover between the two countries is now counted to USD3.8 million. Since 2011, the UAE invested USD15.1 million in Mongolia and it tends to grow in recent years. The UAE granted a soft loan worth USD13 million for the construction of Taishir Hydro Power Plant in Mongolia.

The UAE opened its Embassy in Ulaanbaatar in 2016. On October 11, 2019 Mongolian Parliament issued a resolution to open the Embassy of Mongolia in Abu Dhabi.