Myagmarsaikhan crosses Ulaan Tsutgalan waterfall on high-wire
Sports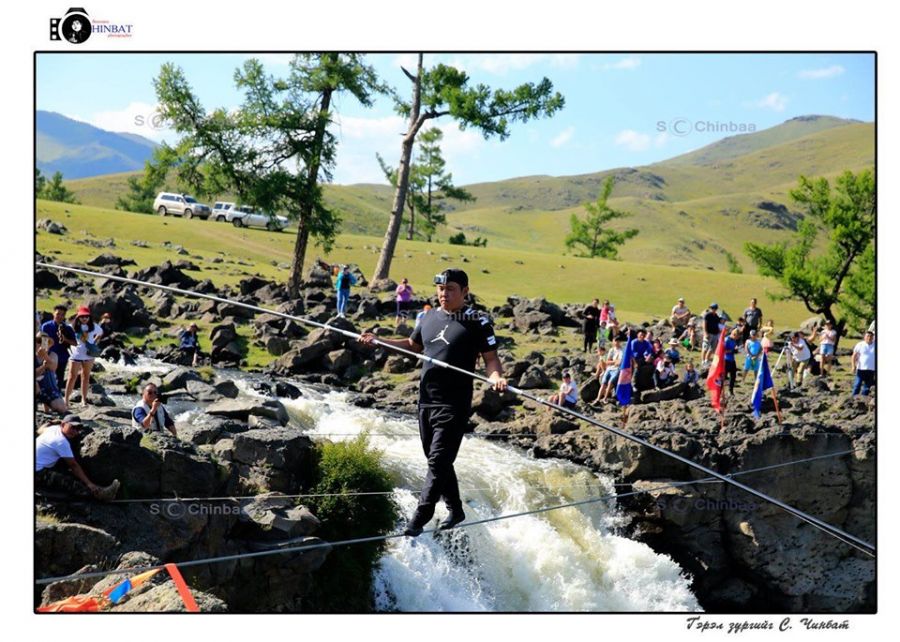 Ulaanbaatar /MONTSAME/. Mongolian circus actor M.Myagmarsaikhan successfully walked on a 65-meter long tightrope 25 meters above the ground across the Waterfall Ulaan Tsutgalan in Uvurkhangai aimag on August 11. M.Myagmarsaikhan, the highest tightrope walker of Mongolia according to the Encyclopedia of Mongolian Circus, is an acrobat who used to work at the Mongolian National Circus until he went abroad in the late 1990s.
In 2005, he started working with Swiss high-wire artist Freddy Nock who pushed him into this stunt and started performing skywalk act since. His contract to work in Switzerland ended in 2010 and M.Myagmarsaikhan has been living in Mongolia since then. As his partner Freddy Nock always wondered why he never performed high-wire acts in his home country, M.Myagmarsuren established the idea of walking over the waterfall Ulaan Tsutgalan when he was vacationing with his family in Uvurkhangai aimag.
A year after he returned from the travel, he started preparing for the first ever skywalk performance in Mongolia, buying everything he needed, a rope and pole for balance and so on and has spent around MNT 7 million. M.Myagmarsaikhan talked that one of the problems he faced during his preparation was many insurance companies rejected his application for life insurance. Fortunately, a local insurance company approached to him to support him. M.Myagmarsaikhan also thanked for the Mongolian National Circus and other companies and his former colleagues and friends who helped him to realize his skywalk act. To set up the ropes and equipment and take necessary measures, ensuring his safety, a total of 22 people worked with him for nine hours ahead of the performance.
To a question about his future plan, he says "Chuluut Canyon and Khermen Tsav canyon are also in my mind for future stunts in Mongolia". As an only Mongolian artist who performs a stunt of skywalk, he is also planning to train young acrobats.