Teachers share experiences on supporting children with special needs
Society
Ulaanbaatar/MONTSAME/ There are numerous factors that limit children's right to get education including disability, child neglect, discrimination, child labor, isolation of family, ethnic minority and so on. There is a strong urge for a change to adjust learning environment and teaching approaches to meet the special needs of these children. The education system to meet these special needs is named as 'Inclusive Education'.
Today, March 22, a number of schools and Lifelong learning education centers (LLEC) of the capital city and rural areas, which are implementing an inclusive education program, shared their experiences and practices how to support children with special needs (CwSN) during the exchange meeting held in Diamond hall of Blue Sky Hotel, Ulaanbaatar.
This exchange meeting that enabled schools and LLECs to share their experiences pioneered the further actions to promote the best results of the project in the regional and national levels, sharing the lessons learned and best practices.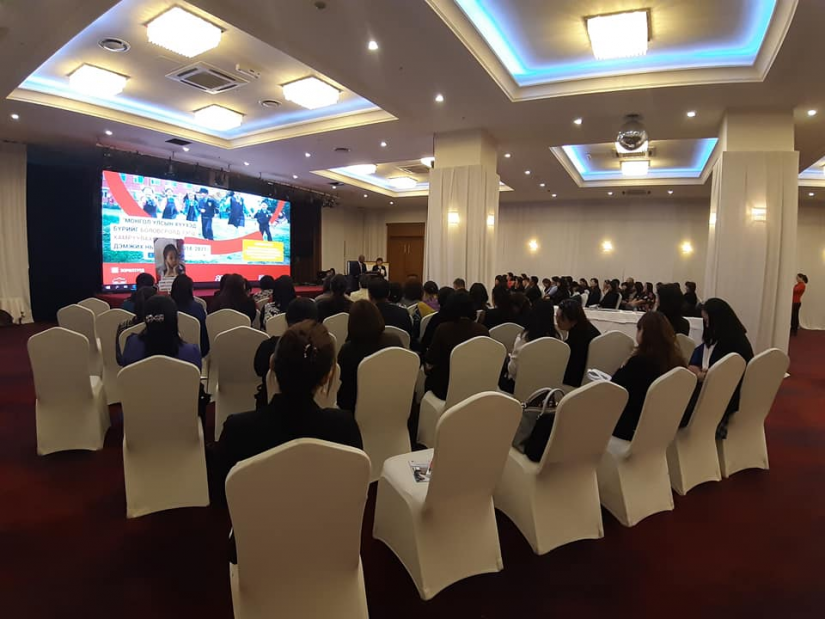 Among the children with special needs, disabled children are the ones whose rights are violated most severely. Thus, the Save the Children that is implementing the project 'Promoting Inclusive Education Focusing on Every Last Child in Mongolia', paid more attention to the right of education for disabled children in its first year of implementation. Under the project, over 300 teachers at secondary schools, 300 parents, 60 teachers at LLECs, and 120 pupils of the same age participated in the capacity building workshops. Moreover, 3 teaching and learning modules and 2 manuals have been developed for publication and schools and LLECs have been provided with teaching and learning resource materials, furniture and equipment to improve the learning environment for children with special needs.
This project, 'Promoting Inclusive Education Focusing on Every Last Child in Mongolia', is being implemented for three years, aiming to provide inclusive education to children with special needs in Bayanzurkh, Songinokhairkhan, Chingeltei, Uvurkhangai, and Khovd provinces. In the first year, the project was implemented in the targeted 8 schools and 8 LLECs and in the second year, it will be implemented in another 8 secondary schools and 8 LLECs.
Not only in Mongolia but also in many other countries, there is an emerging world trend that children with special needs and disability are not segregated to study in special schools but they go to mainstream schools so schools are required to meet their special needs. In order to make this child friendly principle a reality, we need to develop not only appropriate legal, policy and education environment but also to promote positive attitude among parents and increase community awareness towards inclusive education.
Source: Save the Children