Foreign Minister Meets Her Saudi Counterpart
Politics
Ulaanbaatar, May 26, 2023 /MONTSAME/. Within the framework of the Official Visit to the Kingdom of Saudi Arabia, Minister of Foreign Affairs B. Battsetseg held a meeting with Minister of Foreign Affairs, HH Prince of Saudi Arabia Faisal bin Farhan Al Saud on May 25.
During the meeting, the parties exchanged in-depth views on bilateral relations and cooperation. On the sideline of the meeting, the Ministers signed the Memorandum of Understanding on Cooperation and Political Consultative Meeting between Ministry of Foreign Affairs of Mongolia and Ministry of Foreign Affairs of Saudi Arabia and agreed to organize the first Political Consultative Meeting in near future.
Minister B. Battsetseg noted that within the framework of the foreign policy that Mongolia is developing with Gulf countries, there are wide opportunities to develop mutually beneficial cooperation with the Kingdom of Saudi Arabia in coordination with the development policies of the two countries.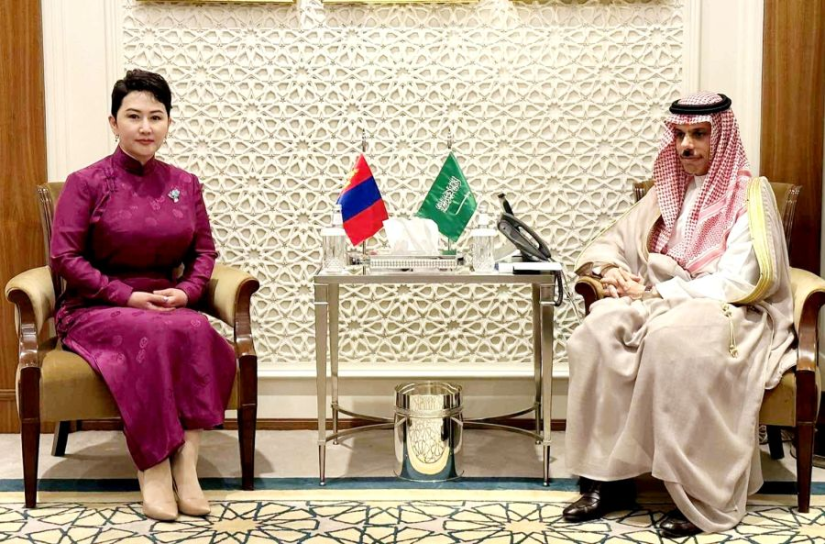 In this context, she expressed interest in attracting investments from Saudi Arabia in the mining, energy, and agriculture sectors, initiating the export of meat and meat products from Mongolia, and mutually supporting tourism and student exchange. Meanwhile, the Minister proposed to jointly implement projects and programs within the framework of green development.
The Minister of Foreign Affairs HH Prince Faisal bin Farhan Al Saud, emphasized the importance of actively developing friendly relations and cooperation between the two countries in the aforementioned fields. He expressed his delight that this Official Visit marks the beginning of further cooperation between the two foreign ministries.