Decisions Made at the Cabinet Session
Politics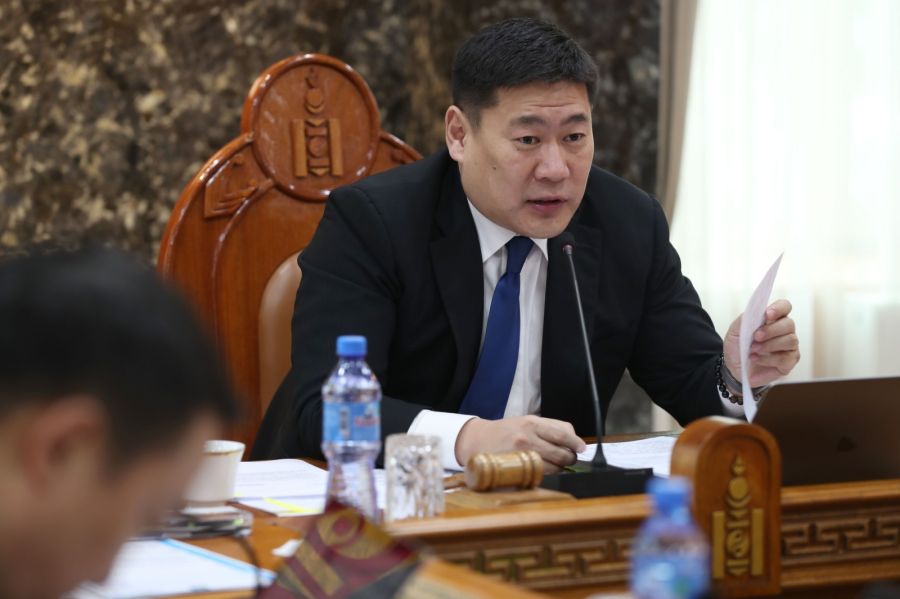 Ulaanbaatar, May 25, 2023 /MONTSAME/. During its regular session on May 24, 2023, the Cabinet made the following decisions:
During the Cabinet Session, Prime Minister L. Oyun-Erdene mandated that all information about the Government's Special funds be made open to the public.
Construction of the "Emeelt Light Industry Park" Commenced
Minister of Construction and Urban Development Ts. Davaasuren, Minister of Food, Agriculture and Light Industry Kh. Bolorchuluun, and Governor of the capital city, and the Mayor of Ulaanbaatar D. Sumiyabazar were tasked to take the required measures to get the feasibility studies and partial planning approved and start laying down the basic infrastructure within Q4 2023.
Preparatory works, including research, working drawings, partial planning of the park, and other infrastructure works, such as dam, engineering utilities, power supply, drinking water supply, and temporary power supply for a construction site, have already been completed.
Leather factories are planned to be relocated to the park, which will allow for re-planning and rehabilitation of the area where they are currently operating.
The park is planned with a processing capacity of 4.6 million skins and hides, of which four million sheep and goat skins, 400 thousand cowhides, 200 thousand horsehides, and 15 thousand camel hides. Moreover, it is capable of processing 3.6 thousand tons of wool and 1.2 thousand tons of cashmere.
Starting from July 1, MIAT to Conduct Scheduled Flights to 9 Domestic Destinations

In connection with the Government's declaration of 2023-2025 "Years to Visit Mongolia", MIAT Mongolian Airlines will start conducting scheduled flights to 9 domestic destinations in line with the Government's goal to support tourism, revive domestic flights and reduce ticket prices. The scheduled flights will be conducted to Choibalsan, Dalanzadgad, Murun, Uliastai, Bayankhongor, Altai, Khovd, Ulaangom, and Ulgii, with 40-68 percent reduced prices.
This decision has been made to enhance the availability of domestic flights for local citizens, supporting the development of the tourism sector, and increasing the flow of tourists. It will allow not only local citizens but also tourists to travel comfortably, the Minister of Road and Transport Development highlighted in his presentation.
Development Projects set in the "New Revival Policy" to be Accelerated

The implementation process of the development projects set in the "New Revival Policy" was presented at the Session. Ministry of Economy and Development has taken numerous measures to ensure the smooth implementation and intensify the process of those projects.
Of the 20 development projects launched, 16 are in an active phase of execution and 10 are expected to be completed in 2023.
Brief News:
A consultation meeting on the implementation process and milestones of the "Vision-2050" long-term development policy of Mongolia will be held on June 9.

Variable cost per student of the Vocational training institutes and its methodologies were approved.
Guidelines for the Mongolian delegation to participate in the Second Mongolia-Tailand Intergovernmental Consultation Meeting on Cooperation, which will be held in Bangkok, Thailand on June 2, were discussed and approved.
A consular section will be established in the Embassy of Mongolia in the French Republic.
The list of explosives, tools for blasting, and their raw materials, which are permitted in the territory of Mongolia, was renewed and approved.