Mongolian Special Olympics Athletes Honored by Prime Minister
Society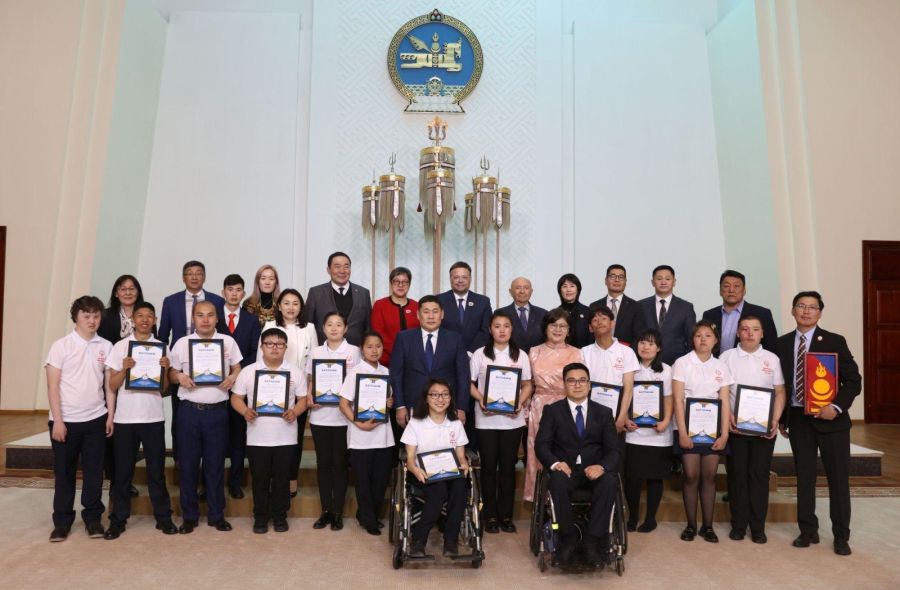 Ulaanbaatar, May 19, 2023 /MONTSAME/. Yesterday Prime Minister of Mongolia L. Oyun-Erdene received the athletes who will be representing Mongolia at the upcoming Special Olympics World Games.
In attendance at the meeting were representatives from the Special Olympics Committee, including Senior Vice President Shawn Mitchell Ferguson, Committee Board Member Luis Bangino Alfredo Gallegos Chiriboga, and Regional President Freda Fung.
During the meeting, Senior Vice President Shawn Mitchell informed on the establishment of the "Global Coalition for an Inclusive Society" by the Special World Olympics Committee.
The Government of Mongolia expressed its willingness to collaborate with this initiative. Prime Minister Oyun-Erdene mentioned "I wish my gratitude to all those involved in promoting the Special Olympics World Games and emphasize the importance of athletes competing on the world stage, fostering joy, unity, and friendship through sports, and supporting human rights. The Mongolian government is committed to improving access to education, healthcare, and social services for citizens with disabilities, and expanding the range of government services available to them."
The Special Olympics World Games are scheduled in Berlin, Germany scheduled in Berlin, Germany on June 17-25, 2023, featuring approximately 7,000 athletes from over 190 countries competing in 26 sports.

Mongolia will participate in nine sports: volleyball, basketball 3x3, football, badminton, bocce, judo, water sports, athletics, and table tennis. The athletes hail from various locations, including Ulaanbaatar city, as well as the aimags of Bayan-Olgii, Govi-Altai, Dornod, Darkhan-Uul, Zavkhan, Orkhon, Uverkhangai, Sukhbaatar, Tuv, Khuvsgul, and Hovd. A total of 44 athletes are preparing for the Games.
The Ministry of Education and Science, along with the Committee of Physical Education and Sports, is providing support to the participating athletes, offering a financial contribution of MNT 50 million each. Additionally, MIAT Company is granting a 50 percent discount on flight tickets, and the government will allocate MNT 100 million from its reserve fund.
Prime Minister L. Oyun-Erdene expressed his best wishes for the athletes' success and presented them with certificates.
The Special Olympics World Games Committee organizes both summer and winter games every four years. Mongolia has previously participated in two summer games and one winter game, securing over 50 medals with a delegation of 56 athletes.