Astonishing Glimpse of "One Day of the World" in Abu Dhabi
Society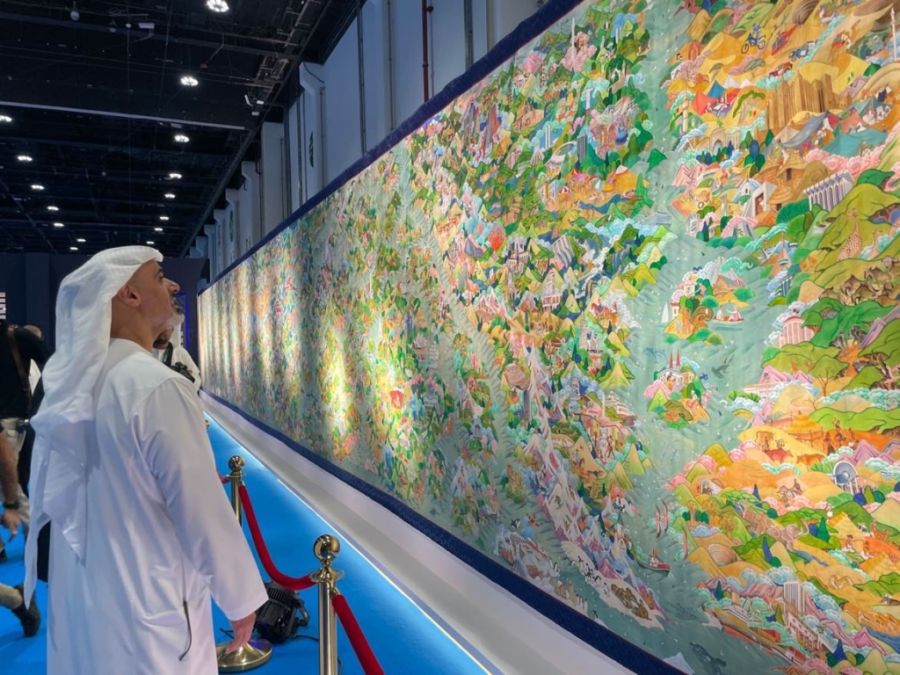 Ulaanbaatar, May 17, 2023 /MONTSAME/. The World's Longest Gouache Painting "One Day of the World" of Honored Cultural Figure of Mongolia N. Sergelen is being showcased to the public at the prestigious "Manarat Al Saadiyat" gallery in Abu Dhabi for the Annual Investment Meeting (AIM Global 2023), which was held on May 8-10.
Crown Prince of Abu Dhabi Sheikh Khaled bin Mohamed bin Zayed Al Nahyan, Minister of Justice Abdullah bin Sultan bin Awad Al Nuaimi, Minister of State for Foreign Trade Thani bin Ahmed Al Zeoudi, Undersecretary of the Department of Economic Development Rashid Abdul Karim Al Balushi, and other high-ranking officials entered the captivating world of the painting and feasted their eyes upon the enchanting display of art that portrays the essence of humankind and culture.
The "One Day of the World" was painted with traditional art techniques using gouache and watercolor on a 52.5 square meter canvas (with a ratio of 21 meters x 2.5 meters).
Artist Sergelen dedicated over two decades to research and painting, pouring his effort into every brushstroke of this remarkable artwork. The painting encompasses various aspects, including the ways of life, diverse wildlife and plants, breathtaking natural formations, vibrant cultures, cherished values, and iconic structures that symbolize each of 193 countries. This magnificent work, imbued with unmistakable Mongolian essence is composed of over five thousand illustrations, expertly created using the distinctive techniques of Mongolian art.
Under the Mongolian government's policy to promote Mongolia internationally and the Years to Visit Mongolia 2023-2025, "One Day of the World" will astonish the vision of visitors until May 20, 2023.