B. Battsetseg: Mongolia Will Preserve the Momentum of Its Foreign Policies and Actions
Politics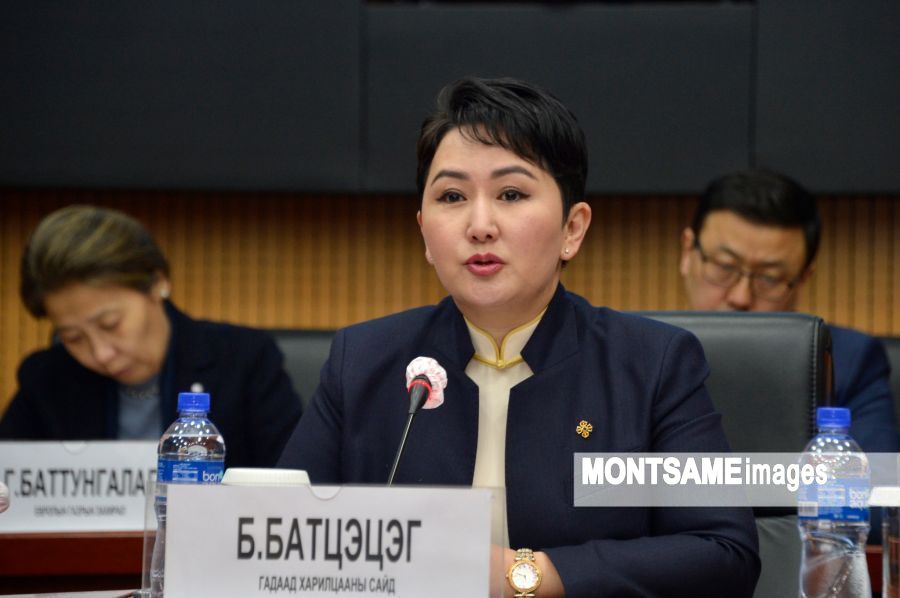 Ulaanbaatar, January 30, 2023 /MONTSAME/ On January 30, Minister of Foreign Affairs of Mongolia Mrs. B. Battsetseg held a press conference to introduce the policies and priorities of the Ministry, and its plans and actions for 2023, as well as provide an overview of the key state and government high-level visits, and their results and achievements, implemented in 2022.
At the onset, the Foreign Minister emphasized: "Mongolia pursues peace-loving, open, independent, and multi-pillar foreign policy. This policy principle has been central in all of our actions in 2022. In other words, 2022 was a year full of events that demonstrated the rightness of this policy. I would like to highlight three points. First, the peace-loving, open, multi-pillar, and independent foreign policy of our country was right from the beginning. Second, we have paid particular attention to maintaining and preserving our position with respect to relations with our two neighbors and "third neighbors", the United Nations, and other international organizations, and ensuring the unity of our foreign policy. Third, at the time when the global economic growth has declined, there was a need to significantly stimulate foreign relations in order to create the conditions for coping with emerging challenges with as less as possible damages and losses. Therefore, the year of 2022 was a year of reinvigorated and intensified foreign relations. Mongolia hosted more than 10 foreign visits, including the visits of UN Secretary-General Antonio Guterres and six foreign ministers. Compared to the frequency of high-level visits of foreign dignitaries to Mongolia in the course of the past 30 years, on average, Mongolia received 2-3 high-level guests a year.
The visit of the UN Secretary-General Mr. Antonio Guterres to Mongolia coincided with the 60th anniversary of Mongolia's accession to the United Nations in 1961, the 30th anniversary of the declaration of Mongolia's territory as a nuclear-weapon-free zone, and the 20th anniversary of Mongolia's participation in peacekeeping operations. Mr. Antonio Guterres appraised Mongolia as "a symbol of peace in a troubled world". President of Mongolia Mr. Ukhnaagiin Khurelsukh took part in the 77th Session of the UN General Assembly. And you are all well aware that he also participated in the UN Conference on Climate Change in Egypt.
To improve the efficiency of international cooperation projects and programs of the UN in Mongolia, our country intends to prioritize the following three areas in the future. First, it is important to work more actively to digitize all government services by 2024, putting at least 90 percent of them on the "E-Mongolia" platform, and become a digital nation while implementing the long-term development objectives set out in the Sustainable Development-2030 and Vision-2050.
The visits of the Mongolian President, Prime Minister, and the Minister of Foreign Affairs to China in 2022 were very successful and significantly contributed to adopting important decisions in foreign trade, customs and border sector and many other fields and spheres. During his visit to the PRC in November 2022, President Khurelsukh reached an agreement with his Chinese counterpart to increase the volume of our trade to 20 billion USD within the coming 5 years, as we have already attained a 10-billion dollars trade.
The major construction projects implemented jointly within the framework of grants and concessional loans were finally discussed and agreed upon. We have made notable progress on the issues that have been discussed for many years such as improving the infrastructure and accessibility of border ports connecting the two countries.
The Chinese side expressed that it stands ready to provide full support to the "One Billion Trees" National Campaign. In the future, it was agreed to implement joint projects and programs in the field of environmental protection. It was agreed that Mongolia will provide well-written Feasibility Studies so that our two parties have concrete bases to discuss and advance joint projects. During President Khuresukh's visit to China, 16 cooperation documents were signed and a joint statement with 19 provisions was made.
2021 marked the 100th Anniversary of establishment of diplomatic relations between Mongolia and Russia. In commemoration of the diplomatic anniversary, President Khurelsukh paid an official visit to Russia and the anniversary was broadly celebrated. In 2022, the Minister of Foreign Affairs of Russia paid a visit to Mongolia, during which we mutually expressed our satisfaction over the successful development of relations and cooperation at the level of "Comprehensive Strategic Partnership" while voicing willingness to further consolidate the bilateral relations. Moreover, the Heads of State of Mongolia, Russia, and China met on the sidelines of the SCO Summit in Uzbekistan in 2022, reaching agreements on the projects included in the Mongolia-Russia-China Economic Corridor Program.
Noting on Mongolia's relations and cooperation with the "Third Neighbors", Minister Battsetseg said:
"The fact that high level dignitaries of foreign countries are visiting Mongolia, is a clear manifestation of Mongolia's high reputation in the world and testifies that our policies and actions are appreciated around the world. Last year, President Khurelsukh made a state visit, which was not realized in the past 12 years – this was a State Visit of the Head of State of Mongolia to Japan, in commemoration of the 50th anniversary of diplomatic relations between Mongolia and Japan. Mongolia and Japan assessed the past 50 years of friendship and cooperation and set new goals for the next 50 years. Japan announced that it would plant 50,000 trees and train 20,000 of our youth in the field of forestry and forest nursery.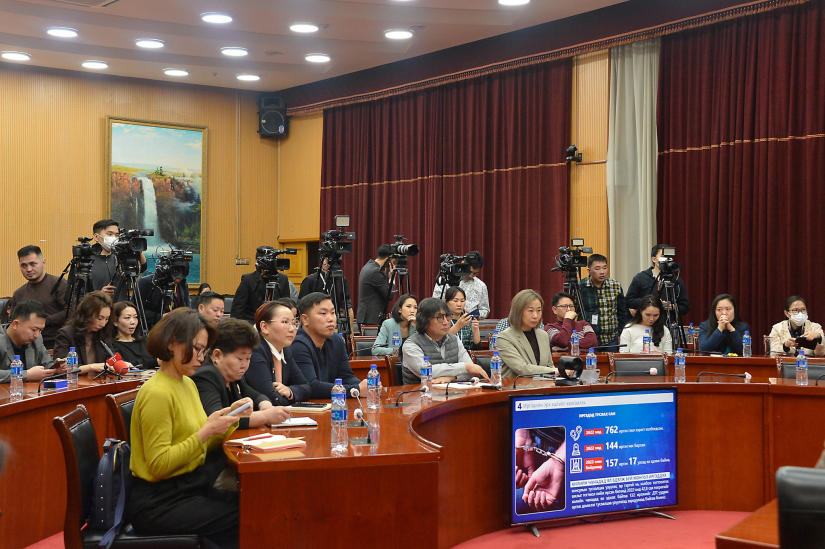 The development of relations with the Republic of Korea occupies an important place in our "Third Neighbor" Policy. The Minister of Foreign Affairs of the country visited Mongolia for the first time in eight years, during which we evaluated the thirty years of relations and defined the vision for the next thirty years. In doing so, we agreed to work efficiently in the fields of transportation, logistics, energy, infrastructure, and agriculture, establish a Mongolia-South Korea Joint Research Center for Rare Earth Elements, and plant trees on 45 hectares as part of the "Green Wall" Phase III Project. Moreover, negotiations are continuing to eliminate visa requirements for citizens of Mongolia traveling to South Korea.
Prime Minister of Mongolia L. Oyun-Erdene paid an official visit to Singapore. Within the framework of introducing Singapore's knowledge-based development experience in Mongolia, the sides signed three cooperation documents. The Prime Minister also made an official visit to Germany and agreed to implement a program to train 1,000 engineers in transport, logistics, energy, mining, information technology, urban planning, agriculture, and forestry. Also, with the help of Germany, it was agreed to study the possibilities of establishing a semi-processing plant for rare earth elements".
Minister Battsetseg said in conclusion of the meeting that the world was facing multiple challenges today. "Therefore, the countries tend to ensure their economic independence, reduce their mutual dependence, and develop trade and economic relations mostly with their partner countries with friendly relations. As for our country, we will maintain balanced relations with our two neighboring countries and third neighbors, prioritize our national interests, and continue to implement our strategic independent foreign policy. In addition, the Government of Mongolia has made a decision to temporarily exempt visa requirements for citizens of 34 countries in 2023-2025. In this regard, we will focus on promoting Mongolia in a broader scope and in more optimal ways.
As of today, 127 thousand Mongolian citizens live in 87 countries. Therefore, we will continue to closely attend our other immediate goals, objectives, tasks and principles such as eliminating politicization of appointment of diplomatic staff, strengthening the capacity of the staff, strengthening the consular offices and services, protecting the interests of citizens working abroad, increasing the size of the risk fund, and expanding social insurance services. Therefore, Mongolia's foreign relations will preserve the momentum of our active policies and actions in the year of 2023."