D.Javkhlanbayar raises State Flag of Mongolia at the summit of Mount Kilimanjaro
Sports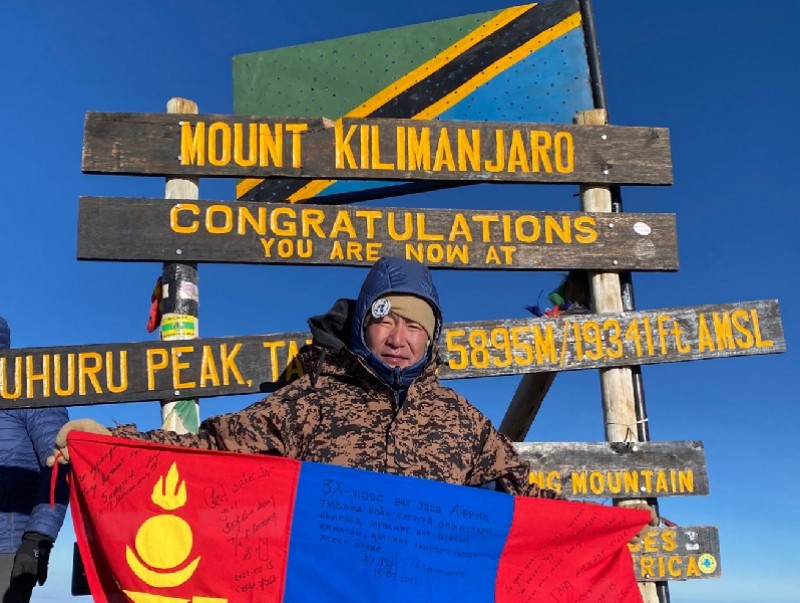 Ulaanbaatar /MONTSAME/. Colonel D. Javkhlanbayar, Chief of Staff of the Southern Sector of the United Nations peacekeeping operation 'UNMISS' in the Republic of South Sudan, conquered the summit of Mount Kilimanjaro on the African continent and raised Mongolia's state flag on September 23, 2022.
He made this climb commemorating the 20th anniversary of the participation of the Mongolian Armed Forces in UN Peacekeeping operations.
According to the General Staff of the Armed Forces, Colonel D. Javkhlanbayar took the hike and ascent to the base camp on September 19, 2022, with the United Team of International Mountaineers, started the climb at midnight and reached the summit of 'Uhuru' point at 07:15 am, September 22.
While on the subject: Mount Kilimanjaro is a part of the National Park of Tanzania, a major hiking and mountaineering destination that locates 350 km south of the equator and 280 km from the Indian Ocean, and is the highest single free-standing mountain above sea level 5,895 meters in Africa.