Estonia's E-Estonia vs. Mongolia's E-Mongolia introduced to childrens and youths
Art & Culture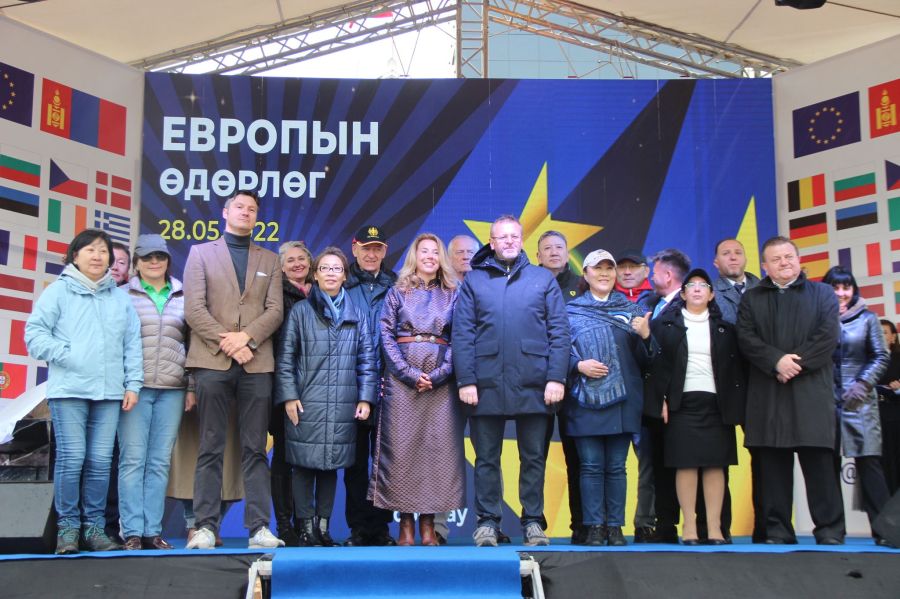 Ulaanbaatar /MONTSAME/. The "EUROPE DAY" event, after two-year of the break due to the global pandemic, was organized on a very large scale for the pubic at Sukhbaatar square of the Ulaanbaatar Capital city of Mongolia by The European Union Delegation to Mongolia on 27 May.
The event was officially opened by the Ambassador of the European Union to Mongolia, H.E. Axelle Nicaise, the representative of the Ministry of Foreign Affairs of Mongolia, and the Governor of the Capital city and the Mayor of Ulaanbaatar, H.E. D.Sumyabazar.

The event was attended by representatives of the EU Member states' countries, EU-funded projects, EU-cultural institutions, EU Member states' companies and representatives, where it highlighted and introduced the specifics of each EU member states' countries cultural, scientific, tourism, education, scholarships, and visa procedures information and news, and treated by national foods and delicacies and music performances.

The event was participated by ESTONIA – with a population of only 1.3 million people, the member state country of the European Union, and known as the world's leading country by its E-GOVERNANCE, with representation of The Honorary Consulate of the Republic of Estonia in Mongolia, which tent was crowded by thousands of childrens and youths.

This is because of 30 years ago, when the Soviet Union collapsed and each country became an independent transitioning to a market-economy, ESTONIA has followed this historic path, just like Mongolia, but in a very short period of time, it has become a world leader in the field of information and technology by switching the entire country to an electronic system.

In other words, the electronic version of the Estonian E-ESTONIA https://e-estonia.com/, which is being distributed around the world as a 'GOOD EXPERIENCE', has been introduced and localized in Mongolia today via the E-MONGOLIA https://e-mongolia.mn/home version. An introduction of it, brought the public services faster, swifter and more close to all citizens, reduced the centralization and traffic, economized time and money, ensured a transparent, unified database and information accessibility, kept free from the corruption, improved the country's competitiveness on the world stage, and improved the quality and comfortable living environment of the people.

H.E. L.Khulan, Honorary Consul of the Republic of Estonia to Mongolia, shared an experience with everyone, especially with childrens and young people on opportunities to study in the field of IT and with businesses on possibilities of elevating the country's economic and business development based on a new level, with a lower cost and the greater productivity by establishing E-GOVERNACNE, E-VOTE, E-EDUCATION, E-HEALTH, E-RESIDENCE and E-NATION.