Prime Minister L.Oyun-Erdene meets with his South Korean counterpart
Politics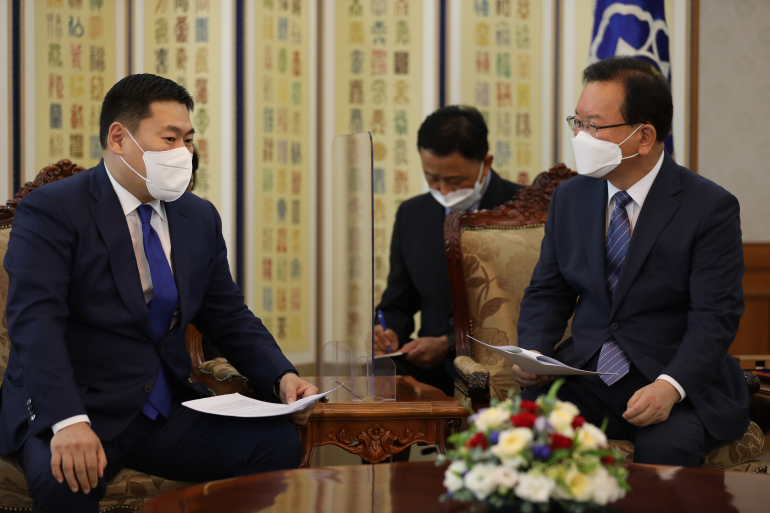 Ulaanbaatar /MONTSAME/. Prime Minister of Mongolia L.Oyun-Erdene held a working meeting with the Prime Minister of the Republic of Korea Kim Bu-gyom today.
Prime Minister L.Oyun-Erdene expressed commitment to upgrade the current 'Comprehensive Partnership' between Mongolia and the Republic of Korea to 'Strategic Partnership', increase the frequency of high-level reciprocal visits as soon as the risk of the pandemic subsides, and economic cooperation and advance trade and investment to a new level.
The two sides agreed on the importance of close cooperation in the current difficult situation of the COVID-19 pandemic, and agreed to work more closely to share knowledge, experience and information aimed at overcoming the pandemic. Prime Minister L.Oyun-Erdene thanked the Government of the Republic of Korea for its support and assistance in repatriating Mongolian citizens, conducting charter flights and combating the pandemic, and noted that two sides will continue to work closely to promote people-to-people exchanges. He also asked the Government of the Republic of Korea to support the protection of Mongolians living in the Republic of Korea amid the pandemic and ensure that they are immunized.
Prime Minister L.Oyun-Erdene was informed on the South Korea's measures and policies on the coordination of the school activities, COVID-19 treatments and economic recovery. They also touched upon the current situation of the pandemic in the two countries, spread of the delta variant in the ROK, the effectiveness of vaccine immunization and COVID-19 treatment.
Congratulating the people of Mongolia on the 100th anniversary of the People's Revolution, Prime Minister Kim Boo-kyum shared his memories of visiting Mongolia six years ago to experience the beautiful nature. He said that he wishes more South Korean tourists to visit and explore Mongolia.
Moreover, Prime Minister Kim Boo-kyum thanked the Government of Mongolia for supporting the Northeast Asia Cooperation Initiative for Infectious Disease Control and Public Health, and the New Northern Policy proposed by the ROK. He then expressed his desire to further strengthen the regional and bilateral cooperation in the fields of infection control and health, and intensify cooperation in the fields of transportation, energy and logistics.
Prime Minister L.Oyun-Erdene also exchanged views on increasing investment and joint implementation of major development projects and programs within the framework of the regional initiative proposed by the Republic of Korea.
At the end of the meeting, the Prime Ministers agreed to deepen cooperation in the international and regional arenas, especially in the field of peace and security in Northeast Asia.
Following the meeting, Prime Minister L.Oyun-Erdene is scheduled to hold a meeting with the President of EXIM Bank of the Republic of Korea and representatives of infrastructure investment corporations.