Wendy Sherman: The U.S. stands ready to help build Mongolian economy back better
Politics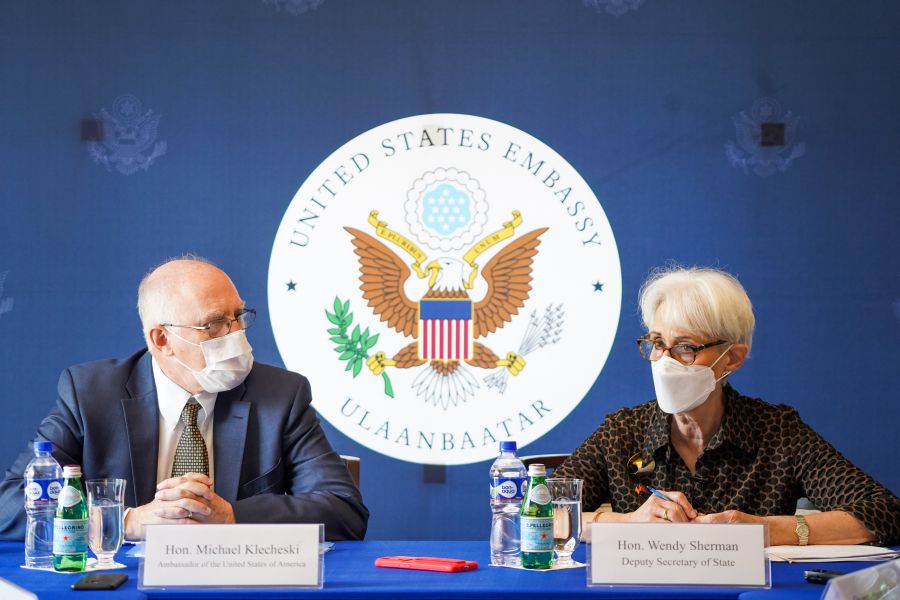 Ulaanbaatar /MONTSAME/. During the state visit of former President of Mongolia Kh.Battulga to the United States in 2019, the country upgraded the bilateral relationship with its "close partner and a third-neighbor" to 'Strategic Partnership'. Reaffirming the strategic partnership between the United States and Mongolia and recognizing the 30th anniversary of democracy in Mongolia, a resolution was agreed to at the 117th Congress of the Senate of the United States of America, convened April 15th, 2021.
Since 1987 or establishment of diplomatic relations between Mongolia and the U.S., the high-level reciprocal visits have been held regularly. This time, despite the difficult situation of the pandemic, U.S. Deputy Secretary of State Wendy R. Sherman paid a three-day visit to Mongolia between July 23 and 25, which could be considered as the most senior visit from the U.S. State Department official since U.S. Secretary of State John Kerry's six-hour official visit in 2016.
In the course of her visit, Deputy Secretary Wendy Sherman has met with the Speaker of the State Great Hural (Parliament) G.Zandanshatar, Minister of Foreign Affairs B.Battsetseg, Deputy Minister of Foreign Affairs B.Munkhjin, Minister of Culture Ch.Nomin, Minister of Defense G.Saikhanbayar as well as meeting members of the Mongolian Armed Forces and staff at Mongolia's LGBT center.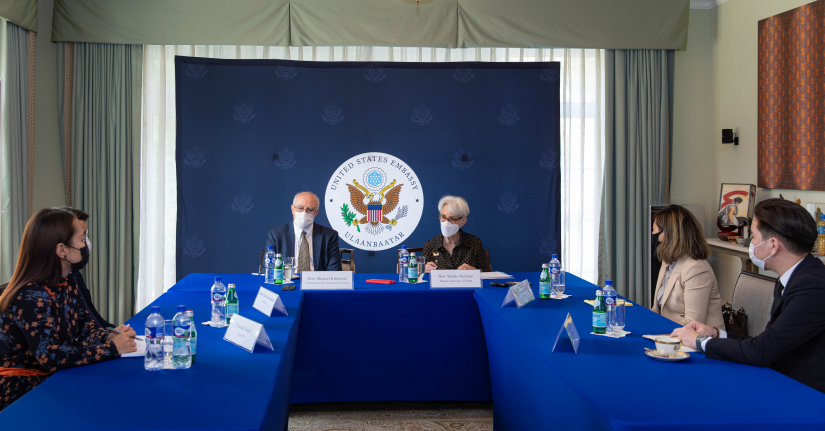 As part of her working visit in Mongolia, a press roundtable was held on Sunday morning at the U.S. Ambassador's residence in Ulaanbaatar.
During her remarks at the press roundtable, she said "This is my first time visiting Mongolia during my time in all my years of serving as a diplomat and I am so honored to be here, it is just fantastic.
The U.S is very proud to be Mongolia's strategic partner and third-neighbor. Our two countries shares strong commitment to democracy, to free commerce and entrepreneurship, to upholding the rule of law and to protecting individual human rights and freedom.
Yesterday, I had a pleasure meeting with the both the Minister and Deputy Foreign Minister, and the Speaker of the Parliament. We had open, honest and productive meetings to discuss wide range of issues, including our shared effort to end COVID-19 pandemic and our work together to ensure security in the regional issues.
I also had the opportunity to engage with the Mongolian people. I was deeply moved by my visit to Choijin Lama Temple where I also see a demonstration of Mongolian calligraphy and extraordinary performances. Mongolia's respect for the freedom of religion and for preserving traditional cultural expression is a model for the region and for the world. I am proud that the U.S Ambassador's Fund for Cultural Preservation to help support Choijin Lama Temple and other cultural treasures in Mongolia.
I was also glad to be able to meet with members of Mongolia's armed forces who recently returned from Afghanistan. For nearly two decades, Mongolian forces served alongside U.S troops in Afghanistan with distinction and valor and the U.S is very grateful for their service.
The U.S stands ready to help build Mongolian economy back better and create economic opportunity for the people of Mongolia. USAID revitalized its presence in Mongolia last year and is already expanding its programming. USAID is already putting USD 50 million towards supporting SMEs in Mongolia and another USD 12 million in technical assistance for the energy sector. Moreover, Mongolia has received USD 350 million MCC to vastly increase the supply of fresh water to Ulaanbaatar.
When I return to Washington, I will tell my friend Ambassador Samantha Power who is now the head of USAID about my time here. I know she will be eager to find additional ways to deepen cooperation with Mongolian people.
Thank you!"
Following her remarks at the press roundtable, the Deputy Secretary of State answered questions asked by the reporters.

What were the main topics of discussion during your meetings in Mongolia?
We had a broad range of discussions about economics, regional security, human rights, freedom of religion, freedom of expression and LGBTQI+ rights. Because we are democracies, we want to emphasize the above mentioned basic human rights. The past of Mongolia and its identity is very well preserved. It is very commendable that holding on to your culture and identity while becoming a democracy. It was very moving to see how important the freedom of religion and the religious history is to the country and to the identity of the country. It is really important for the world.
What will the policy of the U.S. towards Mongolia be in the next four years within the framework of Strategic Partnership, especially in the sphere of trade and economy?
I think that the Strategic Partnership between our two countries is tremendously important. Last month, President Biden wrote a letter to congratulate President Khurelsukh on his election as Mongolia's sixth president. We believe that everyone supports the Mongolia-U.S. relations based on their shared values of democracy. We are working very hard on our economic cooperation.
As you know, the 'Third Neighbor Trade Act' was reintroduced into the U.S. House of Representatives during the current session. It is not appropriate for me to comment on what the Congress will do. But there is a strong bipartisan support in Washington for our Strategic Partnership and for developing stronger economic and trade ties between our countries. We are also working to support Mongolia in developing cashmere industry and promote value-added manufacturing of cashmere in Mongolia. USAID recently supported 'cashmere industry development study' that recommended actions to increase brand recognition and improve sustainability. U.S. consumers like Mongolian cashmere because it is such a high-quality. I know more can be done to make Americans more aware of Mongolian-made cashmere. Obviously, the Millennium Challenge Compact which works on the water supply is an important piece of infrastructure for economic development.
What measures are the U.S. government is taking to ensure the normal flow of bilateral trade and economic cooperation amid the pandemic?
Mutual support to combat the COVID-19 pandemic is a key part of our Strategic Partnership. We are very grateful for Mongolia's donation of personal protective equipment worth USD 1 million for hospital workers. The donation was used for Navajo Nation, which was hit hard by the pandemic. It had an immediate impact for specific group of people. The help is going both ways. The U.S. have provided USD 4 million in COVID-19 assistance, including a donation in December of 50 ventilators. We are also the largest donor to the COVAX facility in global fund. We are glad to see several COVAX vaccine shipments have arrived in Mongolia. We also discussed at G7 on the concept of 'Building back better world', which is a way to leverage private investment to help all countries recover from this very difficult time. I don't think we are through the pandemic yet as we are seeing surges of the delta virus. Mongolia has worked really hard to be able to move forward and I want to congratulate Mongolia for their hard work it's done to be able to recover. We will work with Mongolia to build back better world.
What is your opinion on result of the recent presidential election of Mongolia? What could the new President of Mongolia bring to the bilateral relations?

We think it is wonderful that Mongolia has its sixth president and the democracy continues to thrive. President Biden sent a letter of congratulations. We would, in fact, sent a delegation to the inauguration and for your 100th anniversary of People's Revolution. However, we totally understood why COVID-19 prevented that. That was very thoughtful of Mongolia to not have foreign delegations for your own security and for everyone else's. I think that we see this relationship as incredibly important. As you know, I have gone to Japan, South Korea, and Mongolia, the countries all with democracy and shared values. President Biden, Secretary of State Blinken see our strategic partnership with Mongolia as a demonstration of the power of democracy and the fact that democracy can deliver for its citizens. I know that President of Mongolia expects do to so.