Views exchanged on expanding bilateral cooperation in fight against COVID-19
Politics
Ulaanbaatar /MONTSAME/. Prime Minister of Mongolia L.Oyun-Erdene held a meeting today with Japanese Minister in charge of Economic Revitalization, the Trans-Pacific Partnership, COVID-19 disease control, and Social Security Reform Nishimura Yasutoshi and Director of Japanese National Institute of Infectious Diseases (NIID) Takaji Wakita.
During the meeting, the sides exchanged views on the current situation of the pandemic, measures taken by the government and health organizations, and the expansion of cooperation between the two countries in the fight against coronavirus.
The PM thanked the Government of Japan for its support and assistance to Mongolia during the challenging times of pandemic, especially for the agreement established between the two countries' government and the UNICEF to fund the purchase of 2.35 million doses of Pfizer/Biontech vaccines, which is allowing the vaccination of over 290,000 children aged 12-17, pregnant women and other unvaccinated people in Mongolia.
Moreover, he expressed his eagerness to learn from Japan's experience and activities on the effective coordination of school activities, and other measures to overcome the difficulty with minimum loss.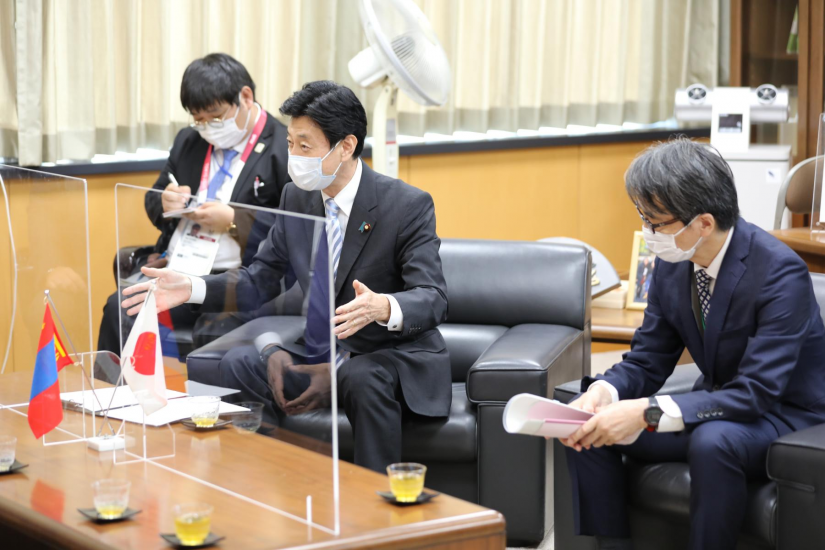 Information was provided by the Japanese side on the spread of delta variant of the virus in Japan, and the effectiveness of the inoculation, as well as the treatment for patients in serious health conditions. The PM was also informed during the meeting that the development is underway for a new drug to be used for the COVID-19 treatment.
The PM expressed gratitude to the NIID for their continued support provided towards the capacity building of Mongolian medical staff.
Praising the Mongolia's swift decision to launch the vaccination rollout with a goal to immunize the entire adult population, Minister Nishimura said that Japan is aiming to vaccinate its about 60 percent of the population within October to November.
At the end of the meeting, the sides agreed to work more closely together to exchange information on a regular basis and conduct joint research, reports the Media and Public Relations Department of the Government of Mongolia.