PM meets with business representatives
Economy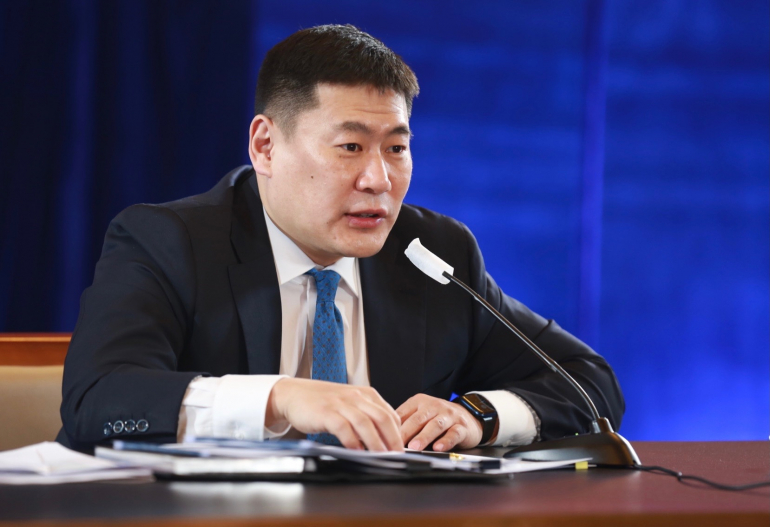 Ulaanbaatar /MONTSAME/ Today, May 11, Prime Minister L.Oyun-Erdene held a meeting with representatives of entrepreneurs.
At the meeting, the PM briefed on works to recover the economy and society and exchanged views on how to cooperate within the framework of public-private partnership.
The Government plans to implement 100+ projects to revive the economy and improve the quality of life after the pandemic. In order to make them actual works, the PM said that the private sector would be supported in all possible ways. However, it is impossible for the Government to be responsible for everything. For instance, the Government is possible to implement Tavantolgoi-Gashuunsukhait, Tavantolgoi-Zuunbayan railroad projects while construction of Khangi-Mandal railroad project can be managed by the private sector, mentioned the Prime Minister.
Entrepreneurs expressed their suggestions following the introduction on the '100 + projects' made by Minister of Finance B.Javkhlan.
President of the Mongolian National Chamber of Commerce and Industry O.Amartuvshin said, "It is necessary to establish the Ministry for Economy and Trade. The World Bank forecast that the economy of China will grow the most. One percent growth in China's economy will affect Mongolia's economy by 0.83 percent. Enterprises might pay attention to make the growth a big opportunity. Due to the pandemic, 27,000 entities have stopped their operations. It is necessary to re-consider the amount of value added tax and social insurance premiums. There is also a need to reduce the number of around 1,000 permissions and let the professional associations be responsible for them. Let's recover the economy, attract investment and develop the country together by encouraging all enterprises."
CEO of Energy Resource LLC G.Battsengel said he hopes that a 3-percent annual interest loan program for SMEs will be implemented successfully. Time has come to establish a Mining Exchange. It is also required to open a credit line dedicating to the largest exporting entities. Our company has issued bond worth around USD 400 million and is paying USD 40-50 million annually for the interest payment to foreign bank. If we get the loan in MNT and pay it domestically, it is possible to save USD 40-50 million in Mongolia.
First Vice President of 'Mongolyn Alt' LLC G.Tsogt underlined that the Government has decided to establish a copper concentrate plant relying upon Erdenet Mining Corporation. Furthermore, youth who have worked at a factory for at least 3 years after graduating from TVET are needed to be supported to attend correspondence courses of the university and college.
At the end of the meeting, Prime Minister and ministers answered questions of the entrepreneurs and pledged to study some proposals.