'Nationally Appropriate Mitigations Actions in Construction' project concludes
Society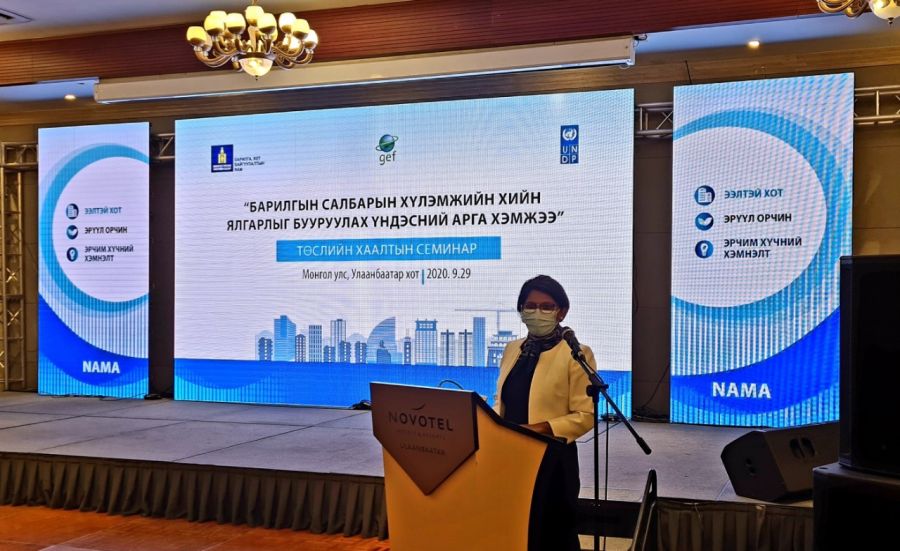 Ulaanbaatar /MONTSAME/. On September 29, 'Nationally Appropriate Mitigations Actions in the construction sector of Mongolia (NAMA)', a project designed to assist Mongolia in reducing its greenhouse gas emission (GHG) in the construction sector, organized its closing workshop in Ulaanbaatar.
Representatives from Ministry of Construction and Urban Development (MCUD), Ministry of Environment and Tourism, Ministry of Energy, Ministry of Finance, Capital City Governor's Office, private sector, NGOs, academia, international organizations, and the project team participated in the workshop. The project is funded by the Global Environmental Facility and implemented by the MCUD and UNDP Mongolia.
The impacts of the climate change on people's lives and the surrounding environment is imminent and the global net CO2 emissions must drop by at least 45% between 2010 and 2030 to limit the global warming at 1.5°C. Mongolia's GHG emission is expected to double the 2014 levels by 2030 at the current rate and the largest contributor is energy sector comprising more than 50% of the country's total GHG emission in which buildings represent the second highest energy consumption.
Since its commencement in 2017, the NAMA project made significant contributions in advancing energy efficiency in the construction sector including inventory methodology and a baseline for GHG emission; the first ever web-based GHG emission inventory and Monitoring, Reporting, and Verification system which were formally adopted by the MCUD; and six pilot projectsы that are projected to save 48 thousand tons of CO2 during its lifetime. The project also contributed to strengthening sector's human resource capacity through training over 420 professionals and supported creation of over 50 jobs in the energy saving roles.
Ms. Nashida Sattar, Deputy Resident Representative of UNDP Mongolia, stated "Building on these outcomes and our strong partnerships through NAMA project, UNDP Mongolia is continuing its support to the Government of Mongolia in climate change mitigation through our successor project, Nationally Determined Contributions (NDC.) I would like to thank everyone here today for your active engagement and contribution to a successful implementation of the NAMA project. We hope for the same level of collaboration on the new NDC project."
Background
UNDP is the leading United Nations organization fighting to end the injustice of poverty, inequality, and climate change. Working with our broad network of experts and partners in 170 countries, we help nations to build integrated, lasting solutions for people and planet.
UNDP Mongolia