2020 Election: Ruling Mongolian People's Party wins 62 of 76 parliament seats
Politics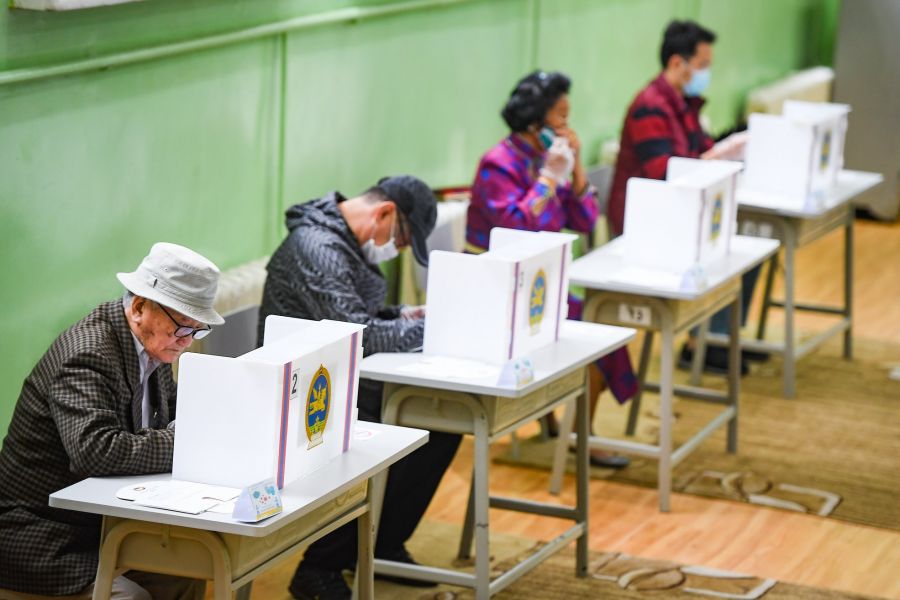 Ulaanbaatar /MONTSAME/. Votes for the 2020 parliamentary elections had been counted and aggregated by early morning of today, June 25. As of the preliminary results, the ruling party in the current parliament – Mongolian People's Party gained the majority or 62 seats in the 76-seat parliament, while the opposing Democratic Party won 11 seats.

Regarding the three remaining seats, the preliminary results display that S.Ganbaatar from 'Our Coalition' /Mongolian People's Revolutionary Party, Civil Will, Green Party, Mongolian Traditionally United Party/ won one seat in the parliament. He served as an independent member of parliament between 2012 and 2016 and competed for Mongolia's presidential election in 2017.
Another one seat was acquired by an independent candidate N.Altankhuyag, former Prime Minister of Mongolia and former leader of the Democratic Party. And a candidate T.Dorjkhand from 'Right Person Electorate Coalition' /National Labor Party, Mongolian Social Democratic Party, Justice Party/ received one seat in the 8th parliament of Mongolia.
The 2020 parliamentary election was held under non-proportional voting system of plurality-at-large with a total of 29 electoral constituencies, where Mongolian voters chose 2 or 3 candidates out of up to 38 candidates from 13 parties and 4 coalitions or independents in each electoral district.
Among all elected candidates, present Prime Minister U.Khurelsukh, candidate from the Mongolian People's Party, gained the most votes - 25,356 votes or 72.24 percent of total votes cast in the electoral constituency in Khentii aimag. Following him, current Head of Cabinet Secretariat L.Oyun-Erdene (Mongolian People's Party) received 25,169 votes or 71.71 percent of total votes in Khentii aimag.
Across the nation, following candidates received the most number of votes:
N.Uchral - 53,651 votes
Kh.Gankhuyag- 50,073 votes
J.Ganbaatar - 48,624 votes
J.Chinburen - 41,004 votes
Out of 76 elected candidates for the new parliament, 13 are women. The current 7th parliament of Mongolia has 13 female members while the percentage of female representation in the 6th parliament elected in 2012 was 14.4 percent with 11 women members.
In accordance with the Mongolian Law on Elections, the General Election Commission – the central election authority will announce the complete final results of the election on which candidates obtained the most votes and will issue temporary credentials of member of the State Great Hural – parliament for the candidates deemed elected as Members of the State Great Hural. Moreover, within 15 days following the end of the election, the General Election Commission will issue and submit the list of persons elected as parliament members to the President of Mongolia and make them public.
Following is the list of candidates received the most votes in each constituency.
Constituency number

Constituency

Name

Party/coalition

1

Arkhangai

Yo.Baatarbileg

Mongolian People's Party

J.Batmunkh

Mongolian People's Party

G.Temuulen

Mongolian People's Party

2

Bayan-Ulgii

Kh.Badelkhan

Mongolian People's Party

T.Aubakar

Mongolian People's Party

B.Beisen

Democratic Party

3

Bayankhongor

G.Zandanshatar

Democratic Party

D.Ganbat

Mongolian People's Party

A.Adyasuren

Democratic Party

4

Bulgan

Ts.Anandbazar

Mongolian People's Party

J.Bat-Erdene

Mongolian People's Party

5

Gobi-Altai

B.Enkh-Amgalan

Mongolian People's Party

Sh.Radnaased

Mongolian People's Party

6

Gobi-Sumber, Dundgobi

S.Batbold

Mongolian People's Party

G.Munkhtsetseg

Mongolian People's Party

7

Dornod

Kh.Bolorchuluun

Mongolian People's Party

Ts.Sergelen

Mongolian People's Party

8

Dornogobi

B.Delgersaikhan

Mongolian People's Party

T.Enkhtuvshin

Mongolian People's Party

9

Zavkhan

Ts.Tserenpuntsag

Mongolian People's Party

Ts.Bayarsaikhan

Mongolian People's Party

10

Uvurkhangai

D.Togtokhsuren

Mongolian People's Party

S.Chinzorig

Mongolian People's Party

G.Ganbold

Mongolian People's Party

11

Umnugobi

N.Naranbaatar

Mongolian People's Party

D.Bat-Erdene

Democratic Party

12

Sukhbaatar

J.Batsuuri

Democratic Party

N.Ganibal

Democratic Party

13

Selenge

Ch.Undram

Mongolian People's Party

J.Erdenebat

Mongolian People's Party

D.Unurbolor

Mongolian People's Party

14

Tuv

N.Enkhbold

Mongolian People's Party

J.Batjargal

Mongolian People's Party

Ts.Tuvaan

Democratic Party

15

Uvs

О.Tsogtgerel

Democratic Party

B.Choijilsuren

Mongolian People's Party

Ch.Khurelbaatar

Mongolian People's Party

16

Khovd

S.Byambatsogt

Mongolian People's Party

Sh.Adishaa

Democratic Party

B.Purevdorj

Democratic Party

17

Khuvsgul

Ts.Davaasuren

Mongolian People's Party

L.Enkh-Amgalan

Mongolian People's Party

L.Munkhbaatar

Mongolian People's Party

18

Khentii

U.Khurelsukh

Mongolian People's Party

L.Oyun-Erdene

Mongolian People's Party

B.Bat-Erdene

Mongolian People's Party

19

Darkhan

B.Javkhlan

Mongolian People's Party

G.Damdinnyam

Mongolian People's Party

B.Battumur

Mongolian People's Party

20

Orkhon

D.Batlut

Mongolian People's Party

N.Altankhuyag

Independent candidate

S.Ganbaatar

Our Coalition

Ulaanbaatar city /Districts/

21

Baganuur, Bagakhangai, Nalaikh

S.Amarsaikhan

Mongolian People's Party

Ts.Sandag-Ochir

Mongolian People's Party

22,23

Bayanzurkh

B.Enkhbayar

Mongolian People's Party

B.Saranchimeg

Mongolian People's Party

J.Chinburen

Mongolian People's Party

Kh.Bulgantuya

Mongolian People's Party

E.Bat-Amgalan

Mongolian People's Party

24

Sukhbaatar

D.Tsogtbaatar

Mongolian People's Party

Ts.Munkh-Orgil

Mongolian People's Party

Ts.Munkhtsetseg

Mongolian People's Party

25

Chingeltei

T.Ayursaikhan

Mongolian People's Party

M.Oyunchimeg

Mongolian People's Party

J.Sukhbaatar

Mongolian People's Party

26

Bayangol

Kh.Gankhuyag

Mongolian People's Party

J.Ganbaatar

Mongolian People's Party

S.Odontuya

Democratic Party

27,28

Songinokhairkhan

Kh.Nyambaatar

Mongolian People's Party

B.Jargalmaa

Mongolian People's Party

N.Uchral

Mongolian People's Party

D.Sumiyabazar

Mongolian People's Party

P.Anujin

Mongolian People's Party

29

Khan-Uul

D.Sarangerel

Mongolian People's Party

G.Amartuvshin

Mongolian People's Party

T.Dorjhand

Right Person Electorate Coalition