Joint visit of EU and UNFAO to Zavkhan aimag
Society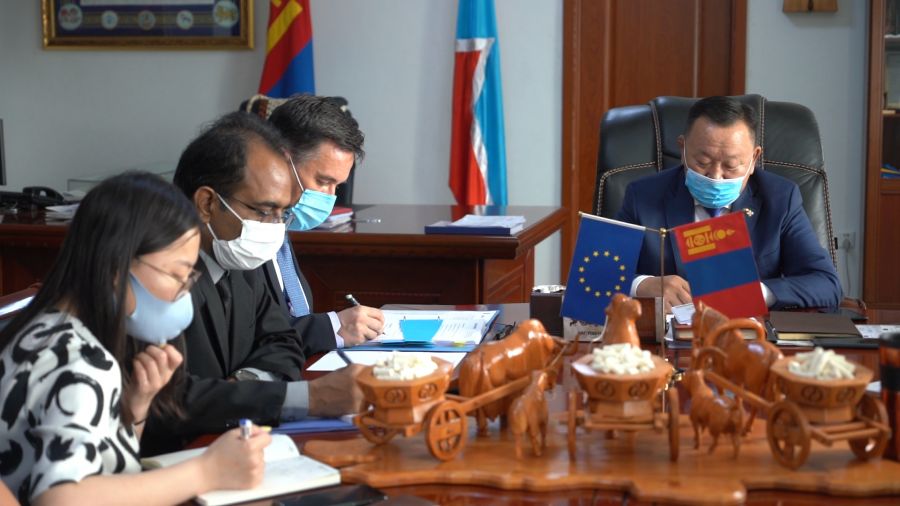 Zavkhan /MONTSAME/ Delegates led by Ambassador of the European Union to Mongolia Traian Laurentiu Hristea and UNFAO Representative in Mongolia Vinod Ahuja are working in Zavkhan aimag to meet local authorities, teachers, students, civil society and beneficiaries of EU-funded projects.
While becoming acquainted with ongoing projects in Zavkhan aimag, the delegates exchanged views with the aimag authorities on further cooperation. During a meeting with the Governor of Zavkhan D.Batsaikhan, they discussed about the aimag's development priorities and EU-funded and FAO interventions in the aimag. They elaborated on the importance of supporting better employment opportunities and promoting sustainable value chains to target rural development and growth. They highlighted the added value of enhanced partnership between local authorities and civil society to foster inclusive, equitable and sustainable economic growth.
During the visit, the European Union Ambassador to Mongolia and the FAO representative visited also beneficiaries of the EU-funded project Support to Employment creation in Mongolia Component 2: Value Chains (EUR 4.45 million, MNT 13.5 billion). The project enables private sector job creation through targeted interventions to sustainably strengthen specific value chains where Mongolia has potential comparative advantages: meat, dairy, fibre, leather and vegetables. It is implemented in different regions of Mongolia by the FAO and UNIDO.
The European Union Ambassador to Mongolia moreover met with beneficiaries from other EU-funded projects: "Enhancing Civil Society Organisations' contribution to sustainable local economic development and growth of Zavkhan province" implemented by World Vision, "Support to Employment creation in Mongolia Component 1: Labour Policy (SECIM 1)" implemented by Hulla Dynamics, and "Support for Mongolian Economic Diversification through SME Access to Finance" implemented by the European Bank for Reconstruction and Development (EBRD).
Delegation of the European Union to Mongolia