'The Decoding' exhibition by three young artists on display
Art & Culture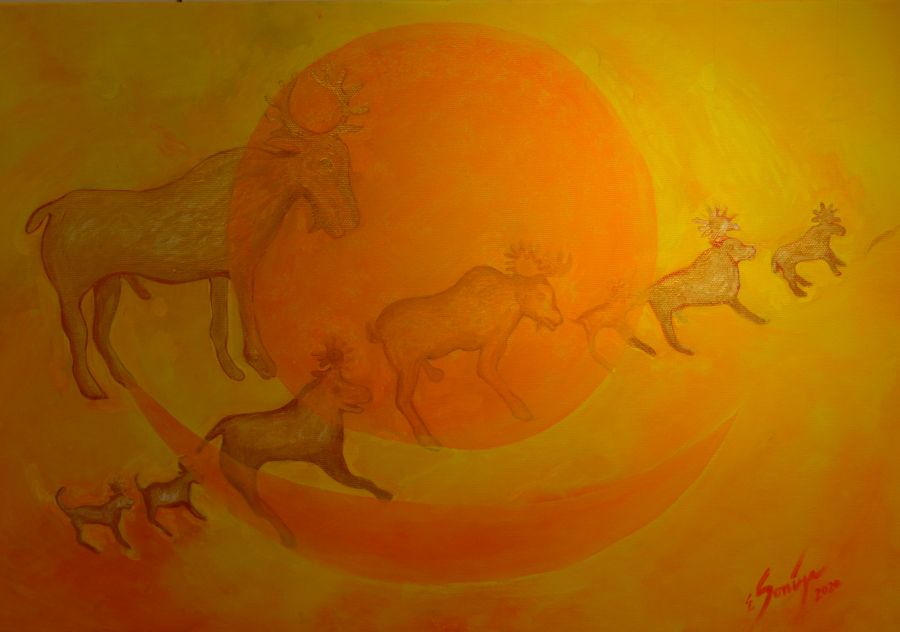 Ulaanbaatar /MONTSAME/ The UB Art Gallery and Norphei Art Gallery of Mongolia are jointly organizing an exhibition titled 'The Decoding', presenting three young, talented artists Ts.Solongo, E.Sunderiya and Sh.Sukhbat.
These young artists consider that the petroglyphs are the coded message from the ancient ancestors for future generations and they are trying to decode these with their art works. Letting the message, restoring the memory, and nostalgia become the highest purpose of their artworks. The Petroglyph paintings belonging to the New Stone Age (6000 to 3000s BC) and the Bronze Age (3000 to 1000 BC) is known as the 'Open Gallery under the Sky'.
The exhibition starts with the artwork by an artist and cultural scientist Ts.Solongo, who created her work on the research basis of the petroglyphs complex in Del Uul and Altai Tavan Bogd. On some of her works, she has written a few lines of poem, expressing the inner world of the artist, which makes it easier for the audience to interpret the meaning. She is not only a painter but also an artist of decorative art and this flow of art will find its imprint on her leather works.
'The Decoding' or 'Unlocking the Code', by artist E.Sunderiya is originated from the Eurasian legend of Celestial Horses. "From the point of view of art studies, the feature of the art work by E.Sunderiya is developed a new artistic language symbolically linked the 'Animal-style art' in the rock painting to the Semiology" wrote art researcher D., Ph.D. Uranchimeg.
"The next artist, Sh. Sukhbat has a natural subtle sense of color, and this talent is evident in his works. The artworks 'Khusugtun' and 'Nuudelchin' are masterpieces of great harmony of colors. This unique feeling of color is natural and impossible to gain it artificially."
"Today, people are removed from the nature and being bashful from their origin and they talk about the Industrial revolution and the new technology of era every day. But this exhibition called "The Decoding" gives us the luckiest moment to answer the following questions and think about… "Who are we?, Where did we come from?, Where are we going?" noted art researcher D., Ph.D. Uranchimeg.