President urges for increased sense of duty
Politics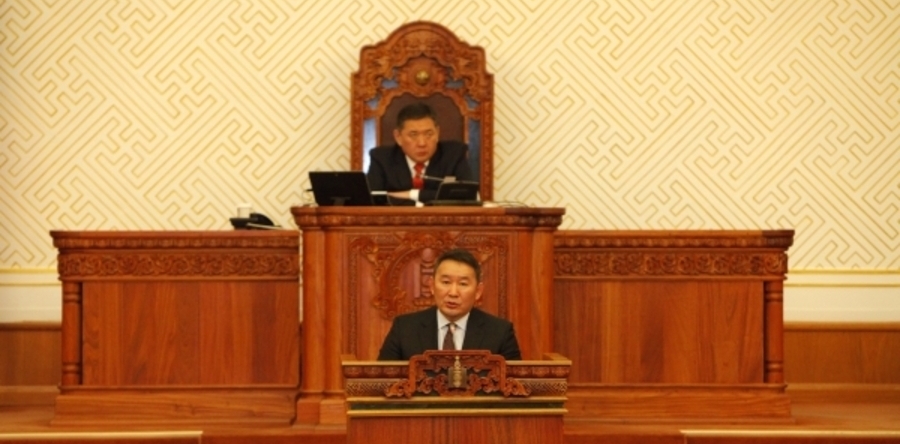 Ulaanbaatar /MONTSAME/ President Kh.Battulga delivered a speech during the last plenary meeting of the Parliament session, urging it to reflect the voices of the Mongolian people in their actions. The Parliament autumn session closes on February 9.

The President began his speech by citing the meetings he has been holding with the people in the capital city and aimags. The President has met citizens in seven districts and seven aimags so far, reaching about 12 thousand people in total. 742 people have expressed their views in speech form whereas 1,439 people have forwarded their requests in written form.

"The most common issues addressed by the people include wage and tax increase, loan interest, unemployment, poverty, air pollution, retirement age increase, social welfare, apartment, land ownership and health and education," the President stated, while citing a number of complaints regarding wrongdoings of the Government and ethics of public servants.

The President also elaborated on how many citizens expressed concerns on each of these issues, while adding that 89 citizens had voiced an opinion that the Parliament should be dissolved over failure to fulfill its duty.

"There are tons of complications and challenges in this society, and these can be solved with willingness," the President said, highlighting the importance of dedication on the part of the lawmakers.

President Kh.Battulga urged for reform in the national pension system, strengthening of accountability system and restoration of justice, specifically mentioning the Erdenet Mining Corporation and the MNT 60 billion audio tape issues.

"Mongolia is not in a great state, and the people are angry. Their trust in the Government is loosening with every delay in delivery of justice. Raising the issue of dissolution of Parliament isn't a call for disunity. It is not unity if it means to sit and quietly observe a dysfunctional establishment," President Kh.Battulga said.

The President informed of his Office's plan to form a working group to assess every request made by the citizens, and relay them to the corresponding authorities.
Kh.Aminaa