President of Mongolia Meets Prime Minister of Japan
Politics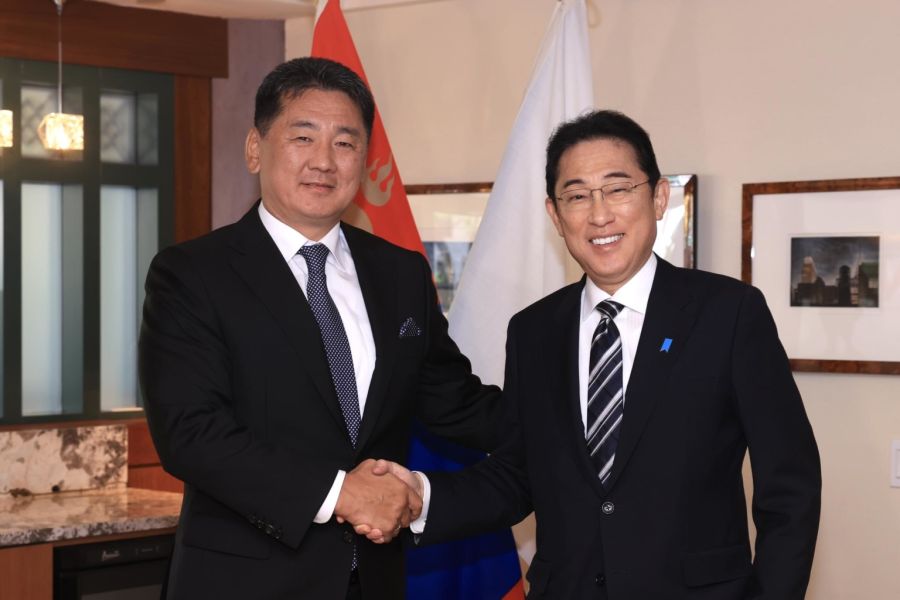 New York, September 22, 2023 /MONTSAME/. On the sidelines of the 78th Session of the UN General Assembly, the President of Mongolia Khurelsukh Ukhnaa held a bilateral meeting with Prime Minister of Japan Fumio Kishida at his request on September 20, 2023.
President Khurelsukh commended the bilateral agreement of the two countries to elevate the Mongolia-Japan Strategic Partnership for Peace and Prosperity, which reflects common values of democracy and established as an outcome of the State Visit of the President of Mongolia to Japan in 2022 as part of the 50th anniversary of diplomatic relations between the two countries. He expressed his satisfaction that the governments of Mongolia and Japan are closely cooperating to ensure the implementation of the Strategic Partnership following its action program, the roadmap for the next ten years.
The President of Mongolia noted that the bilateral cooperation in the international and regional arenas is advancing and producing concrete results within the framework of the United Nations and other international organizations.
President Khurelsukh emphasized Mongolia's commitment to contribute to the efforts of the UN for sustainable development and expressed willingness to expand the cooperation in combating desertification and climate change to the regional level.
The parties discussed the relations and cooperation, regional and international situation, and they affirmed their commitment to working together for contributing to the peace and prosperity of the region and strengthening cooperation aimed at solving global issues under the Free and Open Indo-Pacific concept.
The President of Mongolia Khurelsukh Ukhnaa met with the Prime Minister of Japan Fumio Kishida at the World Leaders Summit during the 26th UN Climate Change Conference held in Glasgow, UK, in 2021 and then again in Tokyo in 2022.