Mongolia opens its exhibition at Venice Biennale
Art & Culture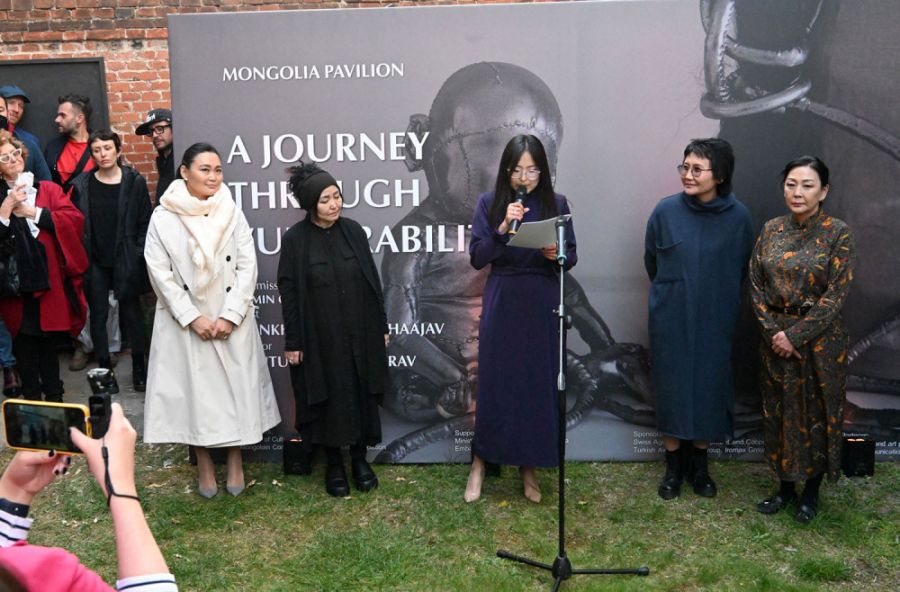 Ulaanbaatar /MONTSAME/. Mongolia is participating in the 59th Venice Biennale, an international contemporary art exhibition, with artist Z.Munkhtsetseg's project 'Gunees gund' (in English. 'A Journey Through Vulnerability').

In the Mongolian pavilion, artist J.Munkhtsetseg presents her works of over 15 years. The opening of the exhibition was attended by more than 100 Mongolian and foreign visitors led by the Minister of Culture of Mongolia Ch. Nomin and Ambassador of Mongolia to Italy Ts. Narantungalag.
The main exhibition, curated by Cecilia Alemani from Italy, features more than 1400 exhibits created by 213 artists from 58 countries. The artists from five countries (Cameroon, Namibia, Nepal, Uganda and Oman) are participating in the exhibition this year for the first time. As for artist J.Munkhtsetseg, she is presenting her artworks in the exhibition for the fourth time.
Through her artworks, artist J. Munkhtsetseg wants to share with visitors her ideas about pain, anxiety, healing and revival. In general, the artworks on display depict the nature of the world, and compassion.
Being continuously held since 1895, renowned artists display their works at the Venice Biennale of Fine Arts, known as the 'Art World Olympics'. The Biennale also brings together world-renowned art critics, curators, art organizations, more than 8,000 major international media outlets, and influential world politicians and businessmen.