Views exchanged on connecting Gashuunsukhait-Gantsmod and Shiveekhuren-Sekhee border checkpoints by rail
Politics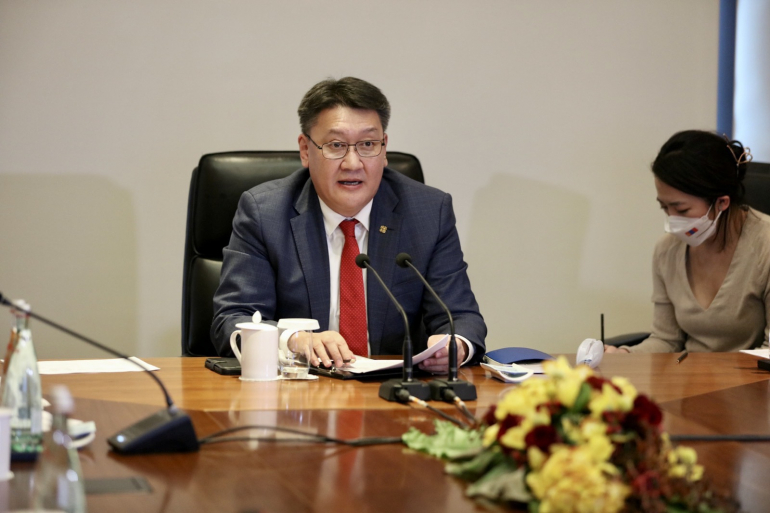 Ulaanbaatar /MONTSAME/. Minister of Finance and Acting Minister of Economic Development B.Javkhlan held a meeting with Deputy Chairman of the Chinese National Development and Reform Commission Ning Jizhe on February 7.

Organized in the framework of the Mongolian Prime Minister's visit, the meeting was also attended by Ambassador of Mongolia to China T.Badral, Governor of the Capital City and Mayor of Ulaanbaatar D.Sumiyabazar, and Governor of the Bank of Mongolia B.Lkhagvasuren.
During the meeting, the sides exchanged views on opportunities to jointly implement large-scale infrastructure projects in the framework of the 'New Revival Policy' of the Government of Mongolia, such as the construction of a highway and a two-way railroad en route Altanbulag - Zamiin-Uud, and the construction of railroads at Gashuunsukhait - Gantsmod and Shiveekhuren - Sekhee border checkpoints. They also held an extended discussion on certain projects that are of priority for the side of Mongolia, which include increasing the transport of coal being exported through Gashuunsukhait border checkpoint, introducing a large-capacity transportation method as a part of the efforts to decentralize Ulaanbaatar city and reduce traffic congestion, and constructing a highway around Ulaanbaatar city.
Deputy Chairman of the Chinese National Development and Reform Commission Ning Jizhe noted that the projects align with the works to be carried out for the Mongolia-Russia-China Economic Corridor program as well as the Mongolia-China cooperation framework for the mineral, energy, and infrastructure sector and the Belt and Road Initiative, and expressed willingness to support the projects by studying opportunities to jointly implement them.
The two sides agreed to organize a meeting between the corresponding organizations in order to ensure preparatory works and make progress on the projects.