Gender equality at decision-making level to be regulated
Politics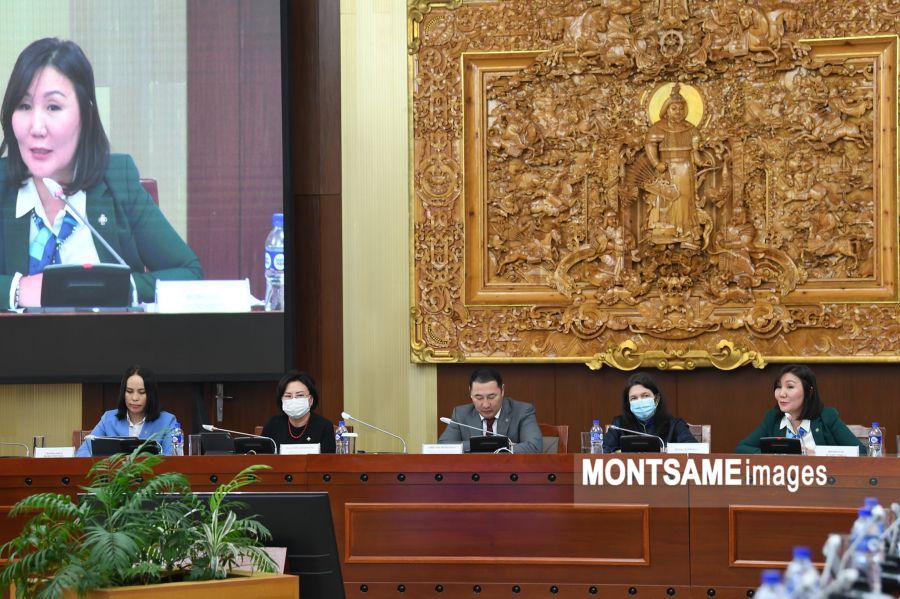 Ulaanbaatar /MONTSAME/. On November 24, the Parliamentary Standing Committee on State Structure, UNDP, and KOICA co-organized a discussion under the theme, 'Political finance and women's participation in politics: To learn from the experiences of the Republic of Korea', both virtually and in-person.

The discussion was attended by Head of the Parliamentary Standing Committee on State Structure, MP J.Munkhbat, Deputy Speaker of the Parliament S.Odontuya, MPS M.Oyunchimeg, Ts.Munkhtsetseg, B.Battumur, and D.Tsogtbaatar, senior advisor to the Speaker Ts.Tsogzolmaa, and UNDP Resident Representative Elaine M. Conkievich.
Head of the Parliamentary Standing Committee on State Structure J.Munkhbat said, "Mongolia proclaimed its values: human rights, freedom, equality, and justice in the Constitution, with aims to create and develop a democratic civil society. In properly implementing the crucial values reflected in the Constitution, one of the pressing issues we currently face is political finance and increasing women's participation at the decision-making level. The human development index for women is higher than those of men in our country. Furthermore, 91.2 percent of women aged 25 and up have acquired higher education. Despite these positive indicators, we must acknowledge the gender inequality in labor as well as at the decision-making level. Moreover, a bill for the law on political parties and political finance will soon be presented. As there is insufficient regulation for publicly reporting on the sources of financing for political parties and its spending, international organizations consider the current situation to have a potential risk of negatively affecting democracy and equality. Thus, it is necessary to further develop the parliamentary system."
Following his remarks, MP Ts.Munkhtsetseg did a presentation on the topic, 'Bill for amending the Law on Political Parties in Mongolia and women's participation in politics'. In her presentation, she highlighted, "The Law on Gender Equality was approved by the parliament in 2011. The Law on Elections and the Law on Political Parties set specific quotas to increase the participation of women in politics. Although the legislation reflected certain regulations that were necessary, there are many issues that need to be resolved. For instance, women make up over 50 percent of the members in political parties, but their representation continues to be an issue at the parliament, government, Citizens' Representative Khurals, and executive members of political parties. Aside from this matter, the bill also reflects certain amendments to have government funds aimed at target group citizens in order to increase the representation of persons with disabilities in the parliament. "
During the discussion, presentations were also done on the laws on elections and political finance being implemented in the Republic of Korea, current state of government funds being allocated to support female politicians, and ways to improve the system to support women's participation.