Prime Minister receives visiting Indian Minister of State
Politics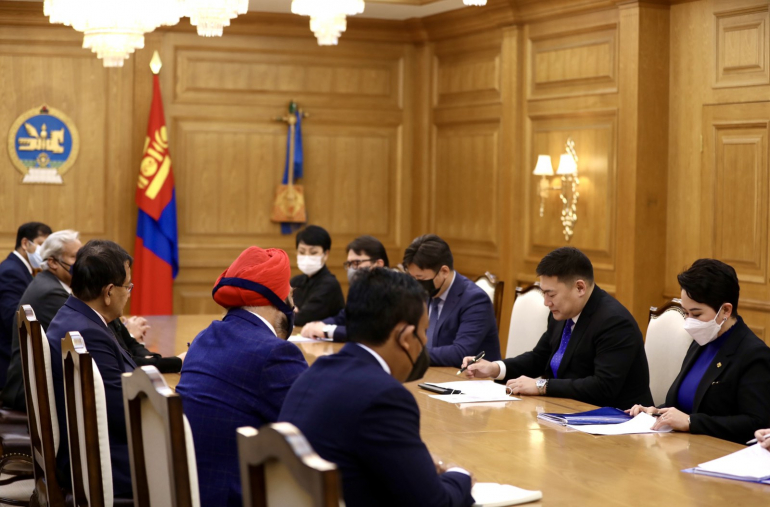 Ulaanbaatar /MONTSAME/ Today, on November 25, Prime Minister of Mongolia L.Oyun-Erdene held a meeting with Minister of State for External Affairs of the Republic of India Rajkumar Ranjan Singh.
Prime Minister L.Oyun-Erdene underscored that bilateral relations and cooperation have been progressing steadily, expressing his pleasure that the two countries are supporting each other and working together in the difficult time of the Covid-19 pandemic.
The sides discussed at length the progress made so far in the oil refinery project – a symbol of strategic partnership between Mongolia and India – and export of some mining products such as coking coal to India.
PM L.Oyun-Erdene outlined projects to be implemented as part of the revival policy including those on improvement of border checkpoint capacity and transport and logistics infrastructure and energy, emphasizing that the Indian side is welcome to cooperate on the projects.
As a Minister of State for Education, Mr. Rajkumar Ranjan Singh said he is committed to further strengthening bilateral cooperation in education sector.
PM L.Oyun-Erdene said he appreciates that a great number of Mongolian youth have received education in India on Indian government scholarships and showed an interest in continuing the scholarship program in the information technology sector as part of the Mongolian government's objective to become a 'Digital Nation'.