Regional training held for supporting capacities of human resource managers
Society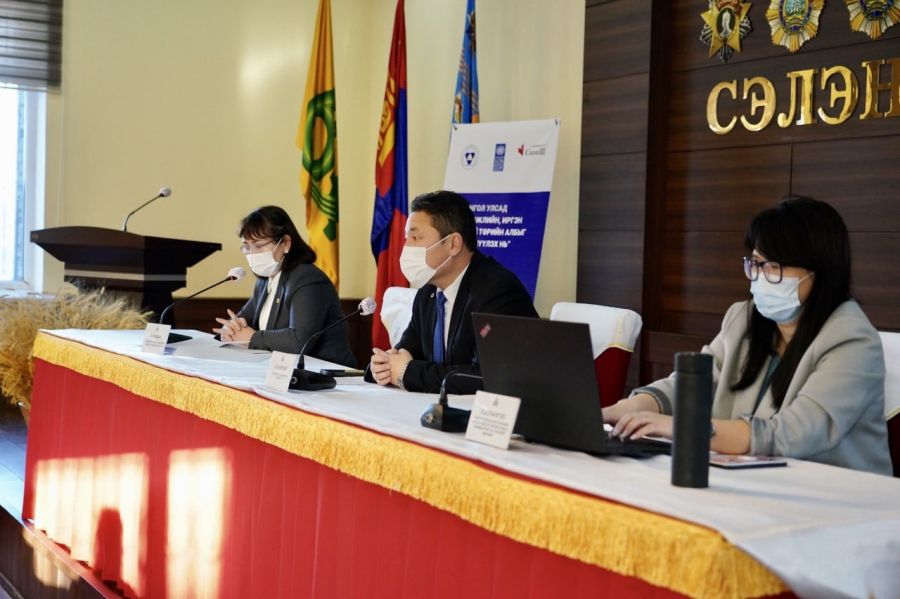 Ulaanbaatar /MONTSAME/ UNDP Mongolia and the Civil Service Council's 'Towards a Professional and Citizen Centred Civil Service in Mongolia' project funded by the Government of Canada kick-started its 3rd regional training on 'Integrated capacity building: Strengthening Ethic Councils and Capacity-building of Human Resources managers' in Selenge aimag, as the projects 15th aimag, on November 22, 2021.
Member of Parliament and Head of the Project Advisory Committee D.Togtokhsuren opened the training by highlighting that "An important revision in the Civil Service Law is extended support to career advancement. For instance, the law allows a mechanism for civil servants to be promoted in the sequence of from specialist to senior specialist, division head, department head, and State Secretary. Today's training aims to support the implementation of this promotion mechanism in the civil service by supporting integrated capacity building and ethical practices among civil servants".
Deputy Governor of Selenge aimag J.Saintsog stressed that "In today's society, ethics and good communication have become important topics. It is especially important that ethics in the civil service council is raised at every level of authority as ethical civil servants with just intentions have become a core expectation of citizens. Government policies are now directed to this cause, as noticeable in the establishment of an independent standing committee on ethics in Parliament, and the drafting of a law on coordination in ethics relations for the first time in the country. This is why today's regional training is timely, aligns with recent Government policies, and responds to the needs in the civil service"
Ambassador Extraordinary and Plenipotentiary to Mongolia Catherine Ivkoff informed that the Government of Canada has been supporting civil service reform in Mongolia since 2021 and remains committed to promoting gender equality in the process of building a citizen-centred civil service in the country.
UNDP Mongolia Resident Representative Elaine Conkievich commended the focus on ethics in civil service reform and expressed that it is important that reform agendas are not only included in rules and religions but also integrated in all levels of civil service activities.
Additionally, B.Baatarzorig, Chair of the Civil Service Council and National Project Director thanked the Government of Canada for support to accelerating civil service reform policies in Mongolia. He added that "Results of the integrated capacity building: Strengthening Ethic Councils and Capacity building of Human Resources managers workshop will transmit in renewed approaches and mindsets of civil service. Local civil servants are highly encouraged to pioneer in civil service reform at their respective administrative units"
50 participants of Civil Service Sectoral councils and government agency ethics councils in Bulgan, Darkhan, Orkhon, Khusvgul and Selenge joined the regional training.
Source: UNDP Mongolia