Dariganga style hat
Art & Culture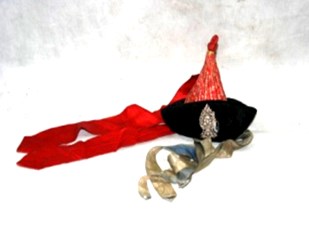 Sukhbaatar /MONTSAME/. Accessories, ornaments and garments and their composition and design of Dariganga sub-ethnic group of Mongolia differ from craftsmanship of other regions and groups. We are presenting you about Dariganga style hat, a representation of traditional heritage costume of the Dariganga people. For Mongolian people, hat is the most respected of the traditional clothing items.

The Dariganga hat has a tall and pointed top, symbolizing the aspiration and uprising toward the sun and 32 pieces of stitching, resembling a ray of sunlight. It has downward red colored long tassel with ulzii pattern - endless knot on it, and two laces falling down along the back of the wearer.
Dariganga women's velvet hat is delicately crafted with norov gem on the front and with different types of traditional patterns, stitches and grids on the bottom side. And on the back of the hat, there are other styles of patterns, including ulzii, a symbol of eternity, sewn with a golden thread, making the hat unique and elegant.