Precious commemorative coins for sale on BoM website
Art & Culture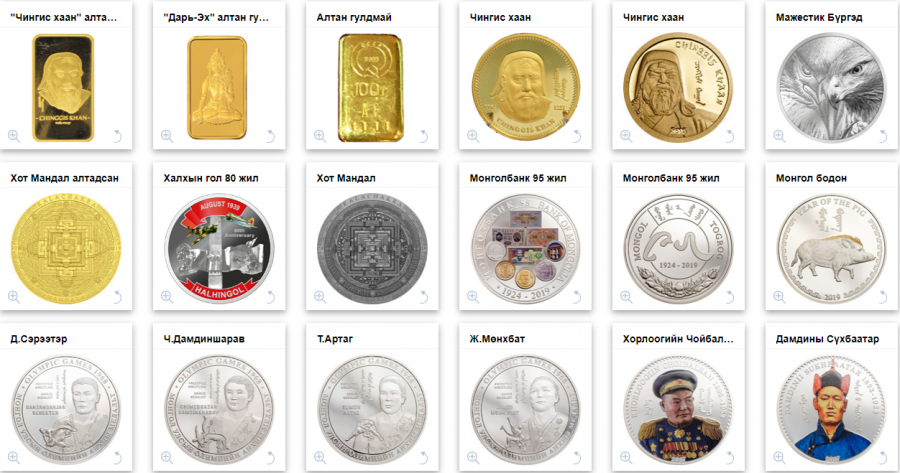 Ulaanbaatar /MONTSAME/ Countries issue commemorative coins for special occasions. Mongolia, as well, issues precious metal coins in unique designs and small amounts to commemorate special historic events and they come into great demand on the market.
The Bank of Mongolia first issued gold, silver, brass, and nickel coins with a face value of MNT 1 on the 50th anniversary of the People's Revolution in 1971. Since then, between 1976 and 2020, the bank has issued 46 different commemorative items including gold bullion bars, gold coins, gold gilded silver coins, silver coins, and silver gilded copper coins. As the 'Khubilai Khaan' coin in the Mongolian Khaans collection has sold out, 45 different commemorative items are being sold now. The sold out coin was issued at the request of the Mongolian Association of Numismatics in 2,500 pieces in 2015 on the occasion of the 800th birthday of Khubilai Khaan.
Liechtenstein makes the coins for Mongolia to order in 3-5 months on average as Mongolia does not have the necessary equipment.
The commemorative coins are offered in 10 collections called Mongolian Khaans, Persons of the Millennium, Anniversary of the Bank of Mongolia, Foreign Relations and Cooperation, Sport-Olympic Medalists, Children, 12 Zodiac Animals, and Endangered Animals - Mongolian Landscapes.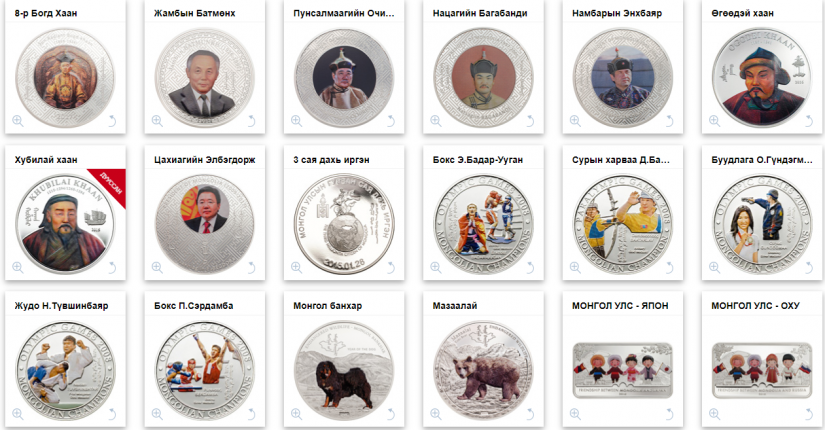 Coins featuring the portraits of P.Ochibat, N.Bagabandi, N.Enkhbayar, and Ts.Elbegdorj who have been elected as the President of Mongolia since the democratic transition were put on the market in 2017.
Boxers E.Badar-Uugan and P.Serdamba, archer D.Baatarjav, shooter O.Gundegmaa, and judo wrestler N.Tubshinbayar who returned home from the 2008 Olympic and Paralympic Games with medals have also been portrayed on commemorative coins. Each of the above-mentioned coins is being sold for MNT 150 thousand. The price of the coins on which D.Sereeter, Ch.Damdinsharav, T.Artag, and J.Munkhbat who brought the country's first Olympic medals from Mexico in 1968 portrayed is MNT 300 thousand.
The commemorative coin prices range from MNT 120 thousand to 7 million 700 thousand on the BoM's website and the Chinggis Khaan coin is the most expensive one. 100g bullion bars that are made to order could be even more expensive.
This year, 3 oz. 999 sterling silver coin gilded in gold 'Mandala' and 1 oz. 999 sterling silver coin 'Majestic Eagle' have been released for MNT 1.5 million each.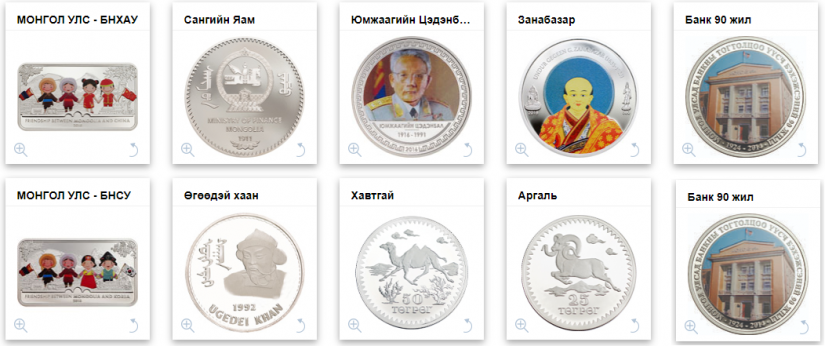 Incidentally, a gold bullion bar weighs 100g, gold coin 0.5-31.1g, silver coin gilded in gold 93.3g, silver coin 15.5-155.5g, and copper coin 50g.
You can purchase the coins in person from the BoM Treasury or online at coin.mongolbank.mn