14-day home quarantine ordered for those leaving hospital isolation
Society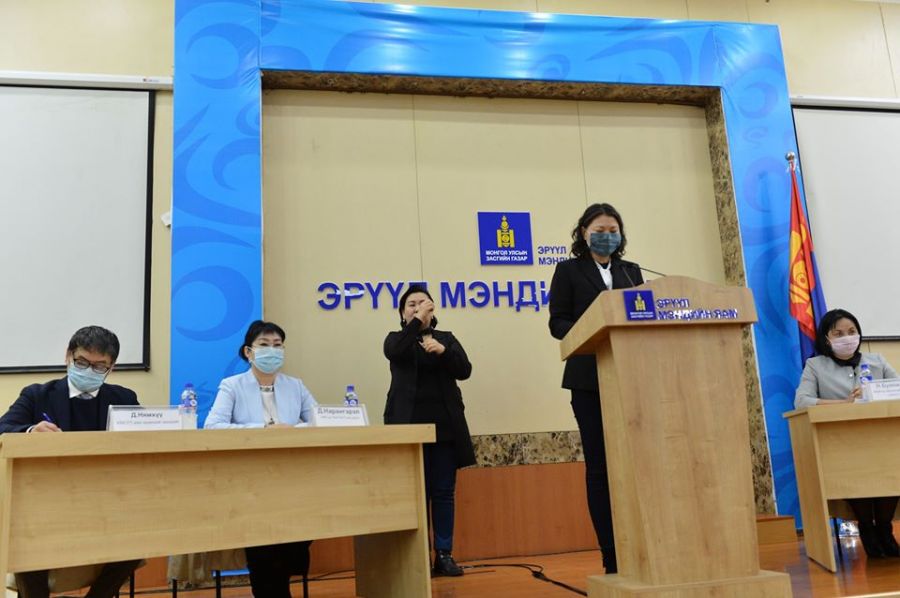 Ulaanbaatar /MONTSAME/. Since the beginning of February, the Ministry of Health of Mongolia has been holding daily press briefing to give the latest updates on the situations surrounding the pandemic and measures being taken to prevent its spread in the country.

To date, Mongolia has confirmed a total of 10 cases of coronavirus, one French citizen, who arrived in Mongolia from France in February, and nine Mongolians, who flew aboard the evacuation flights from Seoul and Berlin to Ulaanbaatar last week.
All passengers who arrived on four chartered flights from Seoul, Japan, Berlin and Istanbul are under mandatory 14-day isolation and being monitored, and many of them with suspicious symptoms or exposures have been tested as a precautionary measure.
At today's 11 AM press briefing, Director of National Center of Communicable Diseases (NRCD) D.Nyamkhuu informed that 46 passengers who were on board the last evacuation flight from Istanbul, Turkey, which landed at the Chinggis Khaan International Airport on March 19, have been tested negative for coronavirus. "Now, test samples of another more than 200 people are being analyzed to get the results."
3222 people were put in hospital isolation in the past several weeks, and as of yesterday, March 23, 2057 people were staying in isolation under health supervision nationwide, including those who arrived from Russia and are staying in mandatory isolation in Orkhon, Selenge, Darkhan-Uul, Bayan-Ulgii and Dornod aimags. Six people among the Mongolian nationals entered the country across Altanbulag and Tsagaannuur checkpoints were showing some symptoms, however, have been tested negative for coronavirus, said Mr. Nyamkhuu.
At the NCCD in Ulaanbaatar, where people with suspicious symptoms are staying in, a total of 289 people are under isolation, as of March 24, Monday. The Ministry of Health also reported that 297 medical professionals and healthcare providers are working at the isolation facilities caring for the people under quarantine.
Mr. Nyamkhuu yesterday also informed that all ten people, who are being treated at the NRCD after being diagnosed with Covid-19, are getting better and in moderate health conditions. "In particular, symptoms of two patients in serious conditions greatly improved. Also, since hearing that his lung function is improving, the patient from France is keeping a positive attitude.
Then, Mr. Nyamkhuu said that the doctors are working to treat the patients and help them recover from the coronavirus within 10 days at minimum. The hospitalized patients diagnosed with the virus will be considered to have recovered after three negative tests and then will be released, according to Nyamkhuu.
Also at yesterday's press briefing, Ministry of Health officials noted that all people, who arrived from abroad and are staying under hospital isolation are required to self-isolate themselves at home for further two weeks adhering strictly to quarantine rules. And they will also be released from hospital only after three negative tests. While in home quarantine, they will be asked to monitor themselves and measure their body temperature twice daily to report to local hospital and maintain distance from people living together.
As they are prohibited to leave home for 14 days after hospital isolation, they will be monitored via location tracking feature of mobile application on their smartphones, and those who leave their home or turn off their phones, internet or mobile data during the two-week home isolation are subject to punishment by Laws on Health and Infringement. The enforcement of this rule will also be provided by local administrative organizations and police.