Deputy PM receives UN Resident Coordinator and WHO Representative in Mongolia
Society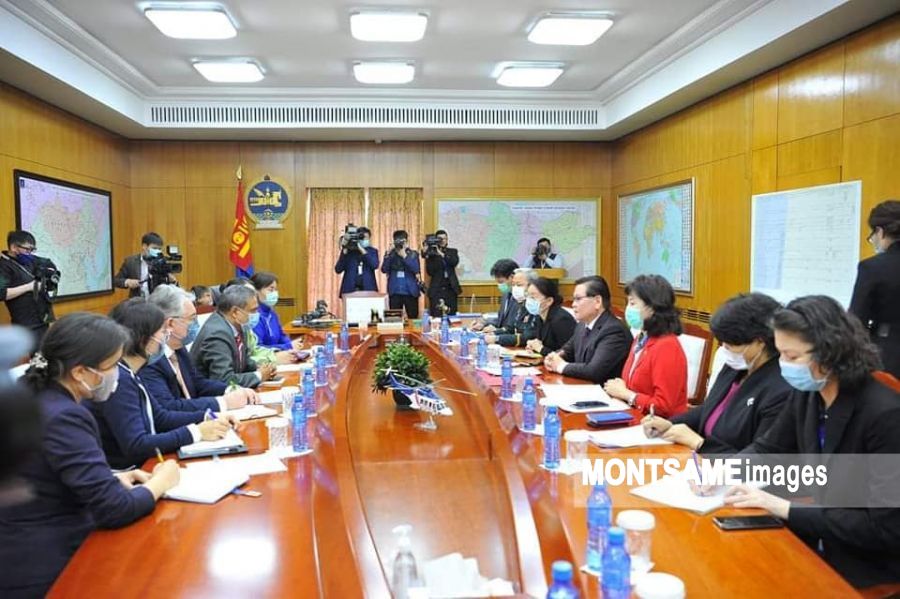 Ulaanbaatar /MONTSAME/ On February 28, Deputy Prime Minister and Head of the State Emergency Commission (SEC) U.Enkhtuvshin received Tapan Mishra, UN Resident Coordinator in Mongolia and Sergey Diorditsa, WHO Representative in Mongolia. Minister of Health D.Sarangerel attended the meeting and the sides exchanged views on timely issues.
At the start of the meeting, the Deputy PM gave briefings on ongoing complex measures against novel coronavirus infections taken by the Mongolian Government and the SEC and expressed gratitude to the United Nations and the World Health Organization on providing assistance and all-round collaboration.
"Even though some restrictions are being imposed on all types of traffic movements between the countries and inter-cities, the Government plans to normally run freight transport and minerals export to boost its economic circulation as estimating potential risk of economic difficulties," the Deputy PM said.
UN Resident Coordinator Mr. Tapan Mishra said that the Government of Mongolia and the SEC are promptly taking proper measures in the risky condition, preventing its citizens from COVID-19 infection and becoming an example among the word countries. During my working trips to rural areas as well as in the capital city, it was observed that Mongolian citizens are highly aware of their responsibility. We will fully support your actions further.
WHO Representative Mr. Sergey Diorditsa pledged to supply up-to-date, certified medicines, vaccines and test kits to Mongolia in the period of heightened state of readiness for prevention of the infectious disease.