Ambassadors to promote Mongolian cashmere
Economy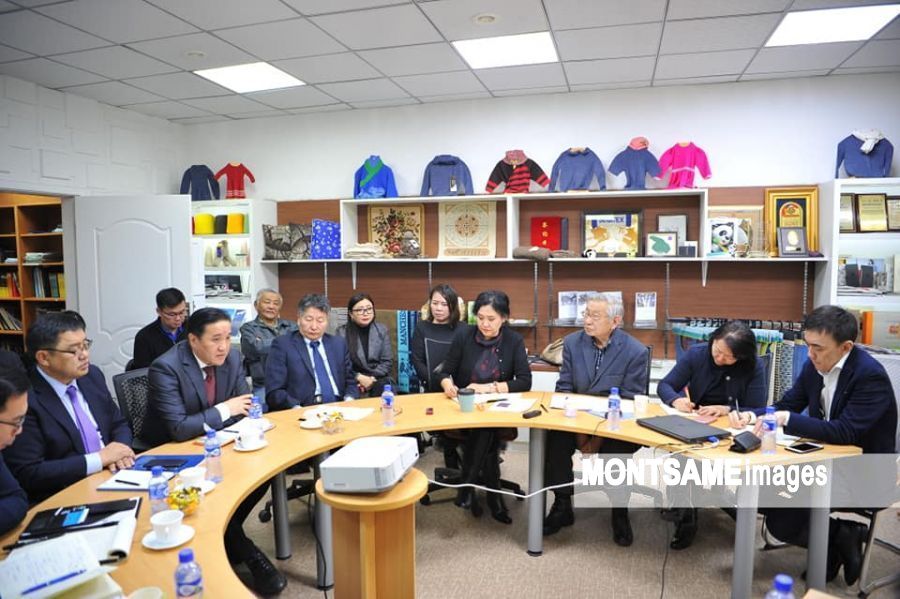 Ulaanbaatar /MONTSAME/ Backing up and promoting Mongolian cashmere products to foreign countries connecting with tourism is one of the gateways to increase export. Manufacturers of wool and cashmere industry touched about it during their meeting with newly-assigned Ambassadors of Mongolia to overseas countries.
The meeting was attended by Ambassadors to Sweden, Poland, Thailand and Malaysia as well as delegates of primary stage processing plants and largest manufacturers such as 'Gobi', 'Ulemj Cashmere' and 'Evseg'.
Opening the meeting, Executive Director of the Mongolian Wool and Cashmere Association D.Altantsetseg said "I hope you know that the Government announced 2020 as the Year of Increasing Export in Food and Agriculture Sectors. We see that this is one of the Government steps to back up cashmere industry. Participation and support of You, Ambassadors of Mongolia abroad is important to it."
Representing manufacturers, she asked the Ambassadors to promote 'Mongolian Noble Fibre' certification mark of cashmere products to foreign countries, hold face-to-face business meetings and events, connect manufacturers with main purchasing companies and trade agents, study opportunities to draw investment as well as to help finding out and opening new sales channel that adequate to the country's feature.
During the meeting, Foreign Relations Specialist of the Association B.Oyuntulkhuur introduced 'Cashmere Platform', which is one of the actions the Association is intending to take. Highlighting that it aims to create a cooperation platform that integrate Government and international projects and programs on international cashmere market, she asked the Ambassadors to promote Mongolia's intention to prepare its raw materials with eco-friendly methods and export quality products that meet international standard.
Ambassadors, who attended the meeting, expressed their readiness to accept the proposals and requests and collaborate.

"I agree with focusing attention on developing Mongolian brand together and collaborating on it. Within the UN Sustainable Development Goals, I also agree with promoting that Mongolia is developing environmentally friendly cashmere production first of all and partnering to spread multi-partite cooperation mechanism on it," Permanent Representative to the United Nations and Ambassador V.Enkhbold said.
Executive Director of 'Evseg' LLC G.Bat noted that attending international events through the Embassies would be official reputation guarantee for business cooperation. Aside from exporting products to overseas countries, there are possibilities to cooperate in exchanging and educating specialists, supplying semi-processed and finished wool and cashmere products of Mongolia to light industry of foreign countries as well as attracting foreign invested factories to the home country.
Foreign relations manager at Gobi Cashmere G.Anudari said "Our company founded its two trade subsidiaries in the USA and Germany and launched sales. We can cooperate in entering into European and other markets further. We are paying attention on online trade rather than opening shops. Therefore, it would be helpful to cooperate in exchanging and providing information about the sector and conducting researches and studies."