Four Mongolian artists awarded at International Fine Arts Exhibition
Art & Culture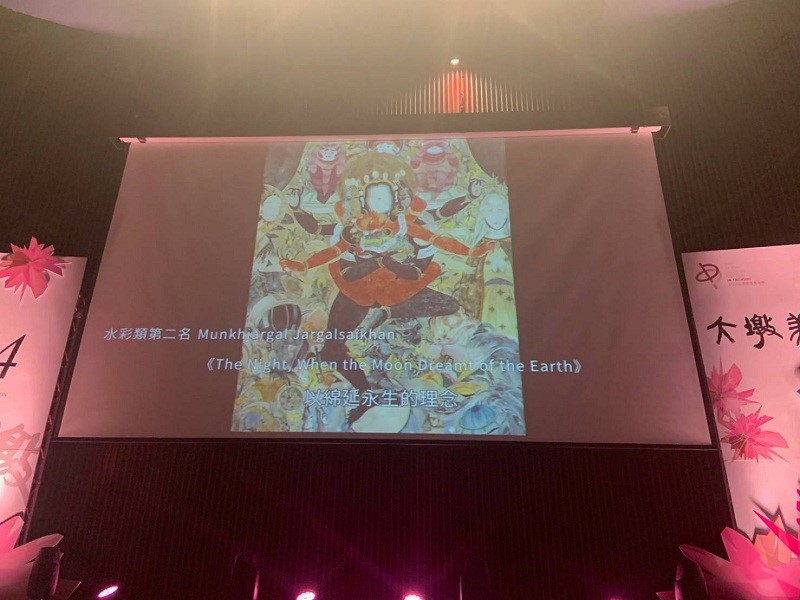 Ulaanbaatar /MONTSAME/ An artwork 'The Night, when the Moon dreamed of the Earth' by Mongolian painter J.Munkhjargal won the second place in water painting category of 'Da Dun Fine Arts Exhibition 2019' international art festival that took place in Taichung city of Taiwan on November 16.
15 foreign artists were awarded at the competition and four of them were Mongolian artists as special prizes went to artist Z.Uyanga in a category of printed painting, D.Otgonbayar in a category of sculpture and A.Chogddavaa in handicraft.
"The exhibition provided opportunities to our artists to promote Mongolia's unique culture and tradition to the world and mutually exchange experience with artists of other countries," Representative of Ulaanbaatar Trade and Economic Representative Office in Taipei L.Zolzaya said during the award-presenting ceremony.
The exhibition was held for the 23rd time this year and it started receiving works of foreign artists since 2002. It is organized in 11 categories such as water and oil painting, photograph, sculpture, handicraft and digital craft and its total prize pool is USD 130 thousand.