Experience on reduction of air and environment pollution to be exchanged
Society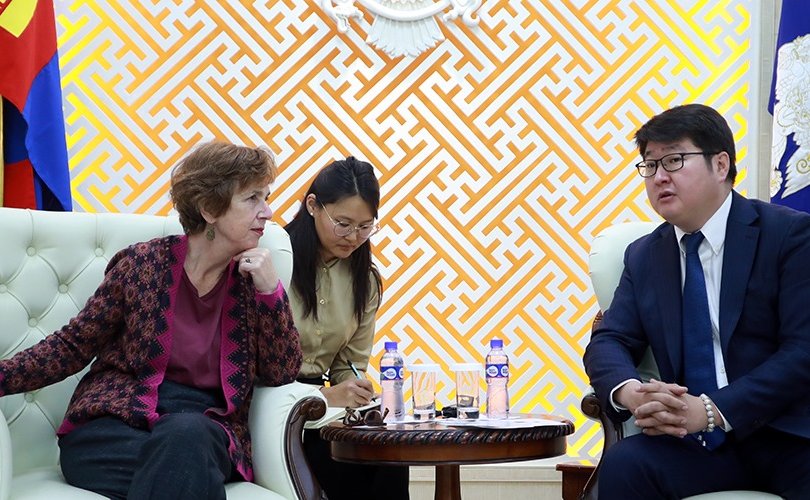 Ulaanbaatar/MONTSAME/. Capital city's Deputy Governor in charge of development policy J.Batbayasgalan received a director of Global Urban Air Pollution Observatory (GUAPO) Ms. Elsa Martayan on November 8.
Director Ms. Elsa Martayan, a French national, was here on a working visit with the support of French Embassy in Ulaanbaatar city.
At the meeting, J.Batbayasgalan briefed about measures being taken for reducing air pollution. He also expressed an interest to cooperate to be a bridge in exchanging experience with metropolis on the air and environmental pollution reduction.

This year, Ulaanbaatar city has joined the GUAPO as a member city. Founded in November 2017 at the initiative of Anne Hidalgo, Mayor of Paris, and Patrick Ollier, Chair of the Greater Paris Metropolis, GUAPO is a collaborative platform of multilateral cooperation between cities and metropolises, on an international scale. It aims to build a platform to address the global, transboundary challenge of air pollution by centralizing areas often documented separately and making accessible for a holistic approach on air quality. It fosters experience exchanges and best practices between member cities.

Requesting to insert up-to-date air quality information of Ulaanbaatar city into the shared data, Ms. Elsa Martayan expressed commitment to support the city to exchange experience with other cities. She also notified an intention to carry out a pilot project on air quality in a khoroo, district of Ulaanbaatar city.

Present at the meeting were Ambassador Extraordinary and Plenipotentiary of the French Republic to Mongolia Mr. Philippe Merlin, chief of External Relations and Cooperation Department of the Governor Office of Ulaanbaatar D.Chinzorig and head of the Air Pollution Reduction Department of the city Kh.Galymbek.