Meeting with Deputy Governor of Elista city of Kalmykia
Society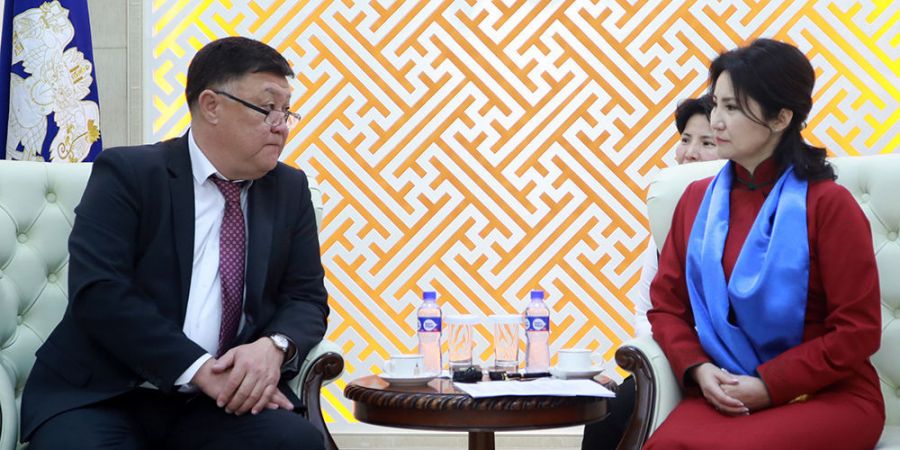 Ulaanbaatar /MONTSAME/ On the occasion of the 380th anniversary of the capital city, 'Ulaanbaatar International Open Day 2019' event is to be held on October 21-22. Delegation of the cities that have friendly and brotherhood relations with Ulaanbaatar city are visiting the city to attend the event.

On October 20, Deputy Governor of the Capital city in charge of social development issues Sh.Ankhmaa received delegates headed by Erdneev Batr Vladimirovich, Deputy Governor of Elista city of the Republic of Kalmykia of the Russian Federation. Deputy Governor Sh.Ankhmaa thanked the delegates for their arrival and expressed readiness to collaborate in all spheres, broadening friendly ties between Mongolia and Kalmykia.
Ulaanbaatar and Elista cities established brotherhood relations in 2010 and Citizens' Representatives Councils of the two countries signed a memorandum of cooperation in 2015.
Expressing gratitude on inviting them to the event of the 380th historic anniversary of Ulaanbaatar city, Deputy Governor of Elista city Erdneev Batr Vladimirovich said that the sides would continue numerous of activities that have brought the relations of the two cities to a new level.
Furthermore, authorities of Ulaanbaatar city are invited to attend the 75th anniversary of the Soviet Union's Victory in the Great Patriotic War against Nazi Germany and the 100th anniversary celebration of the Republic of Kalmykia. The sides also exchanged views on broadening cooperation in tourism, education, trade and economy.