State visit enhances Mongolia-India strategic partnership
Politics
Ulaanbaatar /MONTSAME/. President Kh. Battulga has paid a state visit to the Republic of India at the invitation of President Ram Nath Kovind from 19th to 23rd of September, 2019. Not only the strategic partnership and bilateral cooperation between the two countries have improved in a wide range but also new path has opened in trade, economy and science fields in the result of the 5 day-visit.

In the course of the visit, the President of Mongolia Kh.Battulga held official talks with the President Ram Nath Kovind and Prime Minister Narendra Modi of the Republic of India. Moreover, he participated in Mongolia- India business forum in India as well visited leading companies in space research, renewable energy, and outsourcing sectors to exchange views on bilateral cooperation.
Frequent visits and friendly relations
Mongolia and India have established diplomatic relations on the 24th of December, 1955 and regarded as the spiritual neighbor countries. Frequent visits throughout the last several years are strengthening the bilateral cooperation and relation between two countries.
Throughout history, the Chef of the Cabinet of Ministers of the People's Republic of Mongolia Yu.Tsedenbal signed Joint Declaration during his state visit to India in 1973. In addition to this, the first President of Mongolia P.Ochirbat established an Agreement on Friendly relations and Cooperation during his visit in 1994, reaching to agreement to develop the sectors of trade, economy, health, science and tourism. In the course of state visit of the President Ts.Elbegdorj in 2009, official talks were held regarding to move the relation between two countries to Comprehensive Strategic Partnership as well as developing cooperation in information technology sector.
The Prime Minister of India Narendra Modi paid a visit to Mongolia in 2015 on the occasion of 60th anniversary of establishment of diplomatic relations between Mongolia and India. The relation was advanced to Strategic partnership and more than 10 contract agreements were made to develop cooperation in the fields including veterinary and traditional medicine. In addition, he exchanged views on the establishment of an airway aiming to enhance trade and economic relations. Furthermore, the Republic of India agreed to invest $1 billion to Mongolian Government for the implementation of Oil Refinery.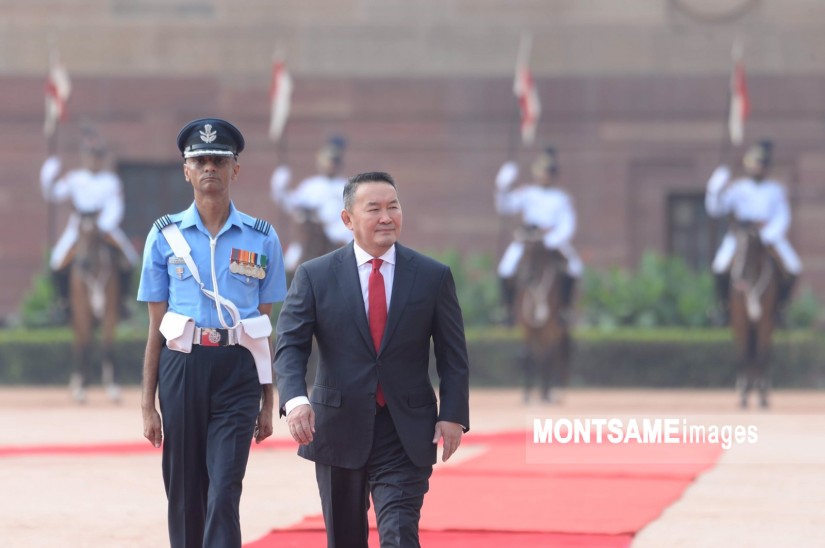 Five good news to show the strengthening strategic relations


1. One. The investment on "Mongol Refinery Project" has increased
Officials are stressing the efficiency of the visit in terms of enhancing economic cooperation. For instance, joint statement on Strengthening the Strategic Partnership between Mongolia and India was released as a result of the meeting with the President Ram Nath Kovind and the Prime Minister Narendra Modi of the Republic of India. The Indian side has also approved a request from the Government of Mongolia to extend an additional investment of US $236 million for the project, taking the Government of India's total commitment for the project to US$ 1.236 billion.
Furthermore, both sides agreed to train much needed engineers and technicians to be employed at the "Mongol Refinery Project" in India through Scholarship from the Indian Government under the existing Indian Technical and Economic Cooperation (ITEC) program. The President Kh.Battulga expressed his gratitude on this decision made by Indian Government and marked that involving Mongolian companies and products to this construction work has a positive effect to future investors and business cooperation. Two sides have come to an understanding on the issue of building railway for oil transportation instead of pipeline, emphasizing that the construction of railway will have multiple benefits.
"The oil refining plant which has an annual capacity to refine 1 million cubes of oil is an expression of the friendly cooperation between two sides. After its completion in 2020, it will be able to ensure 70% of the total use of domestic oil consumption." noted Minister of Petroleum and Natural Gas Dharmendra Pradhan.
Two. Online and on-arrival visa
It was also announced that India has made a decision to issue E-Visa for short-term visitors. On the other hand, Mongolia stated that Indian short-term visitors will be able to get a visa upon their arrival. It has a huge impact on the development of mutual-tourism. 600 of more than 900 Mongolians living in the Republic of India are studying in the field of Buddhism. Therefore, both sides also agreed to improve the studying and living condition, furthermore, to simplify visa requirements for those living in the Republic of India.

Three. Cultural cooperation initiation
To encourage student education exchange programs, the Indian side announced 10 Indian Council for Cultural Relations (ICCR) scholarships for those interested in undertaking Buddhism studies. Meanwhile, Mongolia has announced 2 scholarships for Indian students in the field of Mongolian studies.
In recognition of friendship and brotherhood, both sides agreed to celebrate the 65th anniversary of establishment of diplomatic relations between the two countries in 2020 through a series of activities featuring cultural and historical heritage of the two countries.

Four. Increasing trade turnover
President of Mongolia Kh.Battulga and Prime Minister of the Republic of India N.Modi acknowledged that there was considerable untapped potential for further development of bilateral trade and investment, especially in the field of agricultural commodities, dairy products and animal husbandry, mining, information technology, pharmaceuticals and tourism etc. To this extent, the Ministry of Agriculture of Mongolia and the Ministry of Fisheries, Animal Husbandry and Dairying of India signed an agreement on cooperation in animal husbandry and dairy products. It opens possibility to export animal raw materials to India and import cheap and high-quality animal pharmaceuticals in exchange, pushing the investment and trade turnover to be increased.
Pointing out the importance of creating conducive and favorable investment climate, both sides agreed to continue the talks on establishing an agreement on mutual promotion and protection of investments and amending the Intergovernmental Agreement between the Government of Mongolia and the Government of the Republic of India for the Avoidance of Double Taxation and the Prevention of Fiscal Evasion with respect to Taxes on Income and on Capital at the earliest possible time.
During his participation to the Mongolia- India business forum, The President of Mongolia Kh.Battulga noted that there was considerable untapped potential for further cooperation. Both sides acknowledged the progress in economic and trade cooperation. For instance, the trade turnover between two countries was at $30 million in 2017. This amount increased to $52.7 million in 2018 which is more than 40% increase compared to the previous year. In the first half of this year Mongolian import to India was at $60.1 million and export was at $1.8 million.

Five. New sectors, new chances
The main products that Mongolia import from India are pharmaceuticals, mining machineries and equipment, sugar, rice, synthetic fiber, cotton, texture and automobile. On the other hand, Mongolia is exporting mainly animal raw materials, wool andcashmere to India. The state visit of the President of Mongolia Kh.Battulga is opening a wide range of opportunities in trade and economic sectors, while keeping the friendly relations in cultural and political sectors.
The reason is that more than 30 companies took part in the Mongolia- India business forum which was held during the visit, introducing their businesses as well as some companies signing memorandums. For instance, "Mongol Em Impex Concern" and "Zydus Cadila" signed a memorandum to produce high-quality pharmaceuticals in Mongolia. The Republic of India is a leading country in the world not only with its information technology but with its pharmaceutical industry. However, Mongolia produces only 20% of its national pharmaceutical consumption.
"Thus, signing a memorandum with Indian pharmaceutical manufacturer is a historical event when the country highly needs national pharmaceutical production."

"Adapting high-quality of pharmaceutical manufacturing technology to Mongolia has a great importance of producing quality pharmaceuticals at the country, decreasing the import" said B.Munkh-Erdene, Chairman of Foreign Relations and Supplement Department, "Mongol Em Impex Concern"
Notable move: Cooperation in science and technology
Another highlight of the state visit of the President of Mongolia for the first time in 10 years was that the sides talked on cooperating in the area of space research and renewable energy for the first time.
The President of Mongolia Kh.Battulga paid a visit to three science companies including astronomy and renewable energy company "Tata Power Solar" , outsourcing company "Infosys" in Bangalore, known as "Indian Silicon Valley".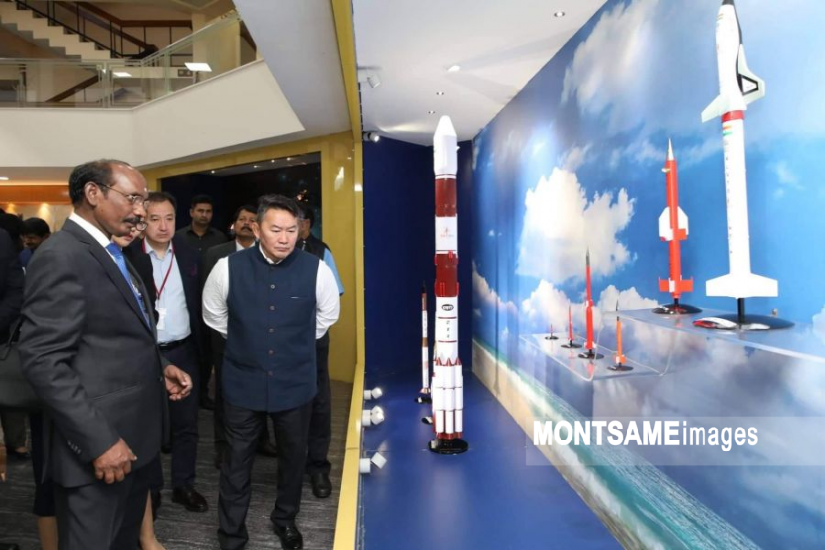 Space research
Two sides welcomed the signing of an Agreement between the Government of Mongolia and the Government of India on Cooperation in the exploration and uses of outer space for peaceful purposes. It puts foundation for expansion of mutually beneficial cooperation particularly in the fields of remote sensing, satellite communication, and applications of space technology in areas including resource management, weather forecasting and disaster management and etc. To this extent, President Kh.Battulga held official talks with authorities of Indian Space Research Organization (ISRO). The President noted that Mongolia is not a new player in space research, having many years of history and talked about the country's intensifying cooperation with the largest space research centers such as NASA and Roscosmos.
"Moreover, "Mars-V" project team of Mongolia introduced their project which is to establish a space training complex in Mongolian Gobi in cooperation with India, which is aiming to start space tourism to Mars in 2021."
Indian Space Research Organization (ISRO) supported the project and agreed to collaborate in several works. For instance, they agreed to carry out joint training of human resources, to establish a laboratory and to launch an air balloon etc. according to S.Erdenebold, "Mars-V" Project leader.

Renewable energy
Mongolian side expressed its interest in sharing knowledge and experience of India's solar rooftop project implementation and training Mongolian renewable energy specialists in India. The Government of India also announced its decision to extend assistance for upgrading the building of the Ministry of Foreign Affairs of Mongolia into a green and energy efficient solar building. Noting the challenge posed by Climate Change, the two sides agreed to further strengthen their cooperation in the area of renewable energy.
The President of Mongolia Kh.Battulga paid a visit to Solar Panel Factory of renewable energy company "Tata Power Solar" and exchanged views on further bilateral cooperation. More specifically, on establishing a Northeast Asia's super grid in Mongolia using the company's solar panels. Mongolia has an estimated potential to produce 1200 MW of solar energy and a joint research will be started soon.

Outsourcing center
The two sides reviewed the progress of setting up the Atal Bihari Vajpayee Center of Excellence in Information & Communication Technology being developed in Mongolia with Indian assistance. The sides agreed to intenfify the project implementation keeping in view the significant role it can play in capacity building and human resource development in Mongolia. Initially, during the state visit of former President of Mongolia Ts.Elbegdorj in 2009, two sides exchanged views on cooperation on establishing an information technology and outsourcing center. After exactly 10 years, US$ 20 million of loan agreement was made to take actions on this establishment.
Chief of Staff to the President Z.Enkhbold emphasized that "US$ 10 million will be spent to the construction work of an outsourcing institution and the rest will be spent for a management team who will train more than 10 thousand Mongolian students in outsourcing. Construction work is scheduled to begin this year."
The President of Mongolia Kh.Battulga visited 'Infosys' business consulting and information technology company listed on New York Stock Exchange, which has over 228 thousand staff. The sides shared views on training Mongolian youth in outsourcing and information technology fields.
S.Munkhbaatar