President Kh.Battulga holds official talks with his U.S. counterpart Donald Trump
Politics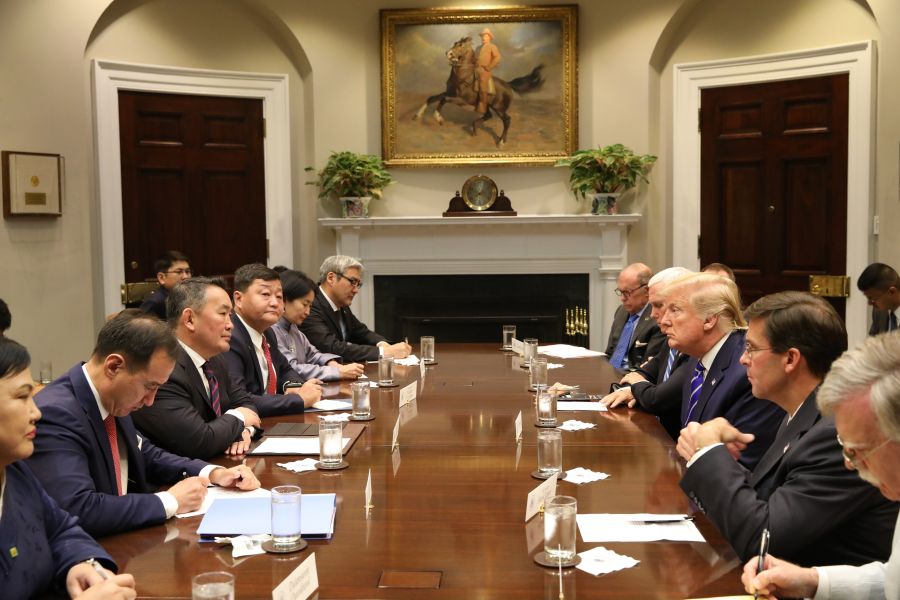 Ulaanbaatar /MONTSAME/ President of Mongolia Kh.Battulga and President of the United States Donald Trump held official talks yesterday on July 31 at the White House.
At the start of the talks, President of the United States Donald Trump said that he thinks Mongolian people are great fighters and added that he would make a conversation on Mongolian cashmere products at the tete-a-tete meeting and give assignments and directions to the relevant officials.

More than 40 Congress members headed by congressman Ted Yoho had submitted Mongolia Third Neighbor Trade Act to the U.S. Congress, which is about exporting Mongolian cashmere and other textile garments to the U.S market tariff free. President of Mongolia Kh.Battulga expressed his full support for the bill and his stance that the Heads of the two countries should render support on it. Though the two countries have been closely cooperating in the spheres of defense, culture and humanity, it is necessary for the two countries to pay special attention on trade turnover and poor economic cooperation.
Vice President of the United States Mike Pence expressed special thanks for considering the United States as the third neighbor of Mongolia as well as for that the Armed Forces of Mongolia taking part in peace-building operations in Afghanistan.
During the talks, the parties had warm talks on the diplomatic relations between the two countries, agreeing to make a declaration on the Strategic Partnership between Mongolia and the United States of America.

Official delegates attended at the talks from Mongolian side were Minister of Foreign Affairs D.Tsogtbaatar, Head of the Parliamentary Standing Committee on Social Policy, Education, Culture and Science D.Oyunkhorol, Member of the Parliament Z.Narantuya, Ambassador of Mongolia to the United States Yo.Otgonbayar, Chief of Staff of the President's Office Z.Enkhbold, and Secretary of the National Security Council A.Gansukh.
While the U.S. side attendees were Vice President of the country Mike Pence, National Security Advisor John .Bolton, Director of the National Economic Council Larry Kudlow, Secretary of Defense Mark Esper, Administrator of the U.S. Agency for International Development Mark Green and some Congress members.