Mongolia-Japan teaching hospital opens
Society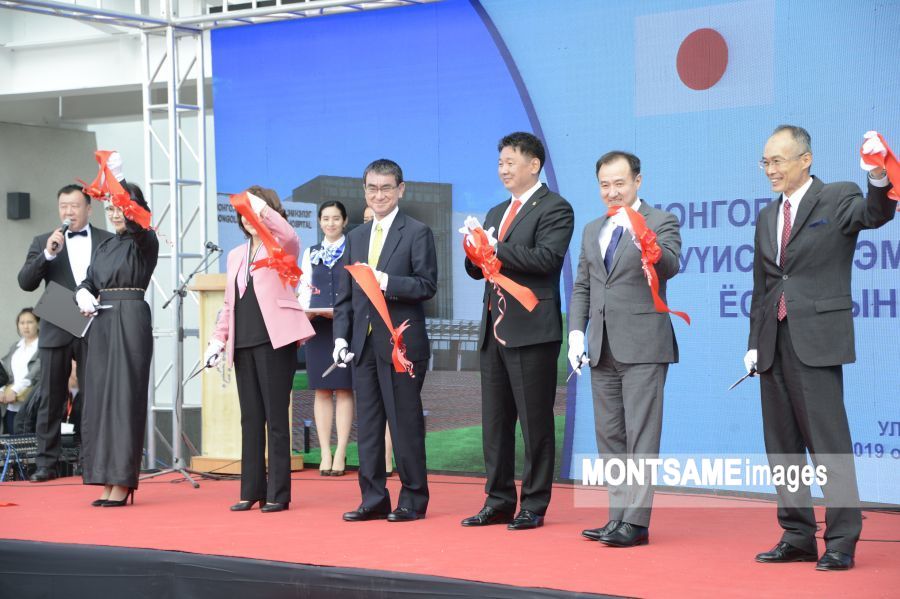 Ulaanbaatar /MONTSAME/. The opening ceremony of the Mongolia-Japan Teaching Hospital of the Mongolian National University of Medical Sciences (MNUMS), built with the non-refundable aid of the Government of Japan in Bayanzurkh district, took place on June 16.

Prime Minister U.Khurelsukh, Minister of Health D.Sarangerel, Minister of Foreign Affairs D.Tsogtbaatar, Minister of Foreign Affairs of Japan Taro Kono, Director of MNUMS J.Tsolmon and other corresponding officials attended the ceremony.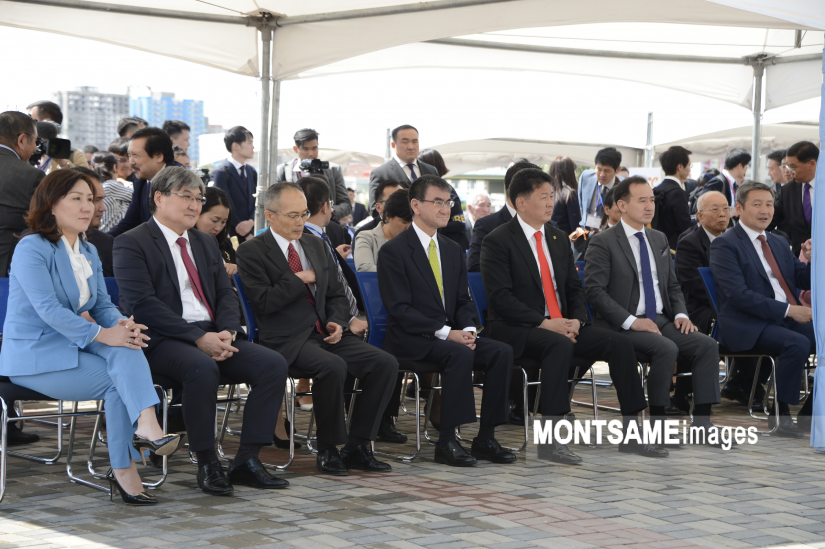 Alongside the construction work of the hospital, the installation of the latest equipment and technology, such as high-capacity diagnostic MRI and CT equipment, coronary angiography kit and fully automated analyzers were funded through the aid.
Surgery, internal medicine, pediatrics, gynecology, intensive care--health care services for a total of 17 specializations will be available. In his speech at the opening ceremony, PM U.Khurelsukh highlighted that the number of citizens going to other countries for health care will decrease as a result.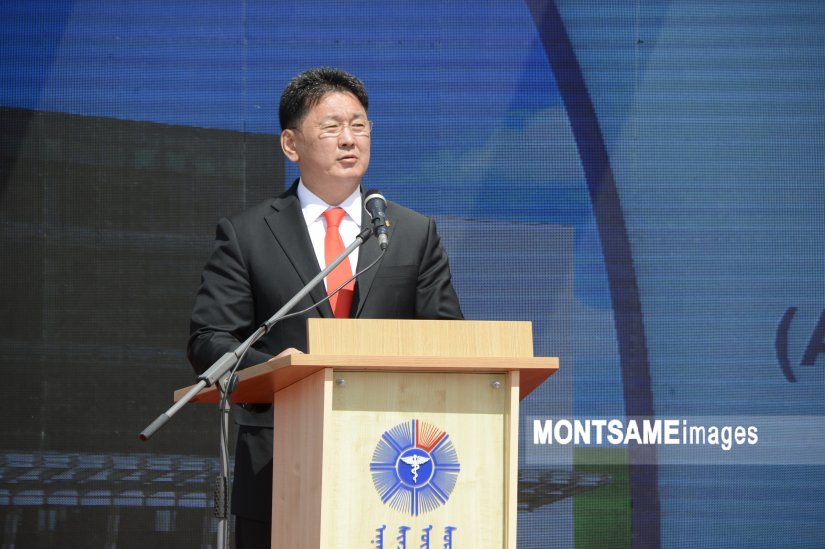 He said, "In the Mongolia-Japan Teaching Hospital, 106 types of 493 medical instruments and devices of the latest technology, including neurosurgery equipment, microscope to diagnose cancer cells and diagnostic medical imaging equipment have been installed at the Mongolia-Japan Teaching Hospital. Over 20 training were also conducted for Mongolian medical specialists, involving about 3,000 doctors and hospital staff. I express my gratitude on behalf of the Government of Mongolia to the Government of Japan for creating the opportunity to conduct the comprehensive training and research-diagnosis-treatment operations with help of specialized doctors, advanced technology and equipment."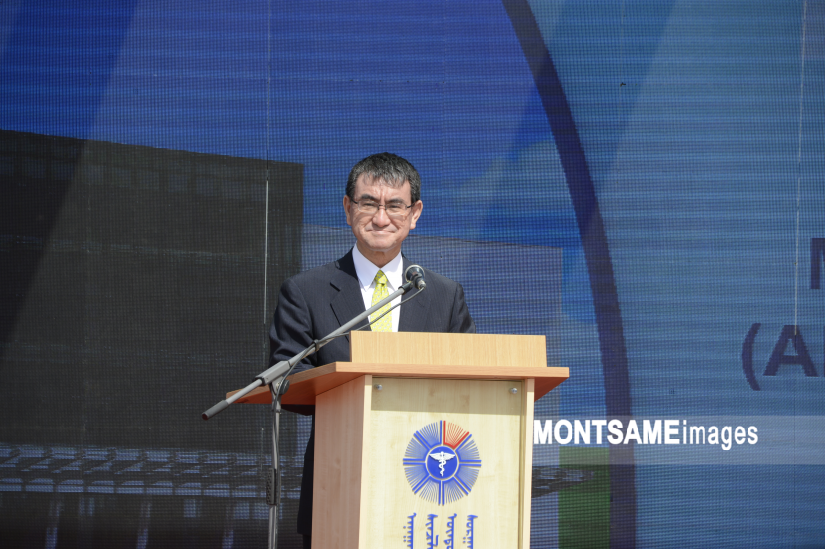 Minister of Foreign Affairs of Japan Taro Kono said, "The hospital will run trainings and health care services of the Japanese standard, and is the first teaching hospital for Mongolia. Just after their graduation, Mongolian doctors used to do checkups and treatments hitherto. But there has been an opportunity for them to get training and gain experience. For three years from today onward, the Government of Japan will assist in providing the necessary medical equipment in partnership with private entities for the sustainable management of the hospital. As a result of the efforts made by the governments of the two countries, the quality of the health care services of Mongolia is improving. Health is the most valuable asset for the Mongolian people. Thus, it is an honor for the Government of Japan to make a contribution to the health sector of Mongolia. I am confident that this project will become the symbol of everlasting friendship between Mongolia and Japan."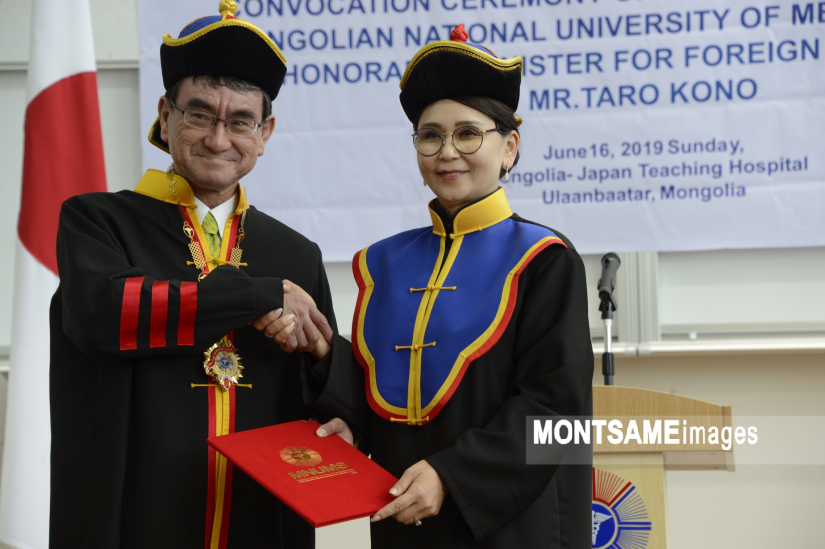 During the opening ceremony, Minister of Foreign Affairs of Japan Taro Kono was awarded an Honorary Doctorate of MNUMS in recognition of his contribution to the health sector of Mongolia and the development of the university.
After conducting tests of the equipment as well as training for the medical specialists, the hospital will start giving health care services to citizens from October 1, 2019.